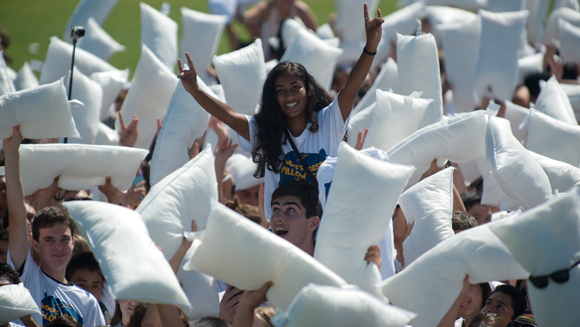 UCI is famous for having research, having three Nobel Prize winners, or having students that went on to be actors such as John Lovitz. What many people don't know is that UCI has set many Guinness World Records! UCI aims to create new world records every year during Welcome Week. Many students participate, since it is pretty neat being able to tell others that you have helped create a new Guinness World Record. UCI has set many world records, but there are four world records that are very unique.
1. Largest Game of Dodgeball
The largest game of dodgeball was at UC Irvine and involved 6,084 people in Irvine, CA. This event took place on September 25, 2012. This wasn't the first time that UCI set a new record for the largest game of Dodgeball. It was actually UC Irvine's third successful attempt at the largest dodgeball game. The teams that participated were "Team Blue" and "Team Yellow." The blue team ended up beating the yellow team in this very intense game which was set up by NLA Sports!
2. Largest Pillow Fight
During Welcome Week of 2014, UCI broke the record for the largest pillow fight. 4,2000 participants threw pillows at others on the Irvine campus, and 2014 was the fifth year that UCI had broken a world record! Imagine how fun students had throwing so many pillows around and seeing feathers fly everywhere in the air! The field that the pillow fight was done on was reported to be covered in feathers after the record breaking fight.
3. Largest Water Pistol Fight
In 2013, the UCI Anteaters set a unique world record- the largest water pistol fight. About 3,875 students took part in the record breaking activity, and it is safe to say that all of them walked away soaking wet. There were two teams that were made to play against each other, which were the blue and yellow team. The water pistol fight lasted for twelve minutes! This water pistol fight was done during the 2013 UCI Welcome Week.
4. Largest Capture the Flag Game
In 2015, UC Irvine students set the record for the largest capture the flag game. 2,888 students participated in the game, and there were two teams formed- the blue and yellow team. The game began at 1:30 pm, and lasted for about half an hour. Although half an hour does not seem long- imagine playing capture the flag with 2,888 people!
UCI has made it a tradition to break and create new Guinness World Records every year during Welcome Week. If you haven't participated in one of the UCI events yet, be sure to do so before you graduate. It is amazing being able to tell people that you helped break a world record. Who knows what world record UCI will break next year?
---
---
Related Articles