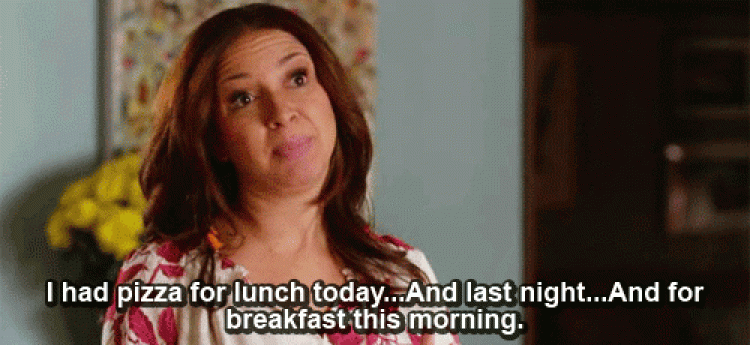 The infamous freshman 15. Those stubborn pounds upperclassmen insist are entirely unavoidable. With the stress of adjusting to new roommates, friends, independence, parties, and of course a heavy course load, it can seem impossible to keep yourself healthy. These tips will help you to avoid the freshman fifteen, without daily trips to B-Fit.
1. Eat on a regular schedule
It can be tempting to run to DeNeve Late Night for some chicken tenders, or to grab a quick pretzel on-the-go at Ackerman, but consider the effects of four randomly spaced meals per day on your health! Instead, try planning your meals each day depending on your class schedule to be fairly consistent. Your body will reward you by being more hungry around those times and less so at others!
2. In dining halls, ask for the entrée only to balance your meal
UCLA dining halls are notorious for their small portion sizes, but you can use this to your advantage! Sure, maybe you only get a single scoop of cheesy cavatapi at Covel. But then you can visit the mezze bar for some hummus and pita, and the salad bar for some veggies, and the build-your-own soup bar. By limiting the sides put on a plate for you, you can put together portions of food you actually like for the same nutritional value.
3. Get creative with different stations
You don't have to just eat the (albeit delicious) foods that the dining hall puts together for you. Try finding ways to create new foods that you enjoy. Maybe you go bunless on your Bruin Burger and wrap it in lettuce. Try using the bread from the toast station to create a delicious sandwich from a chicken breast and salad bar veggies, OR use those same veggies with no lettuce and dip them in ranch dressing. With infinite possible combinations, it's easy to find something healthy and tasty in the dining halls.
4. Use salad as your filler for some meals
No one wants to eat salads every meal, every day. But the salad bar can be useful as filler underneath your main course. Build a salad with everything you find delicious, and add your beef, chicken, or fish as a topping. By filling out your meal, you're less likely to go back for seconds (or thirds!)
5. Pre plan your meals using the UCLA dining website
If you're looking to put some serious work in to being healthy at UCLA, you can plan your meals before even stepping in to a dining hall. Apps like MyFitness Pal or LoseIt! can help with this. If you preplan a meal to your exact nutritional needs, you can walk straight to those stations in the dining halls. By knowing exactly what you want, you avoid temptation from those Deep Dish S'mores that we all know and love – or budget them in to your meal!
6. Try to-go restaurants which limit portion sizes
When sitting in a dining hall with friends, it can be hard not to run back to the buffet for just one more helping. If you struggle with this, it can be beneficial to try the residential restaurants like Bruin Café or The Study, which only offer one serving of whatever you order. You also get a side and drink, which is plenty for one meal. As an added bonus, you can grab these and sit outside or take them with you as you rush to class!
7. Keep healthy snacks in your dorm to avoid cravings
Whether you prefer lightly buttered popcorn or bananas from the dining halls, it's always good to have some sort of snack in your dorm for when the munchies hit you. It's easy to justify a study break with "I'm hungry" and a long trip to a dining hall. Keeping snacks in your room prevents overeating and long breaks in one step.
8. Don't assume that something is healthy just because it sounds like it
A kale and lemonade smoothie from Bruin Cafe sounds like a wonderful, healthy snack choice. It may come as a shock to learn that just one of these green treats is a whopping 553 calories and 92 grams of sugar! Check up on your "healthy" snacks using the UCLA dining website to avoid mistakes like this.
9. Know that it's okay to treat yourself.
Sometimes, college is stressful. While you shouldn't turn to the dessert bar as a substitute for legitimate self care, remember that it's okay to spring for an ice cream every so often. By allowing yourself a treat in moderations every so often, you avoid crashing hard – and binge eating cheetos in your dorm at 2 am during finals week.
UCLA, or any college, can seem like a stressful environment. It's easy to stop taking the best care of yourself in the midst of academics, extracurriculars and cute TAs. But, by remembering these tips, you can enjoy your experience and stay happy and healthy. Go Bruins!
---
---
Related Articles