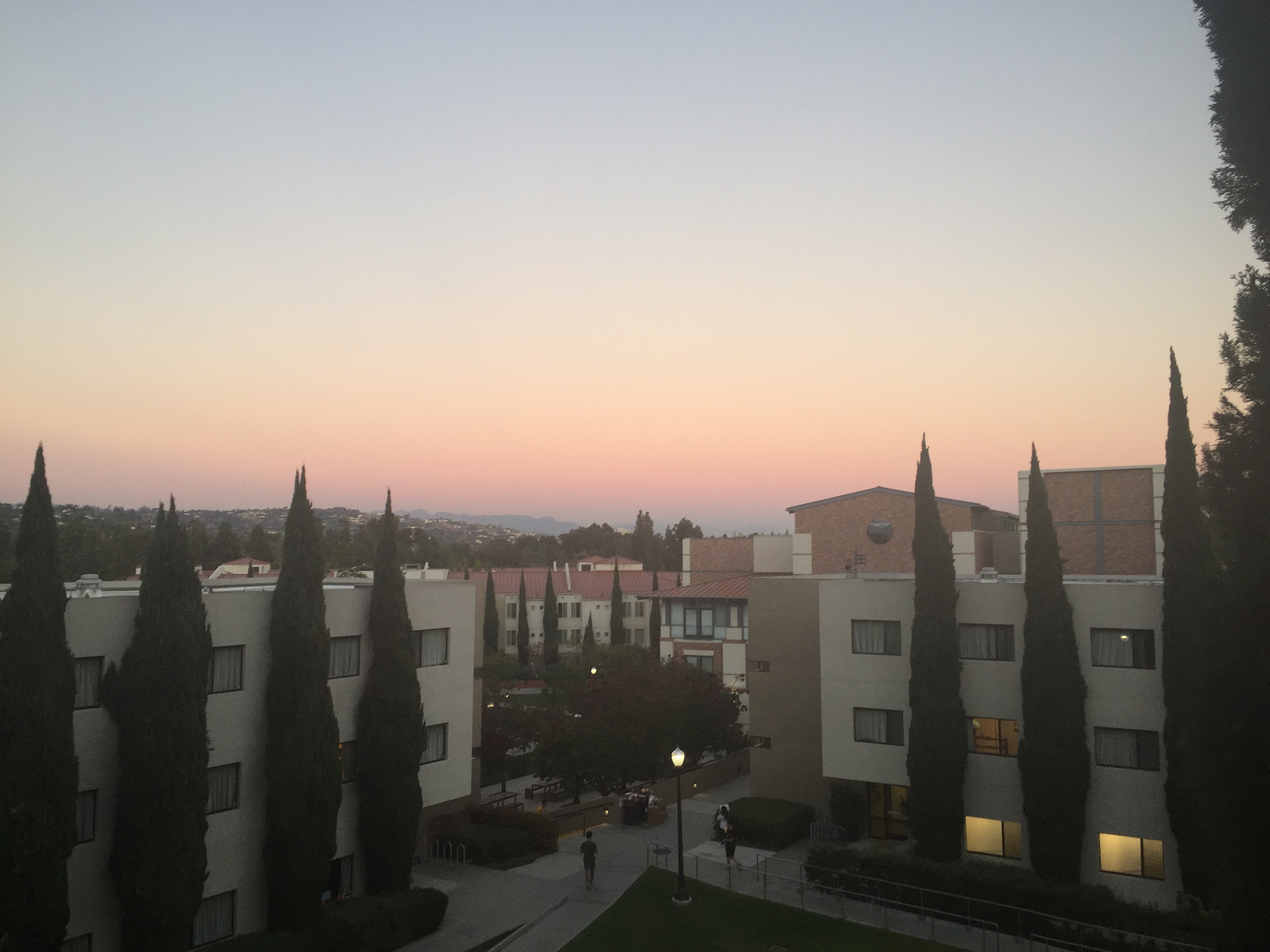 There's a LOT of reasons UCLA is a great place to be – aside from the education.  Here's ten great perks of being a Bruin.
1.  FOOD
You've probably heard this one before (especially since it's mentioned on every tour here) but UCLA is ranked #1 in the nation for their spectacular food.  Just on The Hill alone, nestled in among our lovely dormitories, we have eight (yes, eight!) different restaurants.
Four of them are full all-you-can-eat dining hall buffets: FEAST at Rieber (legitimate Asian food, with occasional themed nights like curry, build your own udon, and dimsum), Bruin Plate (health foods…yes, the menu at B Plate is wild, but don't be scared – it may look crazy, but it's all tasty!), Covel (Mediterranean – this one's for all you pasta and pita lovers!), and De Neve (all-American, totally unhealthy, exceptionally delicious).
And if that's not enough for you, we've got four extra take-out restaurants and cafes: Rendezvous (East for Asian food and West for some killer Mexican cuisine, halfway in between for horchata and boba tea), Cafe 1919 (for the best pizzas, paninis, and gelato ever), Bruin Cafe (gotta try those custom B-Caf smoothies!), and The Study at Hedrick (super new, often forgotten…they have damn good build-your-own-pizzas AND build-your-own-sandwiches AND build-your-own-blended-drinks!!).
And if that's not enough?  You can find some great sushi in Ackerman Student Union, along with a huge variety of fast food, smoothie joints, and coffee houses.  Basically, you're not going to starve if you come here.  (Don't worry about getting fat, either – all that walking, all those stairs, and all the hills will burn those calories off faster than you can blink!)
2.  Free Movies!!!
Here at UCLA, we get a LOT of free stuff.  That includes water bottles, bouncy balls, $80 Paris-made jewelry (true story), and Bruin gear.  But one of the biggest perks of UCLA are our free sneak previews in Ackerman Union's Grand Ballroom.  Want to see that new Marvel movie, but just can't stand the wait – or have the money?  Book your tickets for free and come see it at the ballroom – before the movie's even released!!  (Free swag available at sneak showings as a bonus!)
If you're wiling to pay, Bruin Theatre – just a short walk off campus in Westwood Village – often holds sneak previews of blockbuster movies as well.  Just bring your Bruincard to make sure you get that student discount!
Also, you get free HBO GO with your on campus housing.  Game of Thrones, here we come!  (Just not during finals week, please.)
3.  Basically, We're Famous
"Justin Bieber's on our soccer field right now and my friend just high-fived Adele in the gym!"
True story?  Yes.  UCLA is on the corner of Westwood and Beverly Hills, so we get a lot of famous people here.  It's probably because our campus is so gorgeous that they just can't stop themselves, right?
Oh, and the historic Fox theatre is five minutes off campus – so if you're going to Target for some hand soap or Ralph's to stock up your mini fridge, keep an eye out, because they're always holding red carpet premieres there.  A couple weeks ago, someone saw Jeff Bridges there.  Quick, get your camera!
4.  We're Our Own Little City
Living at UCLA is like having your own little town to explore as much as you like.  You really don't have to go off campus much, because everything you'd really need is already here.  Need a prescription medication?  Head down to the Bruin Pharmacy in Ackerman Union and pick it up on the way to class!  Hungry?  Well, we already told you all of the great places to eat here.  Need a new backpack, water bottle, teddy bear, bottle opener… just stop by the UCLA Campus store – or if that's too far away for you, the Hilltop store is right in the middle of the dorms.  And they stock snacks, too, just in case you start craving some Goldfish or beef jerky.
And just in case you get sick and Ackerman Union's medical center isn't enough for you, there's a full complex of medical buildings a short walk from Bruin Plaza.  They've got everything from neurology to ophthalmology to a children's hospital.  Never fear – you're in good hands.
5.  …But Westwood's Right There If You Need It
And it's beautiful, too.  At night the trees light up with lights.  Everything is peaceful, but there's enough people on the sidewalks not to feel lonely, and there's always someone nearby wearing the blue and gold to rep the mighty Bruins, so you know you're definitely at home here.  Besides all of the movie theatres, restaurants, supermarkets, and clothing stores in Westwood, probably the biggest perk is Diddy Riese – the best ice cream cookie sandwiches you will ever taste.  All within a five minute stroll from the edge of campus!
6.  Study Spaces
UCLA has a really, really wide variety of study spaces, and pretty much all of them are amazing.  It's a must-have, since having three people to a dorm room freshmen year (plus guests) can make it impossible to study in your dormitory.  No matter which dorm you live in, there are beautiful lounges on every floor, grassy areas and patios a two minute walk away – and that's not counting all of the libraries, departmental lounges, benches, lawns, and cafes on campus.
7.  The People
We're basically one of the most friendly campuses – ever. Admissions probably just looks through all of the applications and admits the nicest people from the pool – or so it would seem!  There's always someone willing to help you when you're in trouble, whether it's because you need flu medicine and a hot meal and can't get out of bed, you're failing your midterm, or you can't figure out that one pesky calculus problem in the homework set (and it'll cost you your grade).  You'll always have a friend willing to lug a heavy package from the mailing room for you, or take a trip to the beach to keep you company.
8.  Free Events
Don't have anything planned this weekend?  Don't worry – you won't have to look far.  UCLA always has events going on, whether it's on campus or on the Hill: sports, viewing parties, free movie showings, panels from major TV shows and movies (example: we recently had actors from Thirteen Reasons Why for a panel on campus), meetings with the masterminds behind the Disney movies, carnivals (complete with carnival games, cotton candy and popcorn, and bounce houses), theme nights at dining halls, build your own Bruin teddy bear for charity, haunted houses during Halloween and holiday movies after Thanksgiving…
Another perk of the Hill – there are game rooms with pool tables, ping pong, and other fun things in all of the dormitories, as well as music rooms complete with actual pianos.  So you'll basically never be bored!
9.  We're in Los Angeles!
Los Angeles is amazing.  We're close to Disneyland, Universal Studios, Hollywood, Griffith Park…so many incredible places to be!  It's also where everything happens, if you're interested in film, music, or dance (and who isn't?).  If you get bored of being on campus, you can always just Uber (or Lyft) to anywhere in the city – and there's always some music festival or event going on somewhere.  (And if there isn't, spend the day at Universal Studios or Disneyland instead – what's to lose?)
10.  UCLA Cares
UCLA really does care about its students.  By the end of your first quarter, you'll get used to receiving surveys and requests to evaluate the dining halls, your RAs, your housing experience, your professors, your faculty…and all of that feedback you give them goes into making your UCLA experience even better than before.  When you become a Bruin, you aren't just becoming part of a university – you're becoming part of a family.  And you can bet UCLA is glad to have you here!
11.  Bonus – Themed Dorms!
If you live on campus, there's one last really, really nice perk.  Every dorm is themed, and that means you get special activities for your dormitory based on that theme.  For example, my dormitory is themed Harry Potter this year, so we get free screenings of all the HP movies (plus we may get to visit Universal Studios next quarter!).  Courtside is themed on music festivals, so they hold music extravaganzas (with sushi, apparently!).  It's a really fun way to get involved with the student community and get to know your fellow Bruins!
So if you're applying to college this fall and still don't know which university to pick, this can help you choose!  UCLA is a simply incredible place to be.  Hope to see you soon in Westwood!
---
---
Related Articles