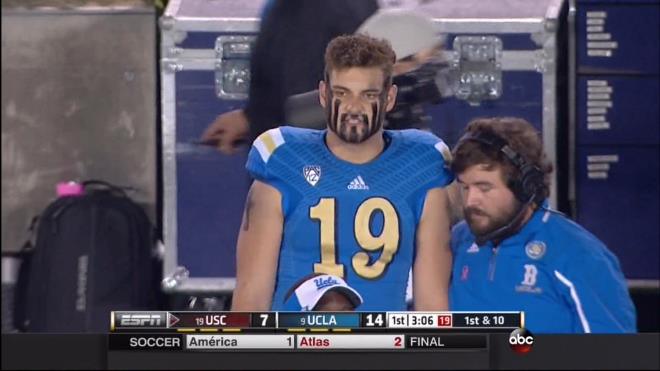 With over 112,000 applicants for Fall 2015, UCLA is once again the most applied-to university in the nation. With all those students hoping to become one of the 30,000 undergraduates that the university holds every year, you'd think that UCLA's a pretty decent school, right?
Wrong. Here are some reasons why U should not C-L-A in your future any time soon.
1. The Weather.
Located in southern California, UCLA is unfortunately bathed in sunny skies and warm temperatures every day of every year with very few exceptions. Have you ever heard of the phrase "too much of a good thing is a bad thing?" Well, UCLA is the embodiment of that phrase. Because when the weather is the dictionary definition of "a perfect day" every day of the year, you're inevitably going to start hating it for being too perfect.
2. The Alumni.
UCLA Alumni include Nobel laureates, Fields Medal recipients, Turing Award recipients, Academy Award winners, professional athletes, Grammy award winners, A-list celebrities, I could go on and on. UCLA alumni have made incredible impacts in every field imaginable, from entertainment to engineering and everything in between. Do you really want to be a part of that Bruin family? It's almost like if you go to this school, you're bound to be successful, and that is a lot of pressure. Too much pressure, in my opinion.
3. The Celebrities
Because UCLA is, of course, located in the entertainment capital of the world, the occasional celebrity sighting here and there is not uncommon in the campus. In fact, there's a Facebook page dedicated to documenting the celebrities found walking around campus and it has found enough of them to gather 15,000 likes. With the frequency of famous people found in UCLA, it's practically impossible to study because you'll be too busy trying to take pictures with Shaquille O'Neal, or Jared Leto, or Emma Watson, so you can basically say goodbye to any semblance of a good education.
4. The Rankings
No matter what source you look at, from Forbes Magazine to U.S. News & World Report, to Times Higher Education, you will see that UCLA is frequently considered one of the best universities not only in America, but in the world. But is it really the best? Because even though it sits at fifth place on Washington Monthly's rankings, that still means there are at least four other universities that are better. And that's at least three too many to be an acceptable college.
5. The Athletics
It's a fact. With 112 trophies, UCLA has won the most NCAA championships ever. It's actually reached the point where UCLA's Hall of Champions (their trophy room) is running out of room to store their trophies. How can you trust this school with your future if they can't even look far enough to their own future to foresee this storage problem?
6. The Campus

UCLA has a gorgeous campus. Its many architectural icons, like Royce Hall and the Janss Steps, are mixed in with a healthy dose of green grass and tall trees, giving it a balance of natural and manmade beauty. But there is one glaring problem about this university: It is too hilly. Because of the slopes, getting from class to class is quite literally a workout by itself. And who wants a free workout? What were you thinking, UC Regents?
7. The People
It is an undisputed fact: The people here are the nicest, most welcoming group of students in the world. From day one, they're nothing but sunshine and smiles, always willing to help you with anything you need. That kind of environment makes you soft. Too soft. You can't toughen yourself up in a university like that!
8. The 8-Clap
The eight clap is UCLA's iconic cheer, which you will be guaranteed to hear at any Bruin sporting event or social gathering. Everyone that's ever been a part of UCLA knows it by heart, and even though it's one of the hallmarks of the university, it takes way too much effort to perform. We have to spell out all four letters of the university? We have to do eight fist raises? We have to do TWENTY CLAPS? No thank you, UCLA. No thank you.
9. The Movie Premieres
Movie premieres happen frequently in Westwood's famed Fox Theater, which is just a few minutes' walk from UCLA's campus. Being one of the first people to see blockbuster movies is awful because after you see Fast And Furious 10: Reloaded before any of your friends do, you can't even talk to them about it because you'll spoil the movie! It's better if you don't go to them at all, honestly.
10. James Franco
So apparently James Franco teaches a screenwriting class here.
James.
Franco.
Honestly, I didn't like 127 Hours that much anyway. Just save yourself the trouble and don't even think about going here.
You might also enjoy:
Sources:
Vazquez, Ricardo. "UCLA Receives Record Number of Applications for 2015." UCLA Newsroom. N.p., 12 Jan. 2015. Web. 10 Sept. 2015.
"UCLA." Nobel Laureates. N.p., n.d. Web. 11 Sept. 2015.
"University of California, Los Angeles." Forbes. Forbes Magazine, n.d. Web. 11 Sept. 2015.
"University of California, Los Angeles." Times Higher Education. N.p., 13 Apr. 2015. Web. 10 Sept. 2015.
"University of California–Los Angeles." University of California–Los Angeles. N.p., n.d. Web. 11 Sept. 2015.
Vazquez, Ricardo. "UCLA Receives Record Number of Applications for 2015." UCLA Newsroom. N.p., 12 Jan. 2015. Web. 10 Sept. 2015.
"Washington Monthly's National Universities Rankings." The Washington Monthly. N.p., n.d. Web. 11 Sept. 2015.
---
---
Related Articles