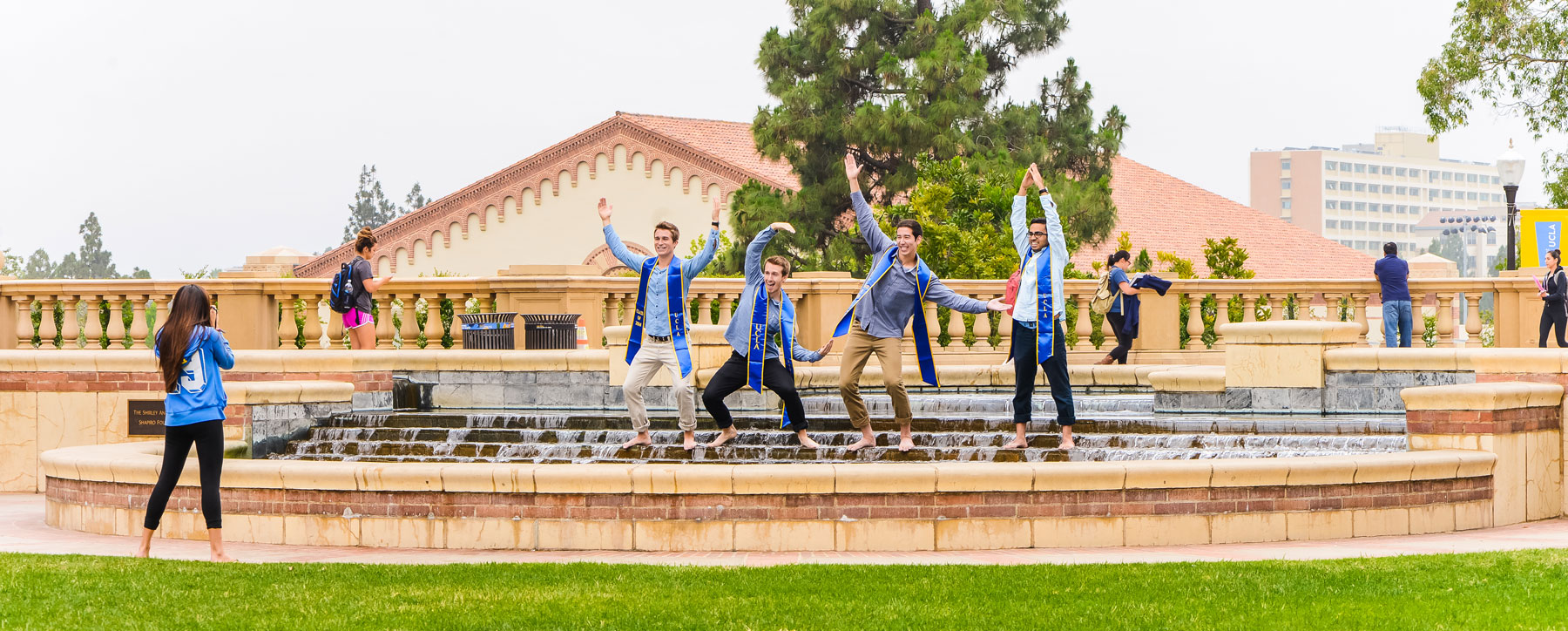 UCLA is a big school on a hill, which means there are a lot of stairs to go everywhere, and hidden pathways to avoid them. I try to use the motto: "Where there's a will, there's an elevator." Here's a list to save your legs some torture.
1. The UCLA Store Shortcut
For whom: All of you North Campus majors who want to go to Mathematical Sciences and beyond. Also relevant if you want to go get some food at Ackerman or study at Kerckhoff
Where to: Ackerman, Kerckhoff, MS and beyond
The Shortcut: This is a multi-purpose shortcut and quite a few of you may already be using it. Basically, just walk into the UCLA Store and keep going straight, and you'll reach an elevator (it's close to the 'U See LA' section. You're on Floor B, in case you want to take the shortcut the other way around (highly recommended btw).
So the elevator opens up to Floor A, 1, 2 and 3.
Floor A is the USPS, Jamba Juice, Taco Bell and the ATMs
The 1st floor is Panda Express ❤
The 2nd floor opens at the Ackerman Grand Ballroom. If you keep walking left, you'll get to Kerckhoff Coffee House, and if you walk out from there, you get to Mathematical Sciences.
The 3rd floor isn't helpful, in case you were wondering.
All these places and number of stairs climbed? 0.
2. Elevator up Bruin Walk
For whom: People who basically lose breath walking upstairs and would rather just not. This shortcut won't reduce the amount of distance you travel or the time, but it will remove all uphill movement. So, choose accordingly. Also, I don't recommend using this shortcut downhill from De Neve to Pauley because it's easier to go downhill. Use it to go uphill and when it's rainy.
Where to: From Pauley Pavilion to the crosswalk at De Neve.
The Shortcut: So, you're walking back from campus. Once you've crossed Pauley Pavilion and the uphill is about to start (think vending machines on the right), take a left. Once you hit an end, take a right. It will open to the tennis courts. Towards the left, you'll find your elevator. Take it to the 4th floor. It'll open up at the Tennis stadium, walk out from there and you'll get to the De Neve crosswalk. Just follow the pictures!
3. The Carnesale Elevator
For whom: Grabbing a bite at BCafe or Café 1919 between classes, or going back to Sunset Village or Sproul without uphill walking. If you're at Hitch, Hedrick or Rieber, you won't have to walk uphill through De Neve Drive, but you must take the Death Stairs. So take this shortcut depending on your preference between uphill walking or stairs. You must to do the walking anyway. Sigh.
Where to: It opens up at BCafe, and is a shorter route to anywhere on that level, i.e, Café 1919, Covel Commons, the Mailing Centre, Sproul, Sunset Village and Canyon Point.
The Shortcut: So all you have to do is walk past Bfit, and you'll see a little signboard that says Carnesale. Reach that building (it's basically at the beginning of the steps that lead to BPlate, the ones towards the right). Walk into the building, and take the elevator to the 3rd When you get out, you may get the feeling that you're not supposed to be there. But you don't need to be intimidated, it's totally normal. Walk through the hallway on the left of the conference room, and you'll get to a door. Walk out of the door, straight through and on the left will be BCaf. You know the rest.
Bonus: If you get off at the 1st Floor, you'll get to BPlate. Just walk out toward the right.
4. South Campus through Covel Steps
For whom: All the South Campus majors out there.
Where to: Public Affairs, Bunche, The Broad, etc.
The Shortcut: This is a fairly well-known shortcut, but I have met people who aren't aware of this route, which is why I'm including it in this list. Take the Covel awkward steps and walk left. Walk past Anderson, and through a gate, and you'll get to a parking lot. Walk up through the steps in the parking lot, walk straight, and navigate onwards.
OR Walk through Anderson, first go up the stairs, then go up another flight, then go right, and walk straight. You'll open up right at Bunche.
5. The Anderson Elevator
For whom: South Campus majors
Where to: Public Affairs, Broad, Bunche, YRL, etc.
The Shortcut: You know that to get to South Campus, you must take the Covel Steps and walk through Anderson. But before you enter Anderson, take a left after the first building you see and enter the second one (there will be a small sign that says entrance, or you can just refer to the picture), and there will be an elevator when you walk in a little in the corridor. Take the 4th Floor, head out left, and keep going till you see the little bridge that connects Anderson to Bunche. You've just shown yourself some kindness.
6. Rainy Day Shortcuts: Walking through Buildings
For whom: Well, I assume that nobody likes getting wet while going to class and catching a cold in the wind
Where to: This particular one is for Bunche, but it's more of the technique than the actual short cut in this case
The Shortcut: So, opposite the Humanities Building is Haines, enter it and walk straight through. At the end of the hallway, you'll find an exit, and that opens right at Bunche. Basically, the idea is to walk through buildings, instead of the streets right next to them so that you're insured from the rain.
---
---
Related Articles