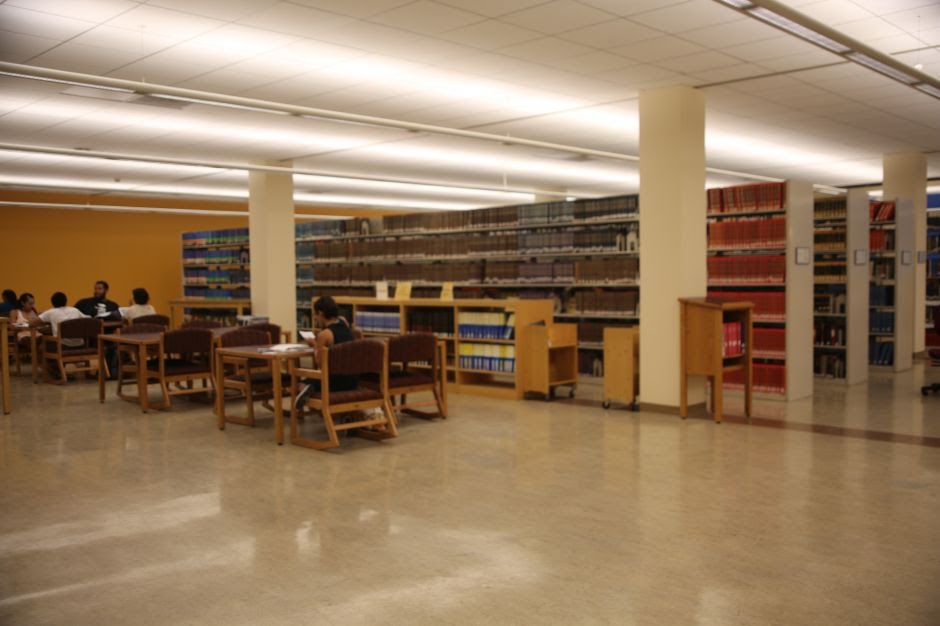 UCR has two libraries, one that is the Orbach Science library which is newly built and the traditional one called the Tomas Rivera Library. This is the library that has been with UCR almost the first day it has been built and is commonly visited by students as it is almost located in the middle of the campus. Many students go here between breaks in their classes.
Research
UC Riverside is a research university and the school will constantly prepare students to conduct research and perhaps one day publish a scholarly article. Students start attending the library because they need numerous concrete sources such as books and articles to establish facts. There are also a lot of research databases such as Jstor or Ebscohost that can provide you numerous published and peer-reviewed articles. By the end of student's senior year, most students will be striving to publish an article in preparation for Graduate school.
Study Rooms
There are over 20 study rooms on the 2nd floor. When the other floors are open there are also plenty of more rooms and spaces to study. The library is meant to fill over hundreds of students as it is extremely huge and have plenty of spaces to study. Some clubs such as VSA will rent and reserve a study room for the entire finals week. This study room is generally big as it needs to fit many people in the room. Study rooms are also used for people to engage in their academic learning and at the same time meet many new people.
Finals
The beautiful thing about Rivera library is that is will be open 24/7. This does sound great as it can fit into any time of your schedule. In fact, the people on the library staff are encouraged to use their library as they want to keep it an active lifestyle. There will be people sleeping on the tables during finals week. Some people start to bring tents to sleep in too. One year, there were people who started to bring rice cookers also to eat during the breaks when studying. College students are always filled with new and surprising activities.
Environment
One of the main reasons to visit the library is because everywhere else there is also studying. There will be no food, snacks, or any other type of distraction from you studying. It will simply just be a table and your study materials. This way, students can actually get their academic coursework done. When everyone else is studying their hardest, you will actually do the same. Being in the library will actually make you more productive, which in return allows you to produce more quality work.
The UCR Tomas Rivera Library will always be a key structure in making Riverside as it is today. It has been there almost the day Riverside was first built in the early 1900s. Since it was built so long ago, there are a few ghost and haunted stories about it. However, none of them have been proven to be true. Furthermore, understanding how to use the library will be a foundation to improving your academic abilities.
---
---
Related Articles