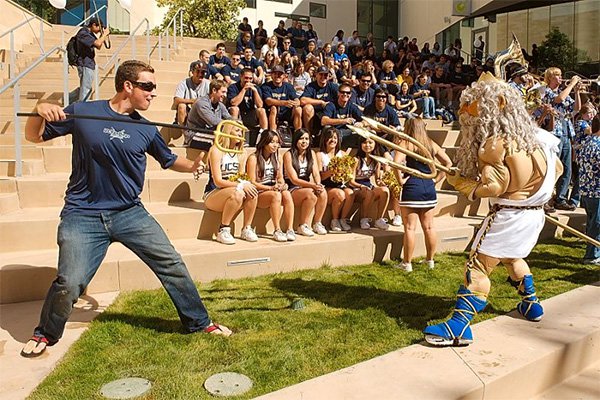 1. Eucalyptus Trees Everywhere!
There are approximately 220,000 Eucalyptus trees that are in the campus of
UCSD
. It is said that the Eucalyptus trees on the UCSD campus inspired Dr. Seuss's "The Lorax".
2. A Famous Library
The futuristic Geisel library has been featured in several films and television shows, such as "Simon and Simon", "Mission Impossible", and "Attack of the Killer Tomatoes".
3. Six Colleges
UCSD is divided into six different colleges: Earl Warren, Eleanor Roosevelt, John Muir, Revelle, Sixth, and Thurgood Marshall. This college system is unique to the UC system, and is inspired by the Oxford system in England.
4. Right Next to the Beach

Approximately five minutes from the beach, UCSD students have the luxury of walking down to relax by the ocean anytime they please.
5. Sungod Festival

This annual all-campus festival takes place during spring quarter and is free for UCSD students. It's one of the most exciting campus events all year and is the best way to de-stress after midterms!
6. Stuart Art Collection
The Stuart Art Collection consists of several art pieces scattered throughout campus. Some notable pieces would be Fallen Star, Bear, and Snake Path.
7. Annual Watermelon Drop

Every year, UCSD students drop a large watermelon from the top of Urey Hall to measure how far it splats.
8. Primal Scream

Before every finals week, students take a break from studying on campus and yell out their dorm rooms or apartments to relieve stress.
9. Former Military Bases

UCSD is built on top of two military bases, Camp Matthews and Camp Callan.
10. Top Surfing School
Its close proximity to the beach, and many surfing resources make
UCSD
the top surfing school in the nation.
---
---
Related Articles