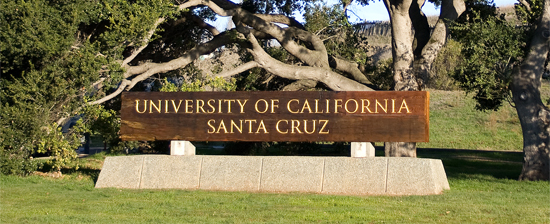 The UC Santa Cruz campus is filled to the brim with amazing activities. Its vast space allows for all kinds of events to occur simultaneously. Although UCSC is in very close proximity to the beach and ocean, there are more than enough ways to keep yourself busy on campus. Here are just a few examples:
1) The "Porter Caves"
The Porter Caves, obviously located at Porter College, are incredibly cool. It's an underground cave and in order to get there, you have to climb down a ladder and after that, it is pitch black—unless you have a flashlight. Many students go to these caves to explore, hang out, and have a good time! However, if you intend on finding the Porter Caves at night, beware because the path leading up to the caves is narrow, so be careful and have fun.
2) Volleyball Beach
Believe it or not there is an outside volleyball net on campus with sand and everything! It's just like you're on the actual beach. You are enjoying a solid game of volleyball with your friends, while also taking in the outside breeze and spectacular view of Santa Cruz and the ocean. The volleyball net is located on the east field near Stevenson and Cowell College. If you're ever in the mood for a pickup game of volleyball, head on over!
3) Pogonip
Pogonip is an open space for people to go hiking, biking, walking, or simply exploring. It has an open meadow, as shown below, which is great for having a picnic or a group hangout. There are also many trails to walk on and the forest even contains a coy fish pond! In addition, there are historical lime kilns that you can observe and photograph for yourself. There are so many different things to do in Pogonip and it's only a short walking distance from the center of campus.
4) The Quarry Plaza
If you're looking for a sunny place to relax, the Quarry is the perfect place to be! The Quarry is close to everyone because it is at the center of campus. The Quarry has places to sit or set up tables; the Bookstore; the Express Store, which contains snacks and other food necessities; and even a little café where you can get a refreshing drink. Many students spend their time at the Quarry because there is so much happening—it is very lively.
5) Zumba
Have you ever thought about taking a zumba class? No? Well you should! Zumba is the most fun workout you will ever have. It gets your heart racing while also rocking out to some jams. It puts everybody in a good mood! UCSC offers zumba classes to its students, so if you're ever up for a party session, attend a class and check it out for yourself!
These are only five out of many possibilities to choose from on campus. UCSC is a happening place but if you don't make the effort to find opportunities and events, then you'll never fully experience its greatness. Try one of these listed options, you won't regret it!
---
---
Related Articles