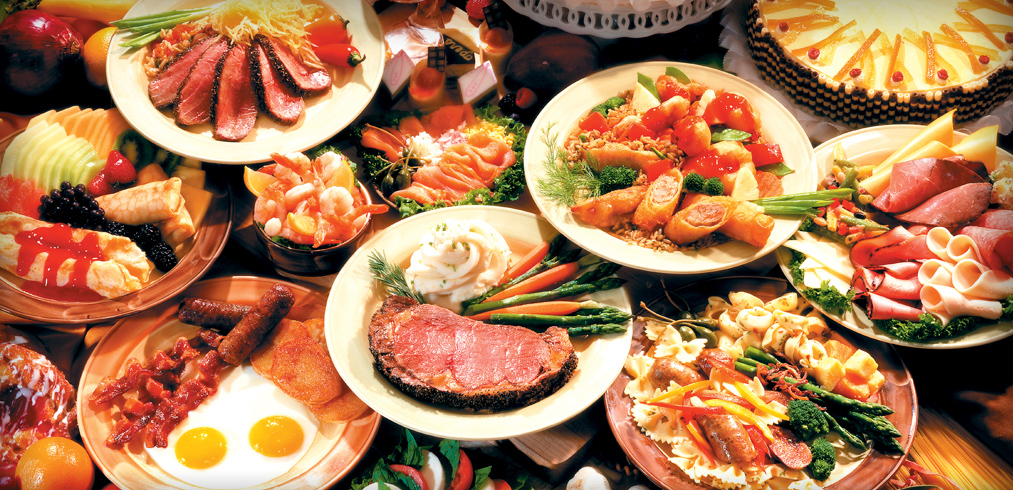 Moving to a new area has some amazing perks. One of the best? ALL OF THE NEW FOODS TO TRY! UCF is in a very populated area, so the options are endless. To narrow it down and give you all a "food bucket list" of sorts, here is a list of some amazing restaurants to test out.
Omelet (the Omelet Bar)
Serving breakfast and lunch, this spot is bright, well staffed, and is home to some incredibly creative and delicious creations. Omelets are their specialty (duh), and one that stands out among the rest is the Bostonian omelet. 3 eggs, lobster, pepper Jack, mushrooms, diced tomatoes, red onions,topped with lobster bisque? Try and say your stomach isn't growling without lying.  They also have a "make your own" option where the customer is able to decide which waffle, French toast, or pancake, and toppings they prefer.
Bento Box
What college student doesn't love Chinese food? At this specific restaurant, you have the option to create a box with separate food items, or a bowl with layers. A personal favorite is the sweet and sour chicken and lo mein bowl. One of the most delicious sides known to man are the wonton chips. Crispy, light, with a sauce on top = best. snack. ever. The options are limitless and they also have a sushi bar. Bento Box is the total package for a Chinese food loving college student.
Huey Magoo's
Huey Magoo's is a UCF staple. There is a line out the door almost every day at the Student Union on campus. The old style, slightly spicy chicken tenders have the perfect amount of crunch and juicy chicken. The crinkle-cut French fries have a mouth-watering seasoning, and don't get me started on the garlic bread given on the side. Their coleslaw is a sweet side and the perfect way to balance the strong flavors in the rest of the meal. You'll never want chicken tenders anywhere else after eating at Huey Magoo's.
KeKe's Diner
If you have a major sweet tooth, this is the place for you. Have you ever had something so good, yet filling, you feel as though you might need to roll out of the restaurant? As though walking is much too difficult after that much sugary sweetness in your mouth. Their plating is so pretty, you'll want to save it, but the second the sweet scent hits you, there's no way you'll last long. Stuffed French toast, fluffy pancakes, and giant platters of food await you at KeKe's.
Spoleto's
Design your own dish? Student discount? Large portions? Yes, yes, and YES. Spoleto's is so close to campus that you could walk. There are choices of pasta and salad, and up to 6 sides are included in the pricing. With their student discount, you can get a meal and a drink (with free refills), for about $7. On top of that, they have take-home boxes available, so even if you don't finish, you can bring it home to finish later. This place has it all and you shouldn't pass it up.
Halal Guys
The Halal Guys are the most well-known brand of American Halal Food. They have cooked Halal meats that are seasoned to perfection and a melting pot of Middle Eastern and Mediterranean flavors that so many people love. The owner is a UCF alumni so this is a must-have in a list of UCF restaurants. The diverse palette and interesting meals keep bringing students in (and it is well deserved). "The New York Post calls The Halal Guys "perhaps the city's most famous open-air dining destination." The Halal Guys is the #1 Most Yelped business in all of NYC, and in the Top 3 Most Yelped businesses in the entire United States." (From the Halal Guys website) So many love it, might as well try it yourself!
Chick-Fil-A
How could you make a top 10 food list without adding this classic? At the Chick-Fil-A on campus, there is ALWAYS a huge line, and for a good reason. The chicken? The waffle fries? THE SAUCE? This is a want.. no a NEED. Every day (except Sunday), this restaurant thrives off of good service, fast delivery time, and delicious meals. There's nothing else to say here. Chick-Fil-A is a college campus staple and you should take part.
Lazy Moon
College is the time for pizza. This pizza place is a UCF favorite for students. Known for their creative toppings, this pizza place serves GIANT slices. They're cooked to order with fresh dough every time. UberEats delivers this delicious pizzeria, and Lazy Moon is open until 12 a.m., so if you're ever in need of a midnight snack you're in luck. This restaurant also boasts a Bocce court, so if you are looking for an activity, pizza, and microbrew beer (if you are 21 or over of course), then Lazy Moon will be your oasis.
Tijuana Flats
Tex-Mex restaurants always hit the spot, and this one takes the cake. The restaurant was founded by a college student who had a craving for Tex-Mex, and now they have over 135 locations around the United States. The kooky, wild colored, Day of the Dead decor sets the theme, (and is great for selfie taking if you so choose). The delicious food, endless chips and salsa, flavored margaritas, and fun environment makes this one of the top college student spots of all.
Frozen
This is a nitrogen ice-cream establishment, opened by a current UCF student. On top of having the latest trend in creameries, they also have frozen yogurt and coconut milk ice-cream. If you've never had ice-cream frozen by liquid nitrogen then there's only one thing to say. It is the CREAMIEST ice-cream you will ever have in your life. There are no bumps, no cold freezer burned flakes, and no hard parts. It is all creamy goodness. Living in Florida it can get pretty hot… like "melting into a puddle and just want to die" hot. You can never go wrong with some delicious ice-cream. Give your support to your fellow UCF student and head on over to Frozen Nitrogen Ice-Cream.
You can't go wrong with food choices in a college town. The array is like no other. However, sometimes that can be confusing and overwhelming so here's your go-to guide for restaurants you should try here at UCF.
---
---
Related Articles