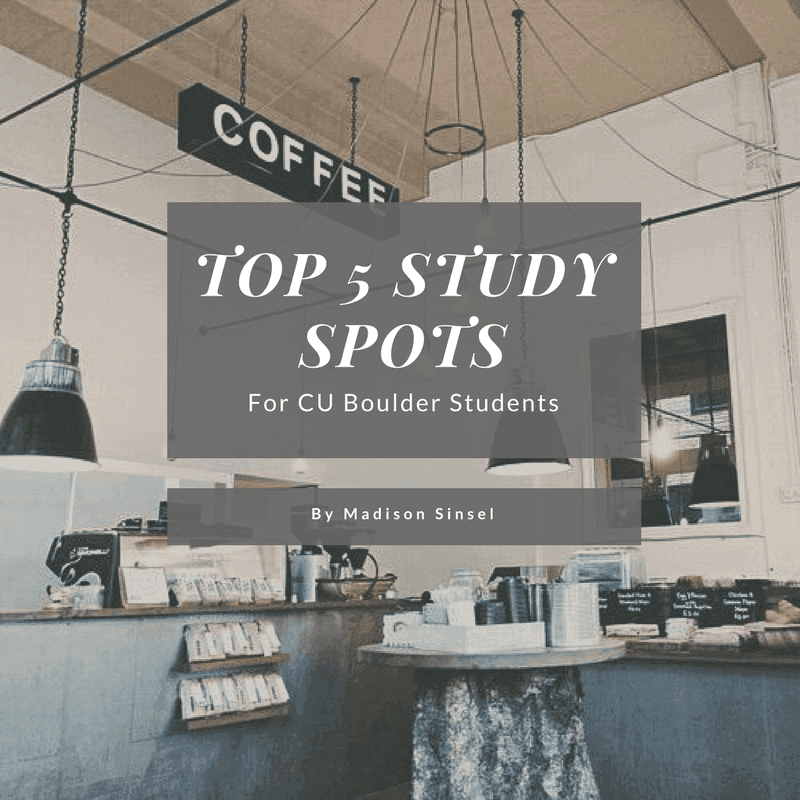 Studying is an integral part of college life, and it's adapted its own special culture over the years.  Hunting for the best study-focused nooks and crannies has become a tradition among college students of all ages. There's really nothing better than using a couple of extra hours to be productive and knock out all those post-break essays while sipping on a relaxing cup of coffee or tea in your local coffee shop. Boulder is a great hot spot for cozy cafés, small businesses, and bookstores that make for the perfect study spot. Finding these little places used to be hard for CU students, but it's about to get a lot easier with this list of the top 5 study spots in Boulder, Colorado. You could also get your university supplies here!
1. The Laughing Goat Coffee House – Pearl St.
When you think "cozy local coffee house and café", this is what should come to mind for any CU student. Located on the infamous Pearl St., The Laughing Goat is a name that you've probably already heard thrown around as a hot spot for the college student looking for a good cup of coffee and a quality study nook. It has that "hole in the wall" feel without being too cramped, and the mountain-inspired atmosphere hits you the moment you walk in. The Laughing Goat offers a variety of coffee drinks (and teas, for those of you who aren't into the coffee lifestyle), and they even have live music playing for their customers. If you're looking for a modern yet rustic coffee spot, The Laughing Goat is your place.
2. Innisfree Poetry Bookstore and Café – The Hill
Ah, University Hill. Just a short walk away from CU's main Boulder campus, the Hill is infamous for its various shops and restaurants that embody the culture of the town. If you've ever been on the Hill, you've probably passed Innisfree more than a couple of times. This place isn't just a coffee shop – it's also one of three bookstores in the United States that exclusively sell poetry books. On top of that, their Boulder-based coffee selections and amazing baked goods are enough to push any student through to the last page of an essay. Does it get any more Boulder than that? I didn't think so.
3. Pekoe Sip House – Atlas, On-Campus
If you're running short on time and can't make it to the nearest Starbucks for a latte, have no fear. This on-campus café has enough drink varieties to keep you satisfied even as you head into that dreadful 9 am. Located in Atlas, this quick stop somehow keeps the traditional coffee-house vibe alive despite being on CU grounds. They offer a wide variety of hot and iced coffee drinks, as well as tea lattes and – wait for it – boba beverages. Pekoe is the perfect place if you're not ready to commit to an off-campus location but still want an atmosphere that promotes socializing, studying, and staying caffeinated (the three S's for surviving college, in my opinion).
4. Alpine Modern Café – College Ave.
This one is for fellow basic college girls who sometimes just want an Insta-worthy café picture to commemorate their study session. (Hey, there's nothing wrong with that. We're all human. Let us live.) The pristine white walls and brown wooden decor scream "aesthetic", and the food alone is enough to keep customers coming back. They offer some excellent lattes, and the atmosphere is quiet enough to let you focus while you work. Plus, you can always use their amazing (and healthy!) lunch options to bribe yourself into finishing that last-minute reading. Everyone wins!
5. Norlin Library – On-Campus
Finally, a suggestion on this list that isn't a coffee house. Libraries are a  favorite when it comes to studying spots because of the infamous no-talking rule. This library has so many tables, computers, and comfy sitting spots that you won't even know where to start. There are SO many resources open for your use that homework instantly becomes a breeze. There is also a special sort of comfort that comes from studying in a library full of students who are also studying. Plus, if you really can't function without your caffeine fix, there is a Laughing Goat Coffeehouse in the library itself – and it's just as good as the one on Pearl St.
There you have it – five hotspots for when you need a break from the dorms and a good cup of caffeine. I'm sure that even if you're new to CU Boulder, you've probably heard about most of these, but hey, you won't know how good these places are until you try one for yourself. So grab a seat, order some coffee, and happy studying!
---
---
Related Articles