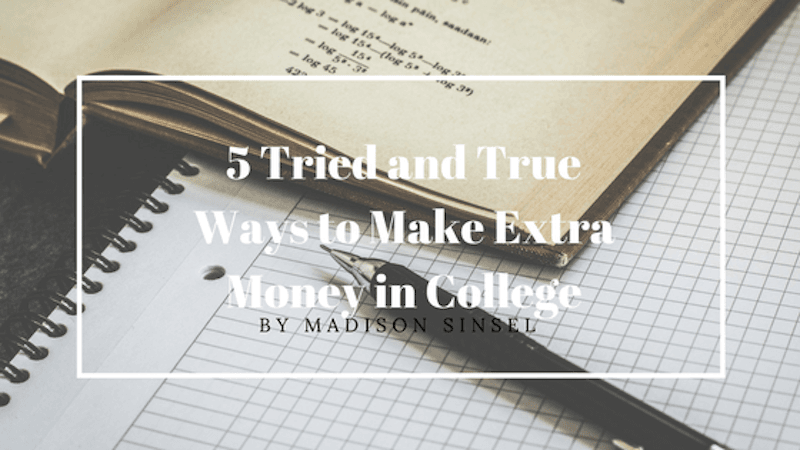 Being broke is a normal part of college life. As much as that sucks, it makes sense; you're focusing on classes that are harder than you're used to, there's more – and more intense – homework to be done with shorter deadlines to meet, and finding time to work is a struggle on top of these academic demands. Even if you have a job, chances are you're not making the wage that you wish you were. The combination of social and academic pressure that college entails, makes it a lot harder to find hours for work. And don't even think about textbook expenses. (Seriously, please don't.)
If you're a college kid reading this, chances are you're like the rest of your class and are looking for a couple of ways to make some extra cash. The following list is NOT spam – these are from verified sources of people who have tried these and swear by them. Keep reading for 5 easy ways to make some money on the side when in college.
1. Selling Old Clothes at Plato's Closet
If you're ever short on money, the first thing you should do is look in your closet and find clothes that don't fit anymore, are old, or just aren't really your style. Then just put them in a bag, take them to Plato's Closet, and donate the rejects to Goodwill. Most of the time, it takes them a little while to sort through everything – the one in Boulder is regularly busy. But if you have an extra half hour or so, then this is a perfect way to earn some cash. They'll offer you a certain amount of cash for your clothes OR you can get double that amount in cash at their store, and buy new clothes to replace the ones you just sold. No appointment needed. You get paid on the spot, and if you can't wait around, they can call you when they're done sorting through your old items. This is definitely the quickest and easiest way to make cash yet!
2. Sell Your Class Notes
If you do this in a legal way, this is a pretty surefire way to make money for doing your schoolwork. If you're someone that takes notes like a crazy person, this requires almost no effort at all and gets you paid! OneClass has a program for Elite NoteTakers: all you have to do is scan your notes, upload them, and offer them for a price. You can get up to $500 depending on how in-demand the notes for that specific class are.  It's the perfect incentive for you to actually go to class!
3. Become a Part-Time Dog Walker
There are a countless number of students that use various apps to get paid for walking dogs. The most trustworthy ones that the internet has raved about are Rover and Wag!. Everyone who've used it have also given a great review. Normally, a 15-20 minute walk is around $20, and a 30-minute walk is $30. The rates only go up from there, so why not get paid to get some light and easy exercise during one of your free hours? Plus, you get to hang out with some REALLY cute dogs. It's a win-win, really.
4. Put eBay to Work
Have you recently moved out of your childhood home or dorm? Do you have a ton of stuff lying around that is just taking up space? Turn that old stuff into extra cash and take it to eBay (or Craigslist – that's a bit more popular in Boulder and easier to do local trades with). It's as easy as taking good pictures of your items, uploading a listing, and waiting for the offers to come rolling in. The perk of using eBay is that you can quite literally sell ANYTHING on there – eBay has seen it all. Even if you think your junk won't sell, you never know until you try eBay.
5. Look into Work Study on Campus
As unappealing as it might sound, work-study can be a fantastic way to make money while working around your school schedule. It can also be a way to make money off of something you're passionate about or something that applies to your area of study. For example, if you're really passionate about fashion or costume design, CU Boulder's campus (sko buffs!) offers a program where a student can complete a prerequisite costume shop course and work 40 hours in the university's costume department, then start getting paid as an employee. It can help you make money, while gaining experience in a certain field, and it automatically works with your class schedule!
There you have it. Again, these aren't just phony hacks that will keep you from being broke – these are tried and proven by a countless number of real college kids, just like you. Try these five tricks to gaining some extra cash with minimal effort and you'll never worry about paying for that pre-class Starbucks again.
---
---
Related Articles