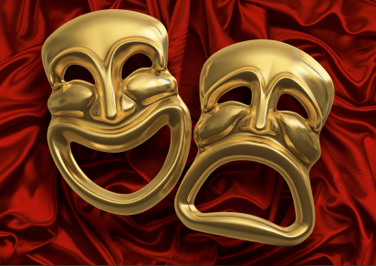 If you aren't an actor, consider this article your new guide to surviving what might be the weirdest class you take in college. Acting classes are always fun in one way or another; whether it's playing improv games or doing scenes with a partner, you'll always find yourself getting up in front of people and performing. Lots of people use introductory acting classes as a way to get an easy art credit. However, these people usually have no idea what they've gotten themselves into. If this sounds familiar, tune in for some tips on surviving Acting 1 until the end of the semester.
1. Make Friends With Your Classmates
It's hard to enjoy any class if you don't know anybody else in it. This is especially true for acting classes. If you aren't exactly a natural actor, try finding a couple of other people in the class who are at the same level that you work at. That way, you'll have a couple of people you know you can partner up with for projects or performances.
2. Talk to Your Instructor
Any instructor who's ever taught an introductory acting class like Acting 1 can tell you that it's hard to teach acting to so many people at various experience levels. Talking to your instructor or professor will help them understand how they can help meet your needs and help you grow as a performer. If there are some things in the class that you aren't comfortable doing, like going up and performing by yourself, letting your teacher know can be especially helpful. That way, they can help you get all of your participation points without going too far out of your comfort zone.
3. Find Something that Interests You
A lot of people don't realize how many different aspects of acting there are until they take an acting class, and Acting 1 is perfect for finding what type of acting appeals most to you. Even if you aren't interested in acting in general, try doing some research on different methods or scenes you could use for a project. Your teachers will be wonderful at helping you find something that really fits your style.
4. Put Your Best Foot Forward
Don't be afraid to let yourself really get into the art of acting. As scary as that may sound to some, it makes the class more fun and more enjoyable. If you're someone who hates acting and everything it stands for, you'll only make yourself more miserable if you let yourself hate every minute of the class. Listen to what your instructor has to say, and let yourself loose. It'll make classes go by a lot faster, and maybe you'll even enjoy it!
5. Have Fun!
It's hard not to have fun in an acting class once you're used to the swing of things. No matter what type of exercises you'll end up doing, whether it be movement work or Stanislavsky method, there's always a way to find the fun in what you're doing. Don't forget that there are probably people in that class who probably feel the same way you do. The best way to get through it is to let yourself enjoy it and have fun with what you're doing!
At CU Boulder, there are a variety of acting classes that people take for all sorts of reasons. Whether you're a serious actor who's looking to improve your skill, or an amateur looking for a fun class and some easy credits, you won't regret taking THTR 1003-004 (otherwise known as Acting 1) by the end of your semester.
---
---
Related Articles