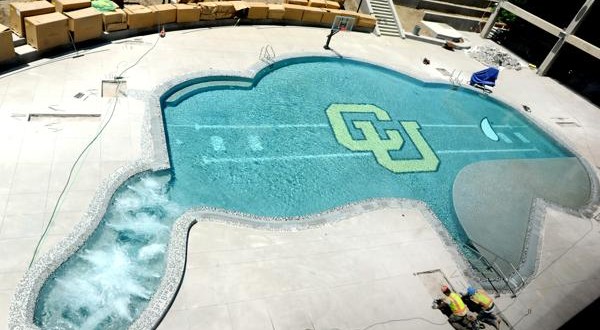 1. You have to wake up to the Flat Irons every morning.
Sometimes, going to class can be hard when you have the Rocky Mountains as your backyard. You will find yourself with the urge to hike, climb, and lay in the sunshine all day, and hopefully you will be able to after your 8AM class.
2.There are too many types of people.
At CU Boulder, you will find yourself meeting many different people, and you will find yourself changing. The diversity of people will cause you to become friends with people you never would've thought about being friends with.
3. There are too many clubs to join.
College can be overwhelming in a school such as CU Boulder, especially with so many extracurriculars. Students are involved with everything from Going Greek to Intramural Broomball, it can be difficult to pick a favorite with everything going on.
4. The location is horrible.
The students at Boulder tend to get bored with downtown Denver, Red Rocks Amphitheater, and some of the best skiing mountains in the country all close by.
5. Going home is not the same.
Yes, you will miss your parents and your dogs, but when you go back home for Christmas break, you will already want to be back on campus. The Hill, the Flat Irons, Farrand Field, Cosmos pizza, and the people you meet all cause a magnetic attraction to CU Boulder that will cause the school to become your new home.
6. You will fall behind on your Netflix shows.
It is inevitable that you will always be moving. Going from class, to your friend's house, to eat, to maybe doing some homework, and playing sports, you will hardly have time to sleep, and you will definitely find it hard to squeeze your favorite TV shows into the mix.
7. You will probably slip on ice.
Especially for all of you out-of-state students, there are four seasons so be prepared for snow. Colorado natives don't think twice about wearing flip flops in snow, but for all of you from California, I would suggest investing in snow boots.
8. The food is death.
And by death, I mean to die for. According to Bon Appetit Magazine, Boulder was ranked #1 foodiest towns in America. With fresh farm food and local restaurants on every corner, you won't even think about missing your mother's cooking.
9. 21 keeps getting further away.
For all of you who are under the age of 21, (myself included) Boulder will make you start counting the days until you can go to the seven famous breweries and attend The Great American Beer Festival in Denver and Stout month in Boulder.
10. You won't want to graduate.
After four years at CU Boulder, you will meet amazing people and create memories that cannot be replaced. Senior year, everything will be lined up, but you won't want to leave. You won't want to leave the people you met and the buildings that you had your favorite nights in because you are afraid that the best years of your life are over.
---
---
Related Articles