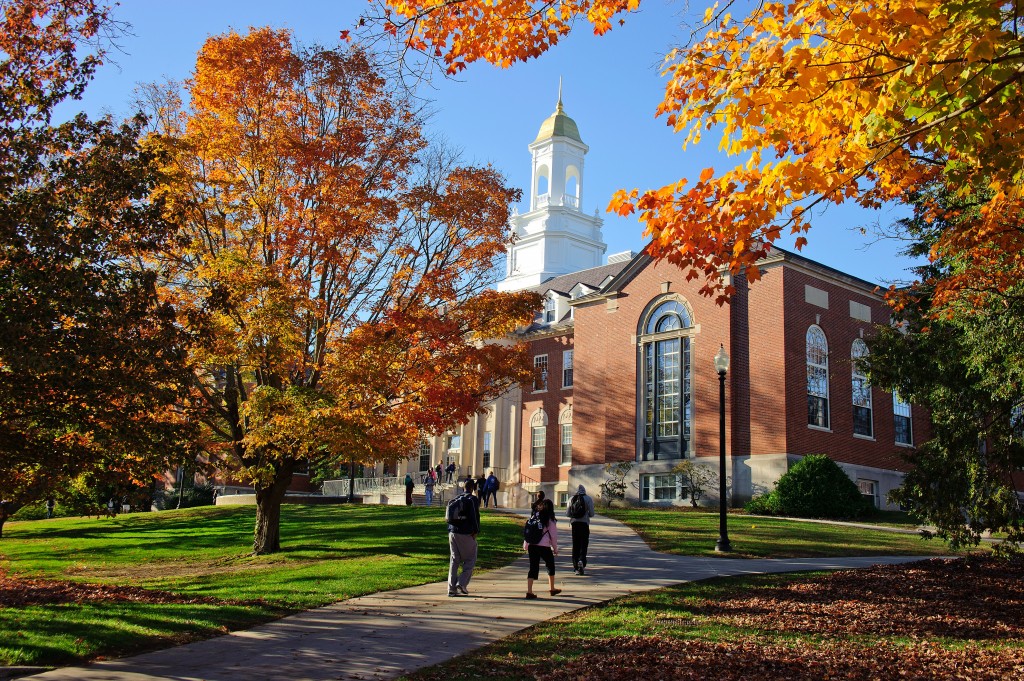 UConn has lots of students, and with lots of students comes a lot of study spots. Some spots are better than others. Students need to find the best study spot in order to do great on their exams, especially during finals season. Here for seven of the best places to study at UConn:
1. Homer Babbidge
The first place Huskies go to study is the library. It is a great first choice because it has the Q and W center. It also has a great café for study breaks which is very convenient. Plus, it was just redesigned so the furniture is very aesthetically pleasing. However, there is a downside to the library. Somehow UConn didn't realize that there are more students than space in the library, therefore it can be tough to find a spot. Especially during finals,  most students do not even venture into the building because there is usually never seating. Some Huskies plan accordingly and reserve a room in the library.

2. Bookstore
Another great place to study is the bookstore. There are two levels to study in. The first floor study area is right next to Starbucks, which is very convenient for a coffee-loving Husky. The second floor is quieter, and has a great view to admire while studying. The downside to this study spot is that there isn't a lot of room, and it might not be worth the trip if there are no more spots left. However, even if there isn't a spot available, Huskies can always get some Starbucks – which is a win.

3. Starbucks
Speaking about Starbucks, there are two of them on campus. One is in the bookstore, and the other is in Storrs Center. The Starbucks in Storrs Center is great to study in. It has nice, calming music, and is usually less hectic than the Starbucks in the bookstore. There are also more tables in this location. The downside to this location is that it is pretty far away from the center of campus, and most buses do not go straight to it.

4. Rowe Building
Another great study spot is the Rowe Building. It's at the center of campus, and has a great view of the lawn. It's a great spot to people watch when you're bored of studying, and it's also home to the AAC room. Once again, there aren't a lot of spots, so if you want to study there, you must get there early. However, one great benefit of this location is that the food trucks are usually right outside, so Huskies can always grab a quick bite.

5. Student Union
One common place students like to study is the student union. There is usually a lot of study spots, and there is food in the market. Students love when the Soop Doop guy wishes them good luck on their exams, it's an instant mood booster. The only downside is that the union can be a little loud, so it is not the place for a quiet studier.

6. ITE Building
A not-so-common study spot is the ITE building. It is home to mostly CSE students, so most Huskies do not know about it. It is a great location but it can seem a little cold. There is also no food close-by so students bring snacks if you plan on studying there!

7. The Beanery
The last great place to study on campus is the Beanery. It is home to the best coffee UConn has to offer, which isn't that great… but hey, it's still coffee. It also has some great food options which many Huskies enjoy. The design is very pleasing to students, and creates a great study environment. The only con is that once again it can be a little loud, but overall it is a great study location.
Overall, studying can be boring and frustrating. Finding the perfect study location is essential for students to pass their exams. Huskies, keep these tips in mind when looking for a study location on campus!
---
---
Related Articles