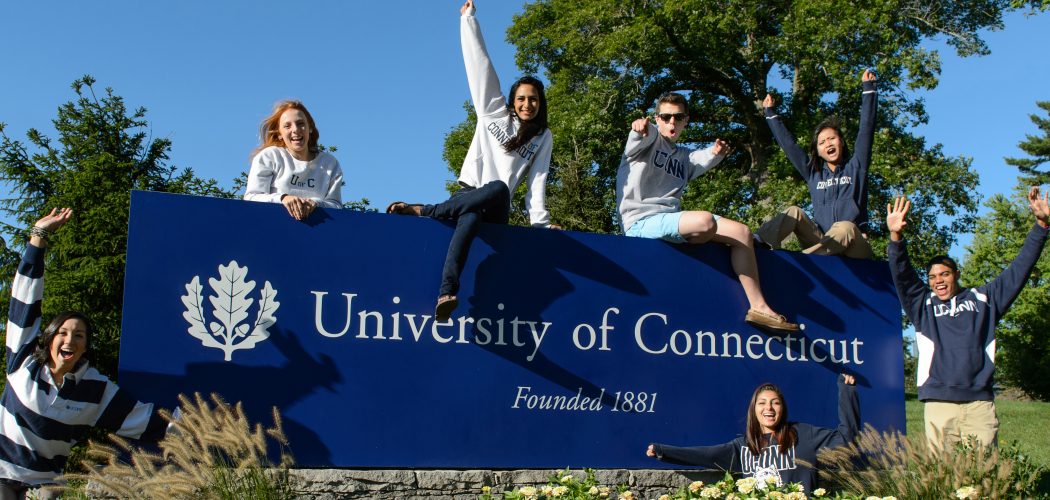 UConn is a great school to be at, but starting as a freshman can be difficult anywhere. The good news: UConn is great at making new students feel right at home. With the right tools, you can build yourself a great support system. Here are 10 Tips to Survive Freshman Year at UCONN!
1. Use Flex Passes and Points Throughout the Semester
One of the biggest mistakes you can make is not taking advantage of your full meal plan. Apart from unlimited access to all the dining halls on campus, as a student there are a ton of other places to eat at using flex passes and points, like the Grab and Go, Dairy Bar Too, and the Student Union. Don't wait until the last minute to stock up on food because the servers and people waiting behind you will hate you.
2. Take Advantage of all the Free Stuff
UConn is notorious for all their free shirts and miscellaneous items. From bamboo to stuffed huskies, there's free stuff galore, especially at Late Night on the weekend. You don't want to leave UConn after four years without anything with the UConn logo on it. The lines can sometimes be long, but it is ALWAYS worth it. Top notch quality free stuff.
3. Office Hours
College can be a huge adjustment. It's very different from your average high school experience. Because of that, freshman might freak out and stress. No need. Most of the professors at UConn have their office hours listed on their syllabus and if they don't, they can be reached by email. Most professors care that their students succeed and are more than happy to help but you have to reach out.
4. W and Q Center
The W and Q Center are in the library and have very flexible hours. You just waltz right in and ask for help. The W Center helps out with writing and writing courses while the Q Center is for qualitative courses, or courses for math and science. There are very knowledgeable tutors available to help students out with any course they might have trouble with. Be sure to stop by if you find yourself stuck.
5. Join Clubs
It's important to branch out on campus. It's very easy to become alienated if you don't get involved. Best part: there is literally every type of club you can imagine and they are filled with passionate people who love what they do. Want to watch bad movies? Join The Bad Movie Club. Want to bust a move? Join The Breakdancing Club. There's no end to what you can take advantage of at UConn.
6. Get in Good with Your RA
Your Resident Assistant is a great resource on campus. They live on your floor and are almost always around. They are a great source of information and can really help you settle in as a freshman. They know all about what's going on, where to go, what to do. Befriending your RA can also open up opportunities you didn't even know were available. They are great confidents and always there for you. Also: new friend!
7. Keep Your Door Open
Making friends in your building, and especially on your floor, is important for creating a support system. If you want your home away from home to feel welcoming, it's important to get to know your neighbors. Keeping your door open, especially for the first few months is a great aid to this. Take a walk around and invite others who are walking by in for a chat. UConn is great about having people who want to reach out and make connections!
8. Say Hi to Your Professor
One of the biggest adjustments, especially at a big school like UConn, can be the big class sizes. Because of this, your professor might spend the whole semester not even knowing you exist. It's important, for your grade and connections, to reach out and introduce yourself to your professor. Trust me, they'll appreciate you making the effort.
9. Eat Well to Avoid Freshman 15
It can be exciting to be away from nagging parents who constantly check that you're eating well. Having homemade ice cream from the Dairy Bar within arm's reach can be dangerous too. Just be careful to remember to balance your diet. UConn is great about having a lot of options, like their salad bars. Maybe hit up the gym or join an intramural sports team as well to make sure you maintain good health.
10. Learn the Bus Schedules
The buses are a great resource on campus. They are super convenient, fast, and there's a section on the UConn app which help you reliably track them. It's important to get the schedules down in the fall so that you're not scrambling after the bus in the snow when winter hits.
---
---
Related Articles