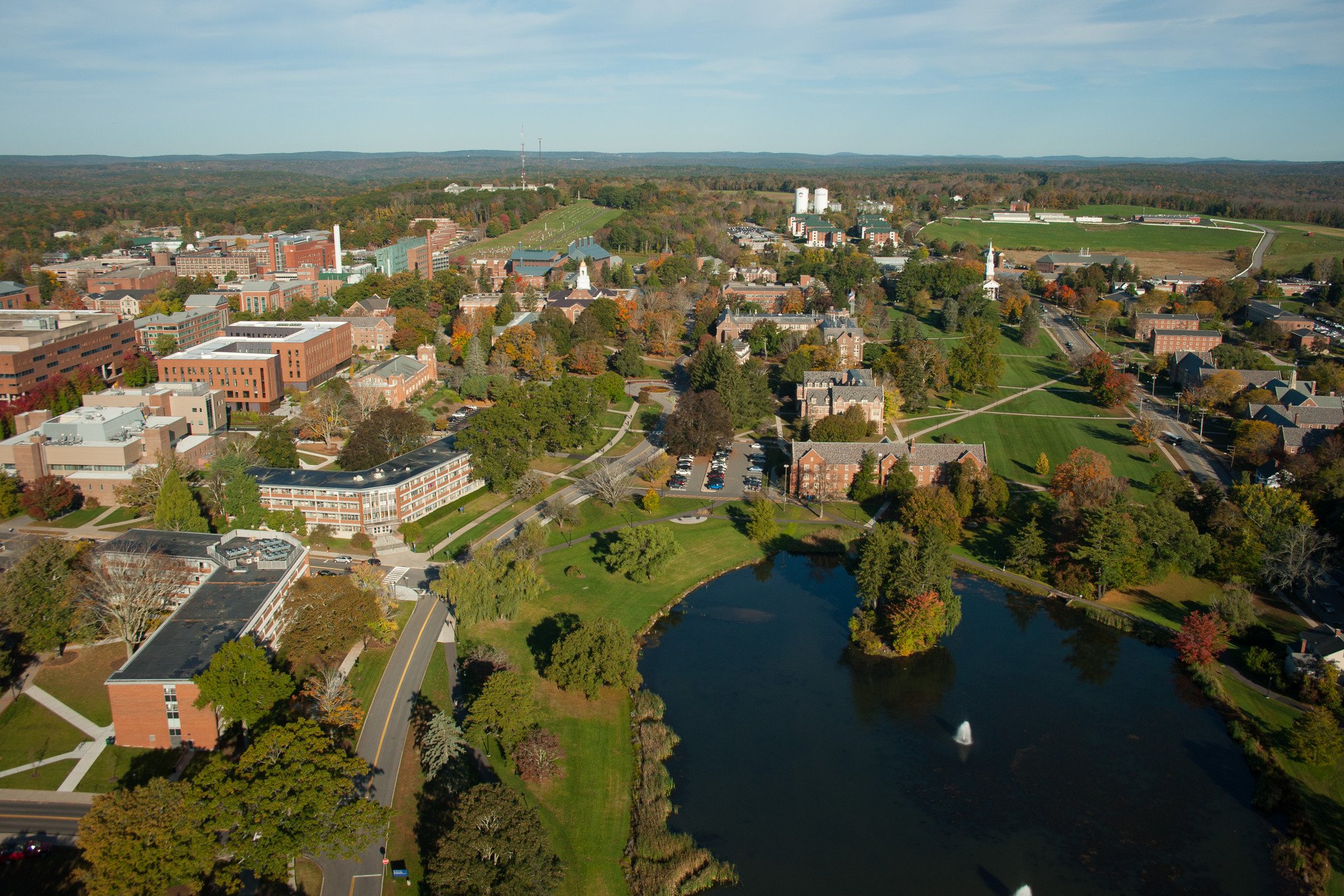 You might be getting ready to start your freshman year at University of Connecticut or looking to book the best housing as a returning Husky. Either way, a little research always helps when trying to get the best digs.
1. South
This is the place to be. It is absolutely gorgeous, especially at night. It has one of the best dining halls on campus, with McMahon (the other amazing dining hall) very close by. Its conveniently located close to the center of campus and Storrs Center for all your needs. South also has quads which means cheaper housing options for you and your friends but if you're ready to splurge, there are also suite-style rooms.
2. NextGen
NextGen is the shiny new residence hall on campus. The rooms are doubles and are a bit smaller, but they have central air conditioning with individualized settings in each room. It's also super close to the center of campus and the Rec Center, which is super convenient if you like going to the gym. The floors are also organized by group, like WISME (Women In Science, Math, and Engineering) and that's super comforting at times. It's very exclusive though. You have to go through an application process to get in.
3. Hilltop Apartments
This is the best of both worlds. It's apartments that qualify as on campus housing! There are full kitchens and washing machines, which is SUPER convenient and nice. There's also personal A/C and heating, something most residence halls on campus don't have. It's mostly seniors that live here but people get to know each other well around the apartments.
4. Nathan Hale Inn
There are only two floors in this joint, so it goes fast. Why does it go fast? Because you literally live in a hotel. Hotel maids come to clean your room for you and you get TV and phone services! Not to mention central A/C and ROOM SERVICE. This high class living is a dream and is also super close to the center of campus.
5. Buckley and Shippee
Now called Lakeside Commons, Buckley houses first year honors students and Shippee houses mostly first years and some sophomores. It's kind of far from classes but they are snuggled up right next to Storrs Center and overlooks the beautiful Mirror Lake which makes for picturesque and convenient housing. The sense of community is great and the rooms are a decent size. Just don't expect any wild parties around here.
6. Alumni
Since South fills up pretty quickly, the neighboring building is your next best bet if you like the nice distance from campus central and Storrs Center. Alumni has got decent doubles that are a bit bigger than the usual. They've also got a lot of learning communities situated there, which is great if you want to have an on campus family. The highlight of this building is their volleyball and basketball courts outside!
7. East
East Campus is very pretty. Everyone is very friendly in this residence hall and it has a very summer camp vibe. It is a bit far from most things on campus though. However, it is right across the bus stop that goes into Willimantic (Walmart, the mall, etc.). Also, this building has the Whitney Dining Hall which stays open late and serves breakfast options for dinner throughout the week, including a full waffle bar!
8. Garrigus Suites
Garrigus is fairly comfortable and houses triples and singles. Bathrooms are shared between two suites instead of a whole floor and floors are co-ed. This hall is very close to campus classes. There's also going to be a brand new dining hall here in the new school year!
9. Busby Suites
Busby is nice but VERY far and on top of a hill which is great if you like working your calves. Dining options aren't great either. You have to hike out to North. BUT, there are plusses. The rooms are the same style as Garrigus, but much bigger. They also have an amazing game room which a TV and DVD player, game consoles, and cooking supplies and equipment!
10. Northwest
This is a nice, traditional style building. This does mean that there isn't central air conditioning and the rooms are smaller. It's also on the far side of campus. Despite this, it's a pretty area and the buses go right to the residence hall. The dining hall is also fantastic and one of the best on campus!
---
---
Related Articles