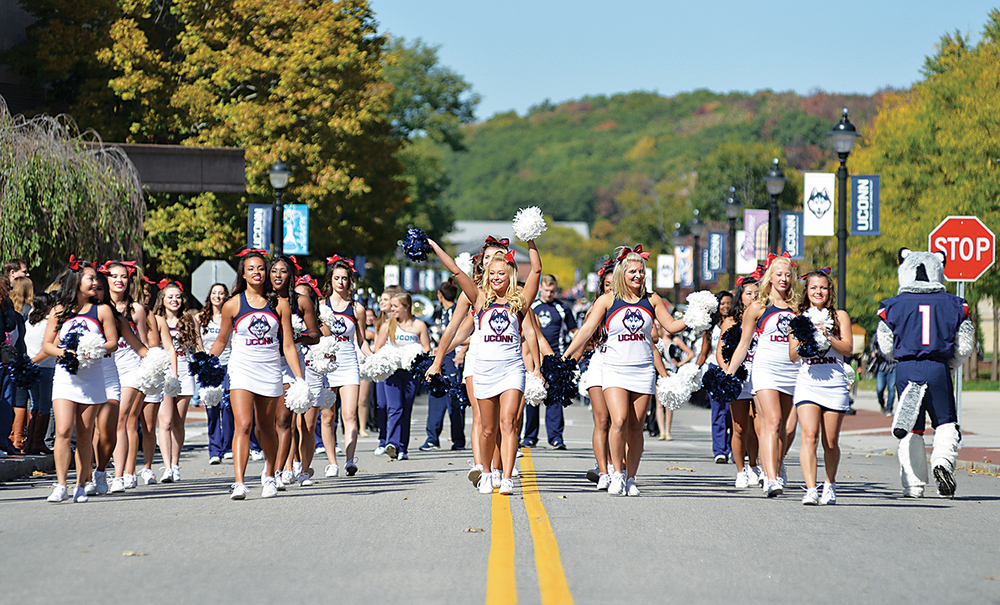 SUBOG stands for Student Union Board of Government here at UConn and they're always organizing awesome events for our campus. Show your support and Husky spirit by attending and don't miss out on these opportunities! And make sure you follow SUBOG on social media so you can catch their other events!
1. Late Night
Every Friday and Saturday, SUBOG hosts Late Night at the Student Union. Every night is a different theme and they give away free stuff to go along with that theme. One night it was Jurassic Park so one of the free things they gave out was those toy eggs that hatch when you put them in water! There's also karaoke and fun food like mozzarella sticks and wings!
2. Movie Nights
Movie Nights are great! SUBOG does a good job of getting and showing new movies in the Union theater. It's like going to a real theater without paying as much; there's popcorn and comfy seats. On Thursdays and Saturdays, they show new movies for $2 (what a steal!) and on Fridays they show older movies for free. A great date night idea, or even just a chance to chill out with friends.
3. Spring Concert
The Spring Concert is huge at UConn. SUBOG grabs huge artists to play at Gampel Pavilion stadium, where the basketball teams play, so acoustics are INSANE. One year they got Kendrick Lamar! This year they snagged Lil Uzi! It's an incredible experience and definitely a huge part of the Spring semester.
4. Trips to New York
New York is only a few hours away and since there's practically nothing in Storrs (if you're looking for big city stuff), SUBOG makes sure there are plenty of opportunities to get to Boston and the Big Apple. Some of their best trips are to the Museum of Moving Images, Red Sox games, and Broadway Shows. The trips usually last all day so after you're done doing whatever you went on the trip for, you have the time to go and explore the rest of the city before the bus takes you back.
5. Spring Weekend
Spring Weekend is a ton of fun on the UConn campus. Apart from the crazy parties, there's something organized for nearly every minute of the weekend. However, the highlight of the weekend is something only offered by UConn: ooze ball. In other words, volleyball in the MUD. It's fantastic. The whole school is there, in different teams, all playing and having a blast. Each year has a different theme and this year's in Game of Thrones.
6. UComedy Show
SUBOG really supports the students. The UComedy Show has different stand up acts by UConn students. They're super funny and great to go to. There's food and door prizes throughout the night as well. It's a fun experience to have and a great way to support your comedic peers!
7. Homecoming
One of the perks of having a large campus is that Homecoming is HUGE. The parade is a proper march and there's a mini AMUSEMENT PARK that gets set up near South Campus. There are rides, food vendors, and booths set up for free things like tie dye Frisbees. This year's homecoming theme was Music Tours in Storrs so all the fraternity and sorority floats were decorated to commemorate a specific music artist. They were INCREDIBLE. Super fun!
8. Lake Compounce Haunted Graveyard Trip
SUBOG goes nuts around the holidays. They plan events on and off campus. One of the off campus events for Halloween is the Graveyard Trip. The place that hosts it puts in a TON of effort and it shows. There are rides and food too if you don't feel like going through what is essentially an extremely scary, outdoor haunted house.
9. Husky Spirit Events
UConn loves its husky. Jonathan is the baby of our campus. Who doesn't love these guys? SUBOG is Jonathan's most loyal cheerleader. They always make sure that everyone is filled with Husky spirit and apparel. One of the most fun events to promote our furry friend is the Stuff a Husky Day: it's basically build-a-bear but with Huskies!
10. One Ton Sundae Day
This day is a MUST. SUBOG collaborates with Dairy Bar to give students literal BUCKETS of whatever ice cream flavors they choose! This ice cream is crazy good too – it's homemade by UConn students by the cows that live on our campus!
---
---
Related Articles