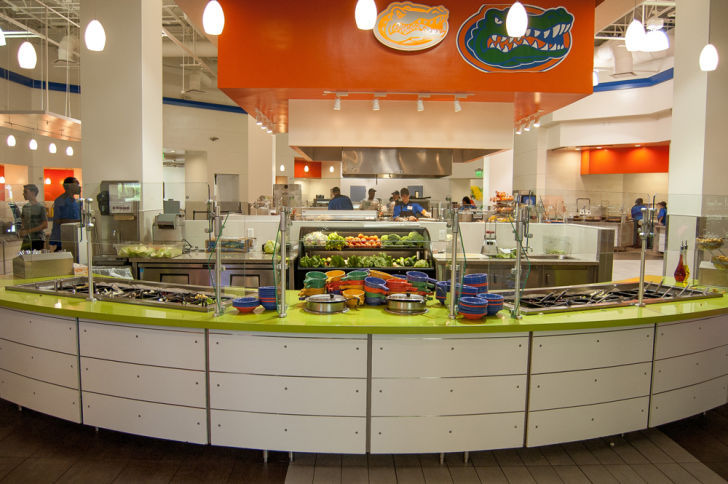 Moving to an entirely new place that you aren't familiar with can be tough. Sometimes it is difficult to find interesting or exciting places around your university to go to or to explore. The same goes for finding places to eat out on days you aren't feeling frugal. You don't want to be eating the generic, unhealthy fast-food all the time, do you? Lucky for you all, I've compiled five of the top-rated food joints in and around The University of Florida.
Leonardo's Pizza by the Slice
Every student at UF knows Leonardo's, or at least they should. Being right on West University Avenue near Midtown, Leonardo's is a staple for thousands of hungry gators looking for a slice of delicious, affordable, hand-made pizza. With a special pizza available on every day of the week, the options are nearly limitless. Customers can call ahead of time (which is recommended as they can get very busy, especially during the night) to order custom-made pizzas at various delectable sizes as well as other Italian dishes such as pasta, salads, and sandwiches. All in all, Leonardo's is a place for amazing pizza that won't break the bank.
The Top
Looking for something a bit on the fancier side but more towards the casual dining side? Something that is a bit pricey but not too expensive? If you answered yes to these questions then The Top is the restaurant for you! The Top is a small restaurant off of West University Ave. and Main St. that serves delicious sandwiches, salads, entrees and cold beverages. One of the best places to take your Gator Girl if you're looking for something more on the impressive side and less on the "struggling college student living off of FAFSA" side.
Bagels and Noodles
Mixtures of two cultures is a wonderful trend in food that should be embraced by everyone who loves food. Bagels and Noodles is a restaurant that exemplifies that ideal by bringing together two of my favorite foods: American bagels and Vietnamese noodles. Off of West University like the other examples, Bagels and Noodles is a relatively inexpensive restaurant that UF students who enjoy Pad Thai, Pho, and Cream Cheese Bagels can go to when they crave such an interesting mixture.
Reggae Shack Cafe
Do you like spicy food? Jamaican food? Jerked chicken? Good, me too. The Reggae Shack Cafe is a Jamaican inspired restaurant that serves many Caribbean dishes filled with spices and impactful flavor that is certain to make you 'hear the sound of music'. With plenty of vegetarian options, this eatery is a wonderful place to experience something new and unique.
Midnight Cookies
When was the last time you had dessert for dinner? If the answer wasn't yesterday, Midnight Cookies is here to help. Although not necessarily a restaurant, they are a popular place in Gainesville to get a late night sugar rush. Open until 3am on most days, Midnight Cookies bakes cookies that you order as soon as you order them and can even have them delivered to your dorm/apartment with a glass of cold milk. Truthfully, you would get a much better cost out of making the cookies yourself, but in terms of the numerous amount of flavors you get to choose from, it is well worth the cost.
---
---
Related Articles