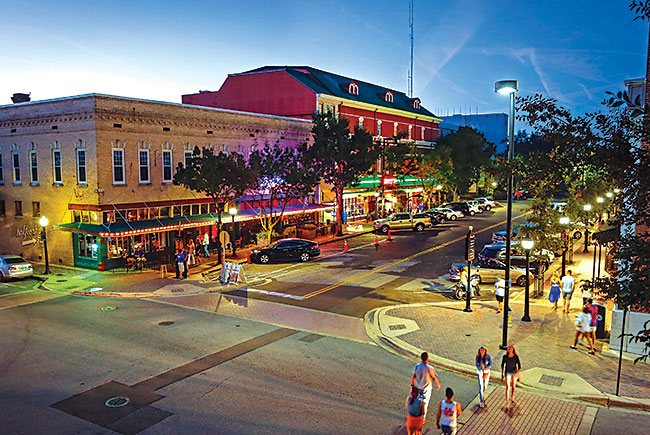 Tired of spending all of your time at the library? Don't want to do the same stuff every weekend? Want to try something new? There are plenty of University of Florida students who aren't experiencing all of the great things Gainesville has to offer, so I put together a list of some of the best things you can do around town.
10. Visit The Friends Of The Library Book Sale
Several times a year the Friends of the Library host a massive book sale here in Gainesville, with all proceeds benefiting the Alachua County library district. The sale is massive (the biggest of it's kind in Florida), with thousands of books, dvds, cds, records, and more, all for insanely low prices. Next time the sale happens, check it out! You never know what you might find!
9. Visit The Union Street Farmer's Market
Every Wednesday, at Bo Diddley Plaza in downtown Gainesville there is a farmers market. Local farmers from around the state come to sell their fresh grown local produce. So, not only is it a great place to stock up on fresh fruits and vegetables, but you can also help the community at the same time!
8. Go To A Record Store
Downtown Gainesville has two awesome record stores right down the street from each other. Arrows Aim and Hear It Again Records are great places to go to pass the time on a lazy Sunday afternoon. Whether you have a record player or not, it's fun to look through the thousands of records, both old and new. Who knows, maybe you'll find your new favorite band on one of those shelves!
7. Check Out The Monthly Food Truck Rally
Once a month, there is a massive food truck rally in the parking lot of High Dive in downtown Gainesville. This free all ages event features both local and traveling food trucks with a great assortment of new foods to try. On top of that there will also be free music inside High Dive and a portion of the proceeds will go to a pre-selected charity!
6. Go To The Devil's Millhopper
Looking for a real change of scenery? Try the Devil's Millhopper. This local landmark features some of the most beautiful scenery in Gainesville. The Devil's Millhopper is a giant sinkhole surrounded by breathtaking greenery that will bring out the nature lover in all of us!
5. See A Show At The Hippodrome
Whether it's a play, indie cinema, a classic movie screening, or something else entirely, there's always something going on at The Hippodrome in downtown Gainesville. Whether you're going alone or with friends, you're sure to find something interesting to watch that you may not get an opportunity to see anywhere else.
4. Visit The Museum Of Natural History
Who doesn't love a good museum, right? Well this one happens to be right on campus, and with free admission for UF students why wouldn't you want to go check it out?
3. Plan A Trip To Ginnie Springs
There's no better way to relax after a long week of classes than visiting the springs. You can go swimming, tubing, diving, or just have a fun time with your friends. The water's always cool, making it a great way to escape the Florida heat!
2. Go To A Concert
Gainesville has one of the best music scenes in the state, so there's always a concert somewhere! With a killer lineup of local talent and plenty of touring bands, there's no better place to enjoy some great music. Since moving to Gainesville I've seen some of my favorite bands and met some amazing people through music. There are shows for everyone, whether your'e a punker, a metal-head, a rocker, a hip hop enthusiast, a connoisseur of all things alternative/indie, or you just want to see a nice, quiet acoustic show. Even if you've never listened to anyone playing, going to a show can still be a great experience!
1. Fest!!!
It's my favorite weekend of the year! The last weekend of October every year is Fest, the biggest punk music festival in the country. It takes place in 17 venues all across downtown. Boasting a lineup of over 350 bands, comedians, a professional wrestling event, a pool party, a yoga event, and more, Fest weekend is packed with more fun than you ever thought was possible! I've met some of my best friends at Fest, and can't wait to go again this year. With people and bands from all over the world coming in just for the weekend, it's an experience no Gainesville resident should miss! Plus, Gainesville residents can volunteer one shift during the weekend helping out at one of the 17 venues and experience the entire weekend for free! Why wouldn't you want to go?
---
---