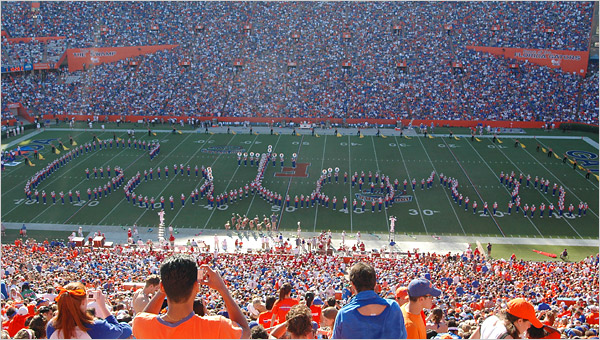 University of Florida students can now enter to win a summer 2017 trip to anywhere in the world! Enter Now.
_______________________________________________________________________________
Each university has its own characteristics, but if you ever went to UF then you might be familiar with some of these! Here are 20 things you only understand if you go to the University of Florida!
1. You know how serious the FSU-UF rivalry is.
Everyone knows that hating on FSU is completely normal, especially during football season. Plus, in our defense, we get better grades…
2. You've aggressively stalked Student Self Service (formerly ISIS) to register for a class.
Probably the most frustrating part of starting a new semester, especially when that one course you want is never available.
3. You know that preventing the urge to buy Krispy Kreme is futile.
If you've ever had one then you know how addictive these donuts are. Especially when the hot now sign is on…
4. You know owning an umbrella Is the best decision you'll ever make.
And you thought the weather in Gainesville was always sunny and nice, just wait until summer.
5. You've spent nearly everything you own on parking tickets.
UF is a great place because of many things but parking is just not one of them.
6. You enjoying tailgating more than going to the game.
You've got to do it at least once and don't even think about not going to an away game.
7. You know the construction never stops.
Seriously, when did they start building a new hotel/apartment building on 13th?!
8. When you go out and encounter the locals AKA ACRs.
Otherwise known as Alachua County Residents, believe me you will know one when you see one.
9. You've had Krishna lunch.
Something you can't find anywhere else and if you haven't had it yet, you should!


10. You've waited hours in line for a Beat t-shirt.
But it's so worth it in the end.
11. Your diet consists mainly of Chick Fil A and Subway.
Shout out to declining balances and the fact that they are everywhere on campus.
12. You've struggled to find an open seat in Lib West or Marston during finals week.
If you're just going to sit there and watch Netflix, please leave.
13 .You know that Smokin Notes and Study Edge are a godsend.
Literally wouldn't have been able to pass gen chem 1 or bio without these.
14. You've tried to avoid the crowds and fliers in Turlington.
Try not to walk through here between classes, unless you want to listen to the Turlington Preacher or get offered a million random fliers!
15. You know how to spot lost freshman around campus.
They look so dazed and confused trying to figure out the campus, always brings back memories.
16. You've had an awkward encounter.
Somehow you always run into that one night stand or girl/guy you don't like even though UF has over 50,000 students. Weird right..?
17. You've been involved in Dance Marathon.
Even if you haven't been a part of DM, it's a huge event at UF and it's for a great cause!
18. You've been to Lake Wauburg.
What's better than taking a day trip to Lake Wauburg and going kayaking or sailing? Absolutely nothing.
19. You went to Midtown and/or Downtown for your 21st birthday.
Having your 21st birthday at either Midtown or Downtown is a popular tradition. There's no better way to celebrate it even if you don't remember what happened afterward!
20. You know it's great to be a Florida gator!
Even with its idiosyncrasies, UF is an amazing school to be a part of and you will miss it when you graduate!
University of Florida students can now enter to win a summer 2017 trip to anywhere in the world! Enter Now.
---
---
Related Articles