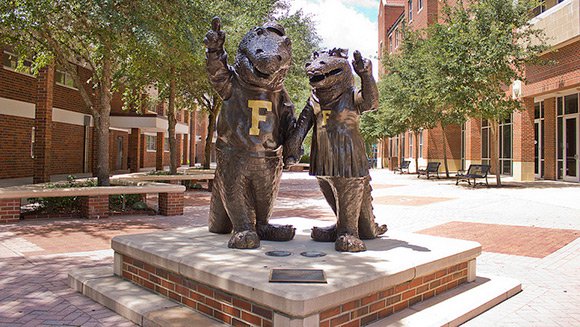 Being in college doesn't just mean endless studying and completing homework assignments, it's also a time to meet people and be involved in something you truly enjoy! UF has hundreds of student run clubs and organizations to join, which means there is definitely something for everyone. So, here are 10 of the best clubs to join at UF.
1. Alpha Epsilon Delta
If you're on a pre-professional track to become a doctor, veterinarian, physician assistant, nurse, etc. this is the right club for you! Alpha Epsilon Delta or AED is a medical pre-professional honor society that gives you the opportunity to participate in various community service opportunities in affiliation with Shands Hospital and Alachua County Humane Society to name a couple, intramurals, and socials. You'll also get the chance to meet and listen to professionals speak about the field during member meetings.
2. Reitz Union Board (or RUB) Entertainment
This is a fun and entertaining group run by students that encompasses several committees that bring diverse media and arts experiences to students at UF. These groups include the films, bands, arts, GatorNights, Comedians, and Special Events committees. If any of these committees captures your attention, definitely give this club a try!
3. Disc Jockey Collective
Have you ever wanted to learn how to use DJ mixing software and make your own music? This club will allow you to do just that and much more including being introduced to different artists and their styles of music. Not only, that but you'll meet others who also share the same passions towards creating and listening to various genres of music.
4. Florida Blue Key
Florida Blue Key is a highly renowned honor society on campus that is involved in many events around UF. Some of these events include Gator Growl and the Miss UF pageant, which are both a large part of student life. Membership is based off of an application and/or interview.
5. Florida Cicerones
This student organization serves an integral role as part the undergraduate experience at UF. As a cicerone, you'll represent the university at many functions and events as well as guiding prospective students for campus tours. Not only do Cicerones represent UF, they have many partnerships with the athletic association and office of admissions.
6. Footprints Buddy and Support Program
Footprints is an organization that is partnered with Shands Hospital and gives students a chance to gain invaluable volunteering experience. Footprints allows students to work with the children in the Pediatric Hemtology/Oncology Unit and make a difference in their lives. If you're going into the field of Pediatrics this is definitely the club for you!
7. Florida Crew
If you're interested in getting a great workout and make some new friends this is the sport for you! Not only will you learn how to row and use a rowing machine (called an erg) you will also get to participate in races in the southeast including Head of the Hooch in Tennessee and ACRA in Georgia. New member meetings occur in the beginning of the fall semester.
8. Floridance
Even if you have never danced before in your life it is never too late to learn! This student run dance company offers classes in various dance styles from ballet to hip hop. Plus, all members have the chance to choreograph work shown at the Phillips center . You'll also have the opportunity to participate in community service with March of Dimes and Relay for Life.
9. Casu (Culinary Arts Student Union) at UF
Wanting to learn how to cook something other than ramen or microwave mac and cheese? Casu is UF's first and only student cooking club that will help you expand your knowledge of cooking and different kinds of food.
10. Disney Dreamers Club
Who doesn't love Disney films and Disneyland? This club is the perfect place to relive your childhood and discuss some of the newest Disney films.
---
---