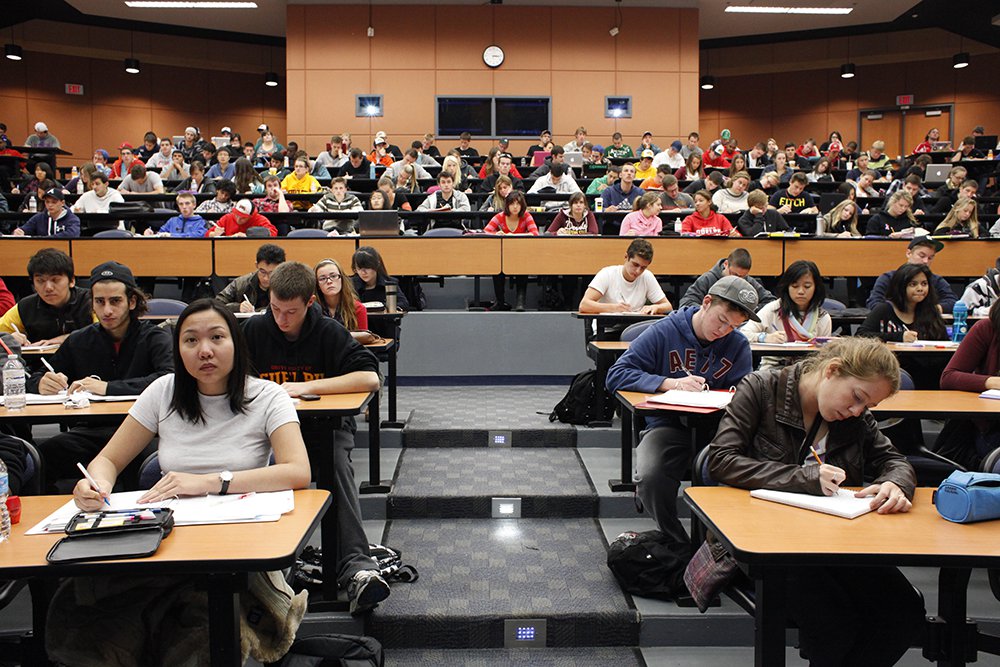 The University of Guelph is the best school to attend. I may be biased, but there is nowhere else where you feel like a community of dedicated people, even in the middle of a large Rozanski Hall lecture. But being a part of the U of G community is more than attending classes on the campus. There are a few telltale signs that you are a Guelph student, regardless of whether you spend a million dollars in the Bookstore for textbooks or sign out reserved copies in the library.
1. Wanting to Paint the Cannon
Old Jeremiah is an iconic piece of the Guelph campus, residing in the centre of everything. Clubs, teams, friends and everything in between get together to paint Jeremiah and are prepared to camp out on the Raithby House porch to defend their design until sunrise. The cannon has even participated in engagements and wedding photos. If you have not had the opportunity to paint the cannon yourself, you know you want to in order to be part of the tradition. Why else do you walk past it almost every day to see the new paint job? Rival universities have also taken part in painting the cannon because our traditions are legendary. Part of leaving your legacy behind in Guelph is having that moment in the spotlight for your design on the cannon.
2. You Respect the Rules of Guide Dogs in Training Despite the Urgent Desire to Pet Them
Guide dogs in training depend on their focus, but it doesn't work well if others are being distracting. The younger the puppy is usually has a direct correlation with the degree of difficulty there is to resist puppy playtime. The University of Guelph thankfully gets their puppies while they're still tiny puff balls. Half asleep puppies being carried around campus make everyone smile. However this makes it especially hard to resist. Chances are that you will end up with a training dog in one of your lectures who will howl, stretch out or do something else incredibly adorable. Guelph students absolutely respect the rules of the dogs, but abiding them is a struggle.
3. You have an Aggie Friend
The University of Guelph is known for being an agricultural school, dating all the way back to the school's establishment in 1964. Although over the years Guelph has become comprehensive with over 80 majors to diversify your learning experience, there is a good chance you have made friends with a few agricultural students. Aggies are like a high school clique; you can still be good friends with them but you are not an aggie unless you are an aggie. But whether you want to be an aggie or not, your already aggie friends are probably more than likely to invite you along to Aggie Pubs.
4. You Have Taken the Drunk Bus
It doesn't matter if you're coming from Trapper's Alley downtown or late night studying in the library, you've taken the 12:30am drunk bus at least once. It's convenient for getting home. Or it's the last time you take it because you can't stand the night owls who frequent the service. Late night busses are a breeding ground for partiers, but they're better to take than that 12:30am bus everyone thinks is the final one for the night. You learn that lesson the hard way. You may love it or hate it, but the drunk bus is a reliable friend to help you get home easier when you're recovering from your pub crawl or midnight cram session.
5. You See at least One Squirrel a Day
Guelph squirrels have become famous. Whether it be their appearance on bus advertisements or tendencies to climb trees with entire slices of pizza or bagels, there is always mischief happening in Guelph due to a squirrel. If you attend Guelph, there is not a day that goes by where you do not see a poufy tail bobbing around on campus. There may be the occasional cold winter day when the squirrels would rather be in their dens than outside, but then again if it is that cold why are you outside?
6. Seeing War Mem in your Winter Schedule makes you Groan
War Memorial Hall is a beautiful lecture hall, reception hall, church, the list goes on. But Guelph students know its location is awful. Walking across Johnston Green to get there is bad enough in the fall semester when you are just tired. But in the winter, you are tired and also fighting high winds across the field while trudging through snow. Having ten minutes between lectures is normally enough time to get from one to the other, but seeing on your schedule that you have to walk from Roz to War Mem does not make for happy Gryphons.
7. Supporting CSA's Bottle – Free Campus Campaign
Many university campuses have already become bottle free by not offering to sell bottled water. Guelph is on the way to being added to the list thanks to Guelph's Central Student Association. There are tons of reusable water bottle filling stations to aid this change already. By supporting this you don't have to give up your arm or leg to the Bookstore for a reusable bottle; CSA gave away free Tap In bottles during o-week 2015 and if I had to guess, this is not the last we will see of them; CSA is definitely there to help students. Even if you buy bottled water, if you have used a refill station at least once than you are contributing to our hopefully one day bottle – free campus.
8. Getting Creative with Exam Study Space
It's no surprise that campus is slightly lacking on places to learn an entire course in the last half a week before the exam. If you find the Holy Grail of an empty table in the library during midterm or exam times, I tip my hat to you. But for the rest of us non–early risers, we have to get more creative. There are more obvious choices, like the Science Complex Atrium or The Bullring tables and couches. Then you come across the occasional student who has turned a bathroom stall into an entire computer desk. I have witnessed students take up hallways and paths trying to spread out their notes to study. While living in LA, I would sit on washing machines or use the corner of a wall and a vending machine to make study corners. Being creative is a great skill to have and this is just another way the Guelph University is teaching us applications to everyday life.
9. You Love Bob
Bob's Dogs, one of the most popular food establishments on campus and currently the 4th ranked food cart in Guelph, is operated by Bob Izdebskiego. Bob is arguably the most kind – hearted and charismatic member of the University of Guelph community. This is the main reason why the student government gave him his own property on campus so he could become a permanent icon. From offering discounts in exchange for smiles to willingly giving away his guitar to a student who mentioned wanting to learn, there is no end to his altruism to make someone happy. That is why everyone loves Bob. I have heard on multiple occasions that it is impossible to dislike him, and I'm willing to bet that every Guelph student would comply with that statement.
10. You Bleed Black, Gold and Red
Guelph is known for its spirit and enthusiasm. Regardless of what you do on campus, you are proud to be a gryphon. You get past the numbers on price tags and buy clothing at the Bookstore or Athletic Centre just so it has Guelph logos, crests and colours. You know how to wind your toy and just the thought of Western University gets you riled up. Being a University of Guelph student is more than just learning. It's about pride. Gryphon pride is something you have at least four years before your diploma.
---
---