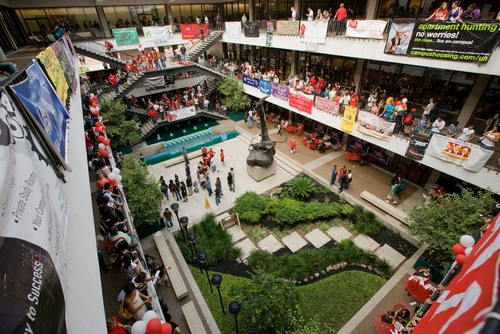 Starting college can be a scary experience. But trust me, we have all been there. This article mentions some of the things that you can look out for in order to make the most of your college experience! Here are 11 Tips to Survive Freshman Year at University of Houston!
1. Go to class
This is the most basic tips on here but honestly one of the most helpful. If you want to do well in class you need to actually go to class…unless ofcourse, you are a genius or your professor records his or her lectures. Another bonus of going to class: you get to meet people, which can be difficult in college especially if you don't live on campus!
2. Go to your professor's office hours
Another basic tip but this is honestly one of the best ways to get to know your professors which is especially helpful if you are planning on applying to a graduate program or specialty school after undergrad because you can ask your professors to write you recommendation letters!
3. Don't eat out every day
I know it is hard to do, but fast food is truly not good for your body. However, if you do have to eat out, try to make good choices! Maybe go to your university's corner store and get a fruit to go along with your dollar menu burger
4. Be nice
The best thing about high school is that it is over, and so is all the high school pettiness! Be nice to your peers because somehow, especially as your classes get more advanced and your class sizes shrink, everyone knows each other in college. Being nice to everyone ensures that you maintain a good rep.
5. Find your study place!
Whether it be the library, your university center, a coffee shop on campus or a random tree on campus- find the place where you have that perfect balance of comfort and concentration. Be prepared to spend a lot of time here studying for midterms and writing your papers.
6. Pick your poison
Equally as important as finding the perfect study spot is finding your caffeine source of choice. It is no secret that college leaves students sleep deprived and lacking energy, which means that you need to find a way to revive yourself. Trust me, I hated coffee before I took Organic Chemistry and now I can't go a day without drinking at least a cup.
7. Master the art of time management
The true college experience generally entails being involved in campus activities, but if you want graduate with honors or maintain good grades you will need to be able to balance your extracurricular activities with studying. This is something that many people don't learn how to do properly and as a result their grades suffer. Learn how to prioritize your activities and you will do just fine!
8. Work out
No, no, I get it. Working out is hard! BUT it also has its benefits. Working out releases endorphins aka feel good chemicals in your brain that make you feel all happy and distressed. Exercising is also a great way to release toxins. And if you think about it, you pay for your university's gym in your tuition so you might as well use it!
9. Join clubs
Joining different clubs on campus is a great way to stay involved on campus and meet new people. You can also use this as an opportunity to network and find internship or volunteer opportunities! You can join clubs specific to your career of choice or clubs that suit your interest- either way, get yourself out there!!
10. INVEST IN AN UMBRELLA FOR THE LOVE OF GOD
The title is pretty self-explanatory but nothing is worse- okay there may be a few things- than being stuck in the rain without an umbrella. These situations really test your outlook on humanity as you watch your dry, umbrella-toting peers walk past you without offering you shelter from the deluge sent from the sky above.
11. Don't feed the squirrels
They tell all their friends and pretty soon you will have no food. Okay that's not necessarily true, but if I had a penny for every time a squirrel approached me on my way to class I could actually afford to buy myself lunch 5 days a week. On a more serious note, you may accidentally feed them something that their bodies can not digest properly and make them sick.
---
---