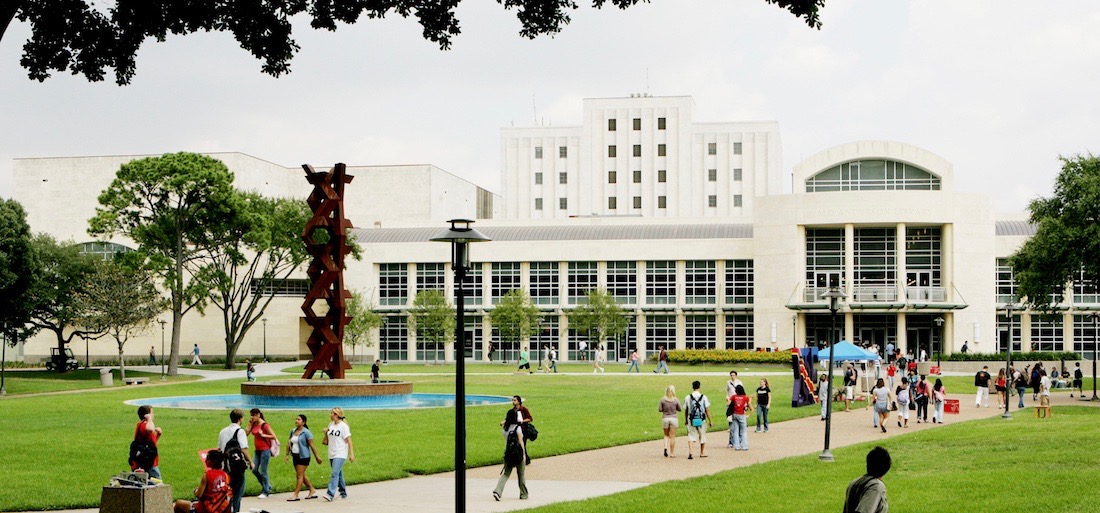 The University of Houston is a big campus, and as such it has many places for students to study at. From the library to the student center, the campus holds a diverse array of such locations, each location suited for each student's specific preference, from open spaces to secluded carrels. Here are just a few of those locations.
1. M. D. Anderson Library
As the main library of the University of Houston, the M.D. Anderson library is designed to help students study better. On each floor, certain areas are sectioned off into silent and quiet areas: where talking is not allowed, and where only whispering is allowed, respectively. For those studying in groups, over 40 group study rooms are available on a first-come-first-served basis. For those studying alone, individual study  carrels are available, located in quiet sections. You can also use the library to print materials with your Cougar Card, which is pre-loaded with $7.50 for printing use: that is enough to print 500 black-and-white pages or 75 colored pages.
2. Cullen Family Plaza Fountain and Reflection Pool
There are two fountains at the University of Houston: the M. D. Anderson Library Fountain, which is in front of its namesake; and the Cullen Family Plaza Fountain and Reflection Pool, which is front of the E. Cullen Building. The Cullen Family Plaza holds two lawns and several benches where students can study outside. The area is generally quiet, as it isn't an area students usually pass on their way to class. The grassy area is large enough to hold groups of students, which is useful if you want to study with your friends. The only downside to studying here would be the fact that you would be studying outside, away from electrical outlets or shelter from poor weather.
3. Second Floor of Student Center South
Being the University's main food court and entertainment center, the Student Center is loud and busy, and wouldn't seem like it would be a good place to study. The second floor of the Student Center, however, is not a food court or entertainment center, but a collection of offices and study rooms. These (10) study rooms hold dry-erase boards, wireless internet connection, and can seat up to 10 students. They can be reserved at the Student Center Information Center. Outside these rooms are studying areas open to students, with couches, windows, and outlets. Some areas are also next to large windows, which is nice if you want to study with natural light. Another advantage to these studying areas is that it is quiet: not many students come to the second floor, so student traffic is minimal.
4. Cougar Grounds
Cougar Grounds is the University of Houston's student-run coffee-house. It is a small, cozy environment where students can buy a coffee and study. There are areas in the coffee-house next to an outlet where students can study in, and a lounge outside where students can socialize or hold group study meetings. Cougar Grounds is a good place to study if you want to study in the morning, and need coffee to keep you awake.
5. Cougar Woods Dining Hall
As it is in an inconvenient location, students rarely visit Cougar Woods. As a result, it is never crowded. If you need to study for long interrupted periods of time, this dining hall is a great location to study. On the left side of the building facing the entrance is a long table facing the wall with electrical sockets in the bottom, which you can use to study without interruptions. The dining hall's environment is clean and spacious; its large windows lining its walls serves as a welcome contrast to the cold electrical light of your lecture halls or apartment. Also, being a dining hall, you can make yourself a coffee or tea whenever you feel tired. One more reason to study at Cougar Woods: the dining hall closes at 1 a.m. on weekdays, allowing you to study for tests late into the night.
As the University of Houston is a large campus, there is a wide variety of places in which to study. Since studying in your dorm or apartment often becomes dull, these locations are provided as alternatives. Finding a good place to study on campus can motivate to put your best work into your studies. Maybe one of these locations will be that place.
---
---
Related Articles