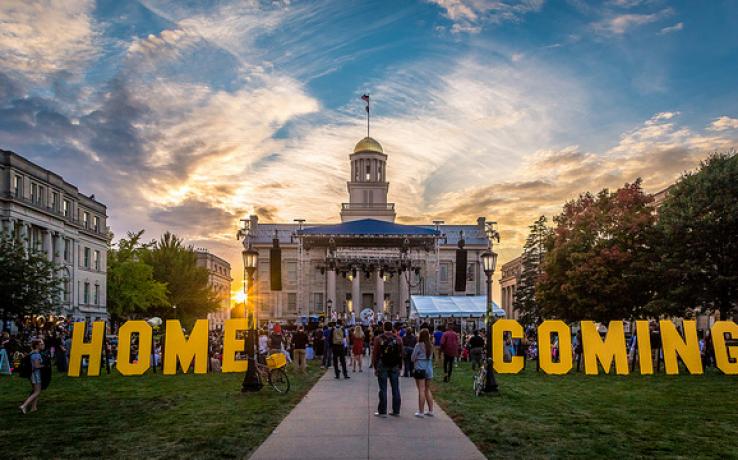 Finding the right college can be difficult for some, it's almost as if you're trying to find the perfect prom dress. It's got to fit nicely, the right color, and it flatters you. Similar to finding the right prom dress, when it comes to picking the right college, some look at campus size, class sizes, student organizations that are offered, how great their programs are, and of course, the traditions that have built the reputation for the school. University of Iowa has been a home for many people that are trying to join and live somewhere that compliments them as a person.
1. Iowa City
The University of Iowa is located Iowa City, IA, and it's definitely a lively place to live as a college student. Downtown is so close to the campus so options of doing things or getting something to eat isn't too far. In addition, they hold many fun events like the Arts and Jazz Festival, and you can catch some live music at Gabe's or Blue Moose. Iowa City is one of those places that isn't too big but yet it's not too small!
2. Student Organizations
With overall 300+ student organizations to choose from, you'll definitely find an org or two that fits your interests. Finding a place to fit and make some new friends will come easy if you join a student organization here at Iowa! If you're interested in knowing all the student organization, they usually hold student organizations fair, or you can always check their website for more information!
3. Dance Marathon
Speaking of student orgs, Dance Marathon is definitely a student organization that every incoming freshman should considering joining! "The University of Iowa Dance Marathon provides year-round support to youth cancer victims and their families. The BIG Event is a 24-hour Dance Marathon where students assemble to celebrate the children survivors and remember the children who have passed away throughout the year. Students plan and participate in Family Events, Mini-Dance Marathons, Miracle Games, silent auctions, and dinners. Additionally, they participate in other University of Iowa sponsored and affiliated activities and events, the majority of which are all philanthropic. The primary goal of these activities is to raise additional money for children with cancer and to educate the community about the struggles and triumphs of these little warriors."
4. Very Good Programs
The University of Iowa is known for their great programs in health care, law, and the fine arts. They have a terrific nursing program, and once you graduate, you have a guarantee job at the hospital. "University of Iowa is organized into eleven colleges offering more than 200 areas of study and seven professional degrees." So if anything, UIowa has a major you're probably interested in.
5. The Wave
Traditions and history is what builds a university's reputation, and UIowa has a lot of it. Not too long ago, a new tradition was born, making news everywhere, The Wave has been a sensation! After the first quarter of a football game, everybody and anybody will turn to the new children's hospital, and wave at the children on the top floor. The Wave seems like it'll be a lifelong tradition that will never die out.
So whether it be preference of how big or how the campus looks, the size of classes, student organizations they have, programs they are known for, or just traditions and/or history behind the school, University of Iowa has many of these things that can possibly convince many to apply and be a Hawkeye.
---
---
Related Articles