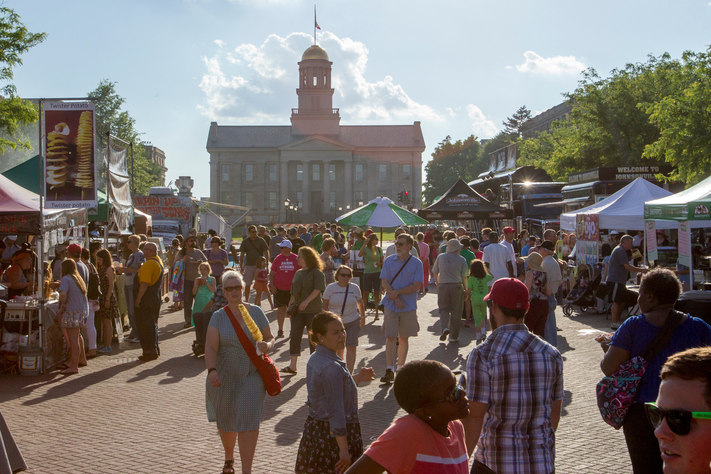 For some, coming to Iowa City, some may not know what to do in this medium sized city. This vibrant city has many hole in the wall places that makes this city unique from others. Whether you're into checking out new food places, going to sporting events, or being entertained with plays, there's always something happening at the University of Iowa!
1. Check Out Downtown and the Restaurants
The University of Iowa is located literally right next to downtown and there are so many restaurants and stores to check what downtown Iowa City has to offer. Many of the restaurants accommodate to people who are vegan, vegetarian, gluten free, etc. Many stores like Ragstock and Moss are some unique stores that many people definitely need to check out!
2. Go to Free Events
As an Iowa student, there are many free events that every Iowa student can go to. Whether it be dance performances, plays, opera shows, and more, there's so many things to do on campus. In addition, the first week of the school year, many restaurants offer deals like $1 burritos, or even free pizzas! With that, most sporting events are free like watching the swim team. So why not check out the school's calendar, or the activities page and see what catches your eye!
3. Hammock Around Campus
If you ever tour the University of Iowa, you may notice the many trees that surrounds the campus, especially the Pentacrest. When the weather starts to warm up, you may see many students chilling in their hammocks all around campus. So, why not invest in a hammock, pick a shaded area, and enjoy the beautiful Iowa weather!
4. Farmers Market and Festivals
If you love fresh produce and other fresh products, Iowa City always have farmers market happening when the weather is warm, definitely a must to check out if you have the chance too! In addition, there are many festivals that happen during the summer time. The Jazz Festivals fulfills those Jazz lovers, and the Arts Festival have many homemade crafts and art that catches many eyes. Indulge yourself in the food stands that happen to be at these festivals! Best part of all, they're FREE!
There are so many things that Iowa City has to offer for things to do. With just a little bit of research, or just checking out the fliers posted around the city, there's something for someone. So next time you're bored, or you happen to be in Iowa City, check out if there are any events happening!
---
---
Related Articles