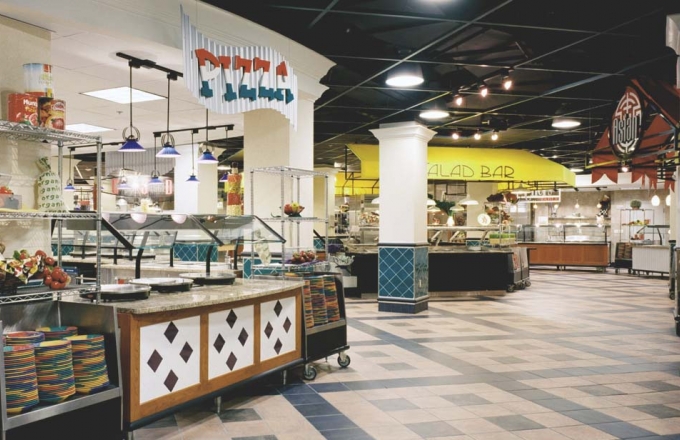 The University of Iowa has an amazing campus with a lot of variety of places to eat. If your curious where to grab a quick meal or a somewhere with many options, just read below!
1. Catlett Dining Center
The new dining center in Catlett is a life changer, but what exactly makes it different from the others. With its sleek and modern day design, Catlett's dining center is very spacious with a lot of options. Having a "Sprouts" section, you'll find the clean and healthy food items that will fulfill all your healthy goals. There's a section where you can get an omelet anytime of day, and there are food options that makes you feel like you're home! If you're on Iowa's campus, and want to try some new, fresh food, check out Catlett!
2. Hillcrest
The crest of the hill, Hillcrest's dining center is the dining center if you want some consistency in your life. You'll find the same familiar foods each day everyday, whether it be a BYO burrito or bowl, or maybe make your own salad. Hillcrest is a beautiful view of the Iowa River, similar to Catlett. Check out Hillcrest sometime next time you're on the West Side!
3. Union Station
The Union Station is the place to eat if you find yourself at the basement of the IMU. With many flex meal options and just a regular options, you'll find many gems here. The Union Station has salads, sushi, chicken tenders, and basically a copycat of the Famous Bowl from KFC. This is the place to go if you're trying to get a quick meal, and need to use some of your flex meal swipes!
4. River Room Cafe
A hidden treasure here on Iowa campus, discovering the River Room is life changing. The River Room is known for their amazing stir-fry and pasta. Watch before you the workers cooking up your own personalized stir-fry or pasta! Great place to get your flex meal swipes in!
5. Street Hawk
If you're looking for a great food truck to try out, definitely  check out the Street Hawk! Perfect truck to grab some good food during the warm days that Iowa can provide! Foods range from flavorful burgers to savory tacos, Street Hawk has variety! In addition to that, they have specials mostly everyday! Next time you spot the Street Hawk, consider going up and getting yourself some good food!
The options are endless when you're on Iowa campus. So if you're ever craving some home like cooked meals, stir fry, or even chicken tenders, definitely check out some of these places!
---
---
Related Articles