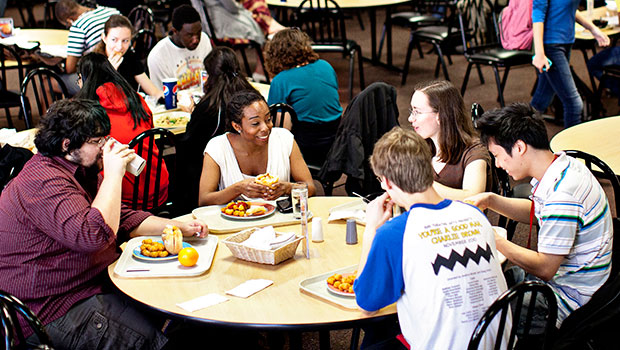 We all know how unpalatable the official dining hall food is, so here are a few cheap places to eat that won't break the bank!
1. Blaze Pizza
The first off campus place is one of the best! For around $8, you get your very own personal pizza. And I'm not talking about those nasty personal pan pizzas from Pizza Hut. I'm talking about a 12 inch pie that you watch the guy behind the counter make (just like Subway!). You can load up your pizza with as many toppings as you like and it's still the same price!
2. SweetGreen
SweetGreen was founded on a philosophy of simple, honest, and healthy ingredients and it's also vegan friendly! Unfortunately, it's also fairly pricy. But if you want to eat healthy, this is a good place to go.
3. Jimmy-Johns
For subs you want to make yourself, go to Subway. For everything else, go here. The name of the game is freaky fast delivery and indeed it's freaky fast. You tell the cashier what you want and by the time you hand him the payment, your sub is done. That's right, in about 30 seconds.
4. Taco Bell
You really can't beat Taco Bell when it comes to food prices. We have two of them on campus. One is right next to a Subway and the other is in the Food Court at Stamp. For $5, you can get an entire meal that consists of a burrito and two tacos, one hard shell Doritos taco and one soft shell taco. And you get a drink! It's crazy how cheap this is! I would go there every day if it weren't for their shady ingredients (like sand in the meat).
5. Subway
You know Subway is gonna make the list when we have 3 of them on campus. You heard that right. WE HAVE 3 SUBWAYS!!!! Yeah, it's really crazy. What's really nice is the fact that you can customize your sandwich anyway you want and it won't cost you extra money. If you get the sub of the day, it'll only cost you $3.50 for the 6 inch and $6 for the footlong. Just don't pick the tuna, whatever you do.
6. Panda Express
You can't beat fake Chinese food if you're Asian like me and you crave a taste of your home country. It's the most popular place at the food court besides Chick-Fil-A so you'll always find a line there. The bowl here is cheaper than the meals you can get at McDonalds or Chick-Fil-A. For $6.20, you can get your choice of one entrée and one side. If you're smart like me, you'll go for half and half for the side. That means you're supposed to get half of one side and half of another. Sometimes that happens. Most of the time you'll just get two full sized servings, which is a major win for you! Then for the entrée, don't go for the premium ones since they cost extra. Just go for the Beijing beef. It's very good.
7. Chick-Fil-A
Also located in STAMP food court, Chick-Fil-A is where you go when you want to get some chicken goodness (although they have a maple bacon sandwich and I don't know how you can make bacon out of chicken). They've replaced the cole slaw with the superfood side of kale a broccoli and it actually tastes pretty good. You'll want to get the Chick-Fil-A deluxe meal because it's priced competitively ($7.09) and tastes delicious. You can swap out the fries, which is what I do, for the superfood side if you want to be healthy (relatively speaking).
8. McDonalds
Located in the STAMP food court, McDonalds is yet another solid choice. They used to have a 2 for 5 deal that was pretty sweet in that you could get a Big Mac with a side of large fries or a Quarter Pounder with cheese and a 10 piece Chicken McNuggets. But unfortunately that's gone. You still have the 2 for 2.50 deal. It's enough for me, but might not be for other people. Also, stay away from the salads. They are overpriced.
9. Sardi's
Located a few miles up the street, this place has the best Peruvian chicken you've ever tasted! You'll have to take a metrobus to get there but it's well worth it. A quarter chicken dark plus two sides is around $8
10. China Buffet
Located a mile from UMD, you'll need the walk because you can eat your own weight in food for $8! That's right! For just $8, you can stuff yourself full of the fake Chinese food you crave.
---
---