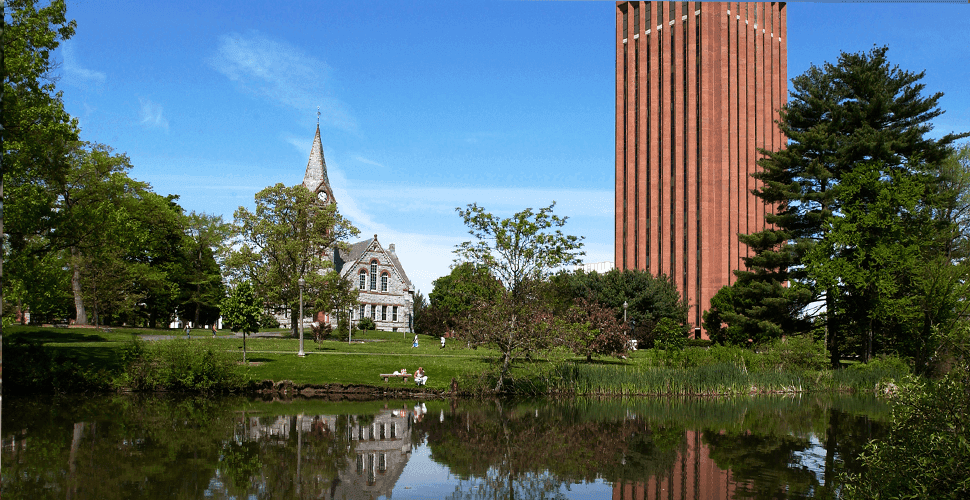 The University of Massachusetts was founded in 1862 when late President Abraham Lincoln signed the Morrill Land-Grant Colleges Act. This gave Massachusetts the land to create UMass and at the time, it was called Massachusetts Agricultural College for the commonwealth's citizens to provide them with education in "agricultural, mechanical, and military arts."  Today with 21,734 students in the undergraduate class, UMass is known as the school with number one dining awarded by the Princeton Review and a diverse student body with people from every state and over 70 countries.
As a freshman, there are seven areas you're able to choose from for your residential life experience. Southwest is known to be one of the craziest places to live at, but with towers that overlook the campus, it can also be one of the prettiest views to have. Northeast, on the other hand, is known for having one of the biggest Asian-American communities. Orchard Hill is one of the worst places to live, not because of terrible rooms or people but because the area sits on a hill hence the name "Orchard Hill." It's a pain to walk up to especially when you're with your friend at Southwest and missed all possible buses to take back. Central is also a far dormitory but close enough to most class buildings such as the Fine Arts Center and Morrill Science Center. Lastly, you have the honors college. When you're in the area of the honors college, it'll feel like an entirely different campus. It's more expensive to live there since they have newer buildings with a.c. and it's only open to students in the honors college program. The last two places (Sylvan and North apartments) are multi-year residence halls that house transfer students and anyone who would like to have the apartment experience, figuratively.
A couple of nice things that the school offers are free tickets to sporting games such as football and basketball, the option of dining dollars that go towards groceries at the harvest market or a coffee on the way to your 8am, tons of free food, and social events during welcome week that consist of free succulents and a cookout. Another thing you could look forward to are the clubs. We have over 500 different clubs that are all funded through the SGA (Student Government Association). If you love to row, join the crew club, or if you love to make films, join the indie film club, and if you want to join a club for your ethnicity, join any club from the AASA (Asian-American Student Association) to the African Student Association. There are a lot of different programs to engage in and meet your possible best buds.
Going to school at UMass is one of the best experiences to have. Although going to any college is worth the experience, UMass Amherst is the best. We're huge on our party scene, then again what college isn't? Parties range from fraternities to random students' houses in the middle of nowhere so you have to take either a bus or uber to get there. Sometimes frat parties are list only which means you have to know a person there and if you're invited, your name will be put on a list that they check at the front of the house. And sometimes frat parties are wristband only which means if you were given a wristband by a member, you have to wear it to the party in order to get in. Most frats on campus will only allow girls to get in for free or at all and no guys other than the guys who are a part of the frat are allowed in. If you are a guy and want to party, definitely look into house parties which are open to any gender and as long as you know someone there, you're welcome to have a good time.
Just don't end up like this kid. 
UMass is a fantastic public university that offers so many possibilities in major and activities. If you're into everything, why not join everything? If you can make the commitment and manage your time well, college will be a breeze. We love to see growth within our UMass community and this school started off with just 34 students! Hopefully, one of your options is coming to school here in Amherst. It's a great town to live in and be around and another thing that's so great is that UMass is a part of the five college group (Mount Holyoke, Smith, Amherst College, UMass, and Hampshire)  because they are all around each other. You're open to taking classes at any of these schools on top of taking classes at your own school.
We hope UMass Amherst is one of the places on your mind and if so, welcome to Zoomass!
---
---
Related Articles