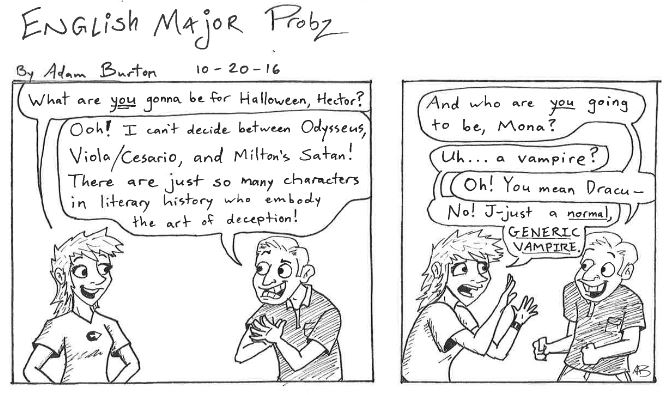 "Write hard and clear about what hurts" – Earnest Hemingway
If you've ever met an English major, you know they have no trouble reading, annotating, or writing. Maybe you've met one of the English majors that have read every book ever written or the English major that's written and published books of short stories. Whatever they're like, you can easily tell just by looking at them:
As an English major at UMass, you're required to fulfill general education requirements as well as the English major requirements. Besides your math and sciences, there are many classes you're able to take. Here is the list of required courses you need as an English major:
1. English 200 (A basic English class for students in the program, everyone must take this course)
2. One course in British Literature and Culture before 1700
3. Two courses total: (One each in two of the categories) British Lit and Culture after 1700, American Lit and Culture before 1865, or American Lit and Culture after 1865
4. One course in Global Anglophone/Ethnic American lit, Culture or Rhetorics
5. Three electives: (An elective at each of these levels) An elective at a 200 level, an upper-level elective at a 300 level, and an upper-level elective at a 400 level
6. English 300 (All juniors must take this course)
7. An Integrative Experience 
Note: You must earn a C or higher in these classes as an English major.
At this point, you're probably going crazy looking at the number of classes you have to take, especially if Shakespeare isn't your thing. One nice thing about being an English major is that you get to choose a specialization. We have specializations in Creative Writing, Professional Writing, American Studies, New Media and Digital Humanities, and SPOW (the Study and Practice Of Writing).
1. Creative Writing works on providing inspiration and support for committed writers and offers professional instruction in their work. Classes usually have readings in one or more literary genres and workshops of students' writing like in English 254 or English 354.
2. Professional Writing aims to help students with careers in technical writing and digital communication. They gain skills in information design, develop a professional web portfolio for job searches, and get hands-on experience with software programs like Adobe InDesign.
3. American Studies focus more on an integrative course of study around unresolved social and intellectual issues in American culture such as race, gender, class, and ethnicity.
4. New Media and Digital Humanities is best for students who have a familiarity with technology, as well as sound written and communication skills.
5. SPOW is useful for students who want to seek writing-intensive professions or students who just love to write. These writing professions can be writing for non-profits, medical writing, legal writing, nonfiction writing, editing and etc.
There are so many jobs you can do with an English degree and so many internships to go for – whether it's in the magazine field or editing field. The options are endless. As long as you have a passion for writing or reading, the English major is perfect for you, especially if your desire is to pursue it in the future. For more information visit: UMass English Department.
---
---
Related Articles