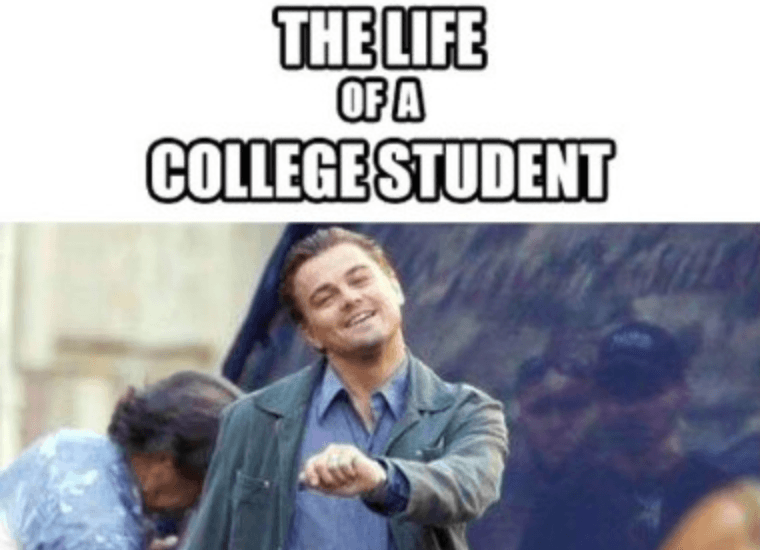 Freshman year: The year you hope to be one of the best (especially in college).
In reality, it can be one of the best years at college that you'll have but for others, it might not be. As a freshman, you're supposed to explore and open up to the adult life. If you're living on campus, you have classes in buildings you've never been in before and you get to witness how students starve themselves when exams are coming up so meals at 3 A.M. are a must. You can experience your first college party and to be completely honest, they're much better than parties in high school. Everyone just wants to have fun at this age but you have to be serious towards schoolwork this time. Your major could end up being your career for the most part, so it's time to step your game up. Here are a few things to know as a freshman at UMass.
Welcome Week
Welcome week is when the students from your Summer orientation program get back together one last time for Fall orientation which includes your move-in, family activities, and of course, a week of fun. During this week, Berk dining hall opens until 2 A.M. which is called "late night" but this is just the beginning. You'll have your first ever floor meeting with your RA (residence assistant) and your PM (peer mentor). These guys will be the coolest people that live on your floor and are willing to help you anytime. Then there are usually late night activities such as inflatables so you can meet your first friends depending on where you live. Sometimes there are events like a trip to Downtown Amherst, ice skating or catching a bus to the Hampshire mall for "Mall Madness" which is going to a mall after hours. The cool part is that it's only open to UMass students. Then there's a welcome barbeque, where most students come together for free food and socialize. If you find yourself having a tough time making friends, that's okay. Sometimes it can take months to make a real friend at UMass since the campus is huge.
Classes in Session
When you choose your classes, you'll want to be smart about when and where you have them because you don't want to end up with an English class at 8am in South College then a bio class at 9 A.M. in Morrill which is on the other side of campus. Choose classes that you hope are going to be good for you aka fulfilling the general education requirement or your major requirement. Make sure to take classes that you think you'll do good in, it's best advised if you don't take classes because you're curious- it'll only end badly. If you're someone who loves the morning, take morning classes but for someone who can't wake up before 12 o'clock,  take classes after 12. This is the first challenge in the time management process.
Time, Time, and Lots of Time
You'll most likely only see your professor two or three times a week at most which give you plenty of time to do work. Some teachers will want their homework done by every Friday, giving you a full week to have it done if they teach Monday, Wednesday, and Friday. When you have gaps in your schedule between classes, you can do other class homework, watch a movie, eat, or go back to your dorm and sleep, depending on how long your break is. Most of the time you will not have the mood to get up and do work until Sunday. Sundays are usually productive days for students here. Just don't forget to eat, shower or sleep. Those things are needed in college.
Socializing
Do expect making friends to be hard at first, most people are from Mass so they pretty much know each other from high school. There are tons of social events for you to make friends such as welcome week, parties, rushing for a fraternity or sorority, etc. Your roommate can end up being your first friend unless you don't have one. If you're the type to get nervous around strangers, that's okay! UMass is a friendly environment where people just love to socialize and enjoy studying together. If you want to be friends with someone in your class, make sure to hang out with them after class or start a conversation in class that'll end up creating a conversation out of class. BOOM, instant friend.
Making That Moolah
There are tons of places to work at on campus like the dining halls, cafes, or mini markets. The campus is always looking for student workers whether you earn for your education or just yourself. If you're looking to work off campus, think about downtown Amherst or at the Hampshire Mall. There are tons of restaurants and stores looking to hire since most of the workers are college students who have already graduated. If you're looking for more of a freelance job, you can always look online for writing jobs such as note taking or blog writing for One Class. One Class is a company for students to look up notes for their classes or for students to read about what classes are like at their school on the One Class Blog. If you have no time to work like most full-time college students do, there's always research studies. UMass sometimes hold studies that have to do with driving simulators and so you would virtually drive a car while being distracted for about an hour and that would get you 25 dollars just for helping science. It's best to look around for flyers.

Congratulations! You have just become a UMass freshman and learned everything you need to know to make your first year easier. College is the time to relax and have fun and work exceptionally hard on schoolwork. You want your professors to be your best friend, in this case, they can help you one on one with whatever you're having trouble with in class. "Bless up," as DJ Khaled once said.
---
---
Related Articles