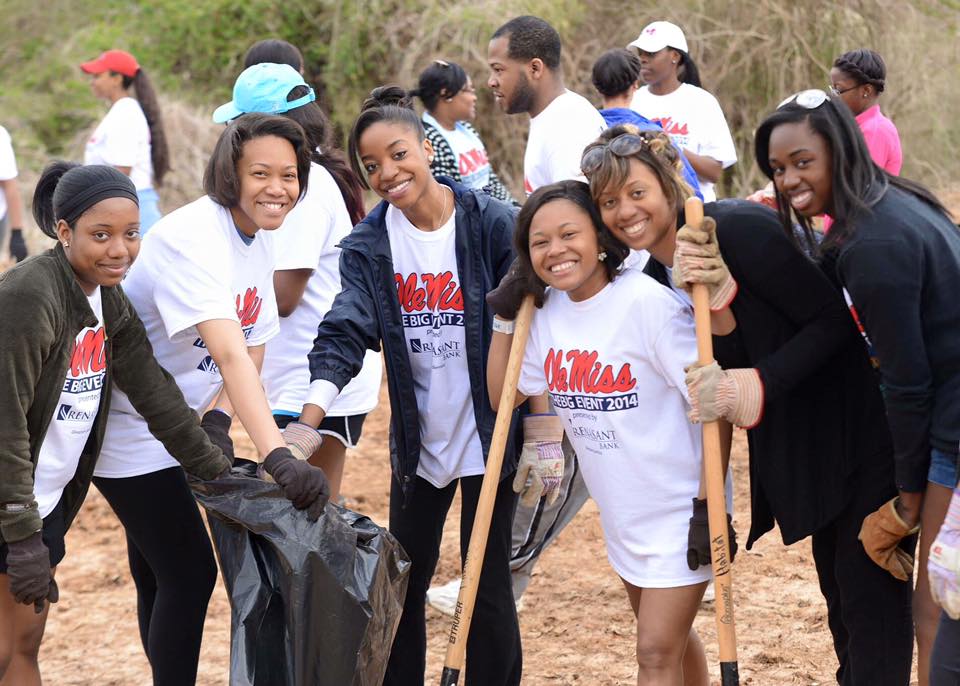 When looking for the right club or organization at Ole Miss, sometimes it can be hard to find the right 'fit' for you, even when there is almost 400 registered student organizations. This can be especially true for a freshman who is unfamiliar with the way things run on campus. Well look no further, for here are some organization (some of which I am a member of) that everyone should be involved with.
1. Rebels Against Sexual Assault (RASA)
"RASA is a new student group that works to raise awareness about sexual assault, relationship violence, and stalking while also supporting survivors from all walks of life." Though I am not a member of RASA, this is a very important and great organization to join. This semester alone, there has been multiple reports of sexual assault, rape, and sexual battery both on and off campus. It is important that awareness is raised to this issue and preventative tips are given to each student. You can join RASA's emailing list by adding them to your OrgSync account and by following them on all of their social media outlets.
2. Student Activities Association (SAA)
SAA "provides campus entertainment and opportunities for student involvement in programming. Pageants, musical entertainment, special events and the movie series are among the more than 125 events sponsored each year." As a member of the entertainment committee in SAA, I can say that this was one of the best organizations I have joined thus far. I have always enjoyed putting on events and activities for the enjoyment of others, and this was the organization just for that. SAA is comprised of three committee branches: Entertainment, Special Events, and Homecoming. If you do not think that these would be a great fit, there is also the options of joining the Public Relations team under the organization. SAA is very, VERY competitive (more than 200 people apply), so if you want to be apart of this organization, come with your A-game and a bag of tricks to "wow" everyone.
3. Black Student Union (BSU)
"The mission of the Black Student Union is to stimulate the intellectual political, cultural, and social growth of all Ole Miss students, especially African American students." There is a common misconception about the Black Student Union that this organization is only open to African-American students. This is not the case. The BSU is open to ALL students who want to improve the experience of all students here at the University of Mississippi. This was the first organization I joined during my time as a freshman, and I have been glued since then. Membership is absolutely free this year, so become a member today by filling out the application!
4. UM Connect Mentoring Program
"UM CONNECT matches incoming freshmen of color (Latin American, Native American, African American, Asian American, and multi-racial) and first-generation college students with an upperclassmen mentor. The program will serve as a vital component to the academic and personal success for students." As a first-generation college student, I know the importance of a mentor. Studies have proven that most students of color and most first-generation college students have no clue about how to be successful in college, which causes them to suffer academically and mentally. Though I did not gain a mentor through this program, I know people who have matched with great mentors. Both the mentor and mentee application process has closed; however the mentoring application opens back up in Spring 2018. You can find more information about the program on their website.
5. UM Pride Network
"The UM Pride Network is a place for queer- and trans-identified students and their allies to gather socially, make friends, share their experiences, express their needs, and turn those needs into radical activism. We serve as a voice for the LGBTQ community on campus and represent their needs and interests to student government and administration whenever necessary." Though I do not identify as a member of this community, I feel that this organization is important for those who do. I personally believe that everyone deserves an equitable experience no matter their lifestyle, especially at their choice of university. Ole Miss is becoming a more diverse university by the day, and it is important that our environment is inclusive to all intersectionalities. You can find updates from UM Pride Network by following their Facebook account.
These are all wonderful organizations to join at Ole Miss (especially the two that I am a member of). If you still cannot find the right fit, don't fret! Just search for your ideal club/org through OrgSync. HOTTY TODDY!
---
---
Related Articles