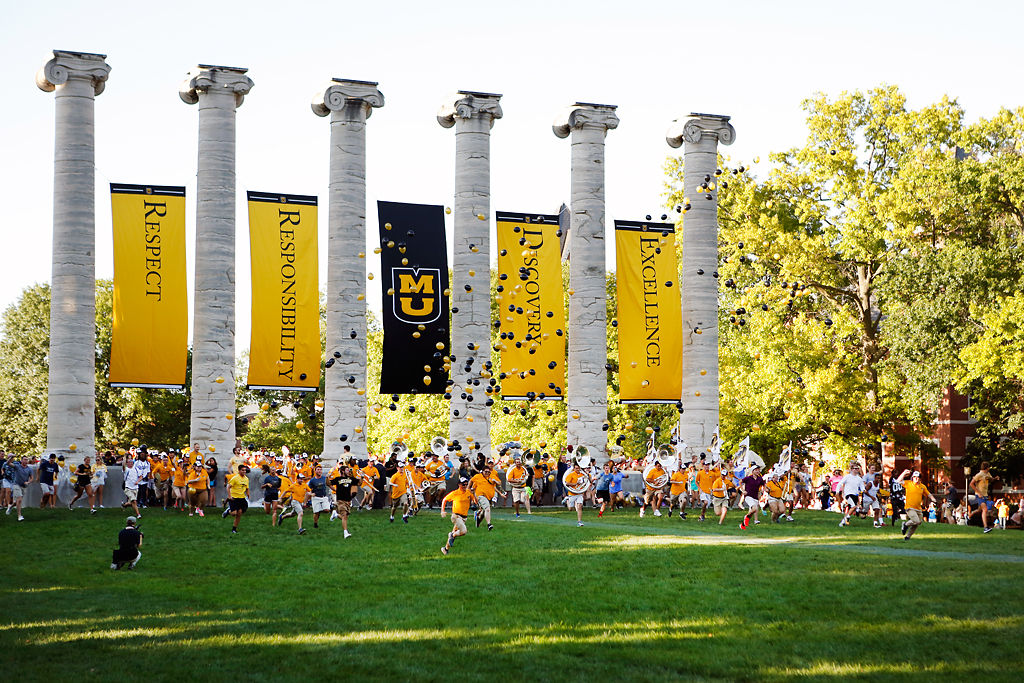 Mizzou is an awesome school with SO much to offer. Your four years will wiz by, and you'll reminisce about the great times you spent there. Don't waste your four years, but instead do all you can so your regrets are none. Freshman year of college is a big transition in anyone's life, but if you do it right, it will be one of the best years of your life.
1. Tiger Walk/Tiger Prowl
The tiger walk is a Mizzou tradition, where all the freshman run together through the columns towards Jesse Hall. This symbolizes our entrance into Mizzou as freshman. As seniors, we will run the other way through the columns to symbolize our leaving Mizzou, but the lifelong connection they will have as alumni–the tiger prowl. This event is a great way to meet other freshman and to stay connected to Mizzou tradition.
2. Rub David R. Francis' Nose
A statue of David R. Francis, former Missouri governor who was very involved with Mizzou, stands outside of Jesse Hall. It is believed that when a student rubs his nose, they'll get an "A" on their next exam. So go participate in this classic, Mizzou-tradition, and hopefully you'll get that "A"!
3. Attend a Sporting Event
It doesn't matter what our record reads, because game days at Mizzou are one of a kind. The campus is raging with energy, spirit, and of course the loud music bumping from Greek Town. Alumni, family, and friends all gather together, wearing black and gold, to chant the Mizzou-RAH! The best fans are Mizzou fans.
4. Celebrate Homecoming
The Homecoming tradition was started at Mizzou! Chester Brewer, Mizzou football coach in 1911, asked alumni to "come home" for the annual football game against our rival, the University of Kansas. Greek life spends the two months prior to homecoming constructing massive house decks and floats in celebration of homecoming. The campus and city is flourished with black and gold décor the two weeks leading up to homecoming. There is a showcase of the house decks the night before the game, and the streets of Greek Town are full of students, alumni, family, and friends, who have all come to celebrate. The morning of gameday, there is a big homecoming parade all throughout campus and into the downtown area, followed by countless tailgates and, of course, the big game!
5. Tailgate
We love our tailgating here at Mizzou. From the AM to the PM on game days, music radiates loudly through Greek Town, and fans gather together in their Mizzou-gear to soak in the good weather and celebrate. Mizzou tailgating is truly one of a kind, and every student should experience one!
6. Join a Club
There are over 600 clubs and student organizations at Mizzou. So, there is no excuse to not join a club! There are hundreds of options, so everyone can find a club that interests them. It's a great way to meet other students and to feel involved. In fact, studies have shown that students a part of a club do better in class and feel more connected to the school. Get involved!
7. Relax at the Grotto
Our student rec center was rated one of the best in the country for a reason. The rec has an indoor and outdoor pool. The "Grotto." The indoor pool includes a jacuzzi, lazy river, basketball hoop, and a steam and sauna room. This is a great way to destress after classes or an exam. Make sure you take advantage of the fun, recreational activities that Mizzou offers.
8. Use Those Swipes
Take advantage of your swipes!! After freshman year, you'll long for the days when you had a meal plan, and you'll most-likely be begging freshman to swipe you in. Plus, nothing cures a long day and night like the comfort food provided at late-night.
9. Hike Outdoors
Don't forget to explore off campus too. Columbia offers numerous parks, trails, and hikes that allow for students to escape the campus and get a dose of nature! Campus can feel constricting at times, but Mizzou students are lucky be surrounded by many beautiful parks. The Pinnacles are various hiking trails that lead to beautiful cliffs, surrounded by a river, and are a favorite of Mizzou students. Other student favorites include Capen Park and Devil's Icebox.
10. Hang Out in the Quad
The quad is a beautiful place to lay out a blanket and relax in the sun. Wi-Fi is available in the quad as well, which makes for a great place to do homework! It's in the quad where the six ancient columns stand from the Academic Building which was burned down in 1892.
There is so much to do on and off campus. Don't hibernate in your dorm room. Your four years at Mizzou will go by very fast, so you need to have fun by pushing yourself out of your comfort zone. Have school spirit, join a club, utilize the many campus facilites, explore Columbia, join a club, and HAVE FUN!!
---
---
Related Articles