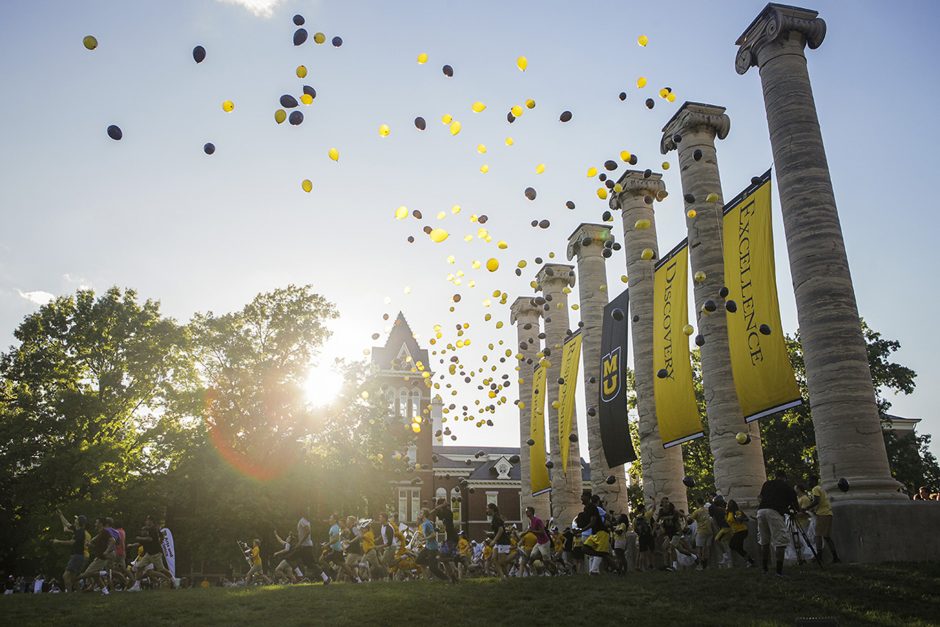 At Mizzou there is always something unique happening, and I have found that this is what makes Mizzou such a great place to go to school. Here is a list of some things that you'll only relate to if you go to Mizzou!
1. Speaker's Circle
Speaker's Circle can be the best and worst place on campus. If you're lucky to be walking through on a good day you can find free food, t-shirts, and even puppies. But sometimes it becomes one of those "avoid at all costs" spots, so you can make it to class without getting yelled at or stopped by every club, apartment complex, or the occasional preacher.
2. The Columns
The Columns are the center of the Mizzou campus and we all know how important they are. You learn about them on campus tours and Summer Welcome, and get to stare at them when walking through the quad. The columns are a great hang out spot on a warm day, they are the first thing you want to show anyone visiting our campus, and they make for some pretty great pictures.
3. Riding the Tiger
Our beloved bronze tiger stands at Tiger Plaza, and it's not just a cool decoration. This tiger marks one of the first, and probably easiest, traditions you'll partake in on campus. You just climb aboard the tiger's back, snap a picture, and check riding the tiger off of the Mizzou bucket-list.
4. Rubbing the Nose
Have a test coming up? Think you're going to fail your finals? Just need some extra luck? Take the long way to class so you can the statue of David R. Francis. Rubbing his nose guarantees you will have the luck for whatever is coming up.
5. Swimming in the Fountain
We've all done it, or at least watched others do it. Whether it is completely clothed or with a bathing suit, stopping by Brady Fountain to take a little dip always makes for a funny story.
6. Running through the Columns
The day before classes start all the freshmen stand on the quad and wait to be told to run then they all sprint toward Jesse. It symbolizes the entrance into Mizzou, plus you get Tiger Stripe ice cream at the end which is amazing. At the end of your time at Mizzou the graduating class runs back toward the columns away from Jesse and into the world, and this time you get a beer!
7. Trying to find parking downtown
Downtown Columbia has so many amazing restaurants, bars, and stores but trying to find parking is a NIGHTMARE. If you are lucky enough to find meter parking or a spot in a parking garage the walk is almost as bad as if you just walked from your home. Uber there and call Stripes to take you back home later.
8. Sandy from Plaza
Oh Sandy! Nothing is better than going to grab lunch at Plaza and seeing Sandy waiting to swipe your card. Her friendly face and awesome collection of broaches manages to brighten everyone's days. Sandy from Plaza is a household name if you go to Mizzou.
9. How Serious We Take Traditions
Traditions here at Mizzou are incredibly important, we even have a place on campus called Tradition's Plaza. Knowing the traditions and participating in them is the ultimate way to truly make Mizzou your home.
10. M-I-Z Z-O-U
Very few things can compete with the feeling of yelling M-I-Z and hearing Z-O-U being yelled back to you. You yell it when good things happen like touchdowns, you yell it in a crowd to get everyone excited, and you yell it simply because you love Mizzou and that's just what we do.
---
---
Related Articles