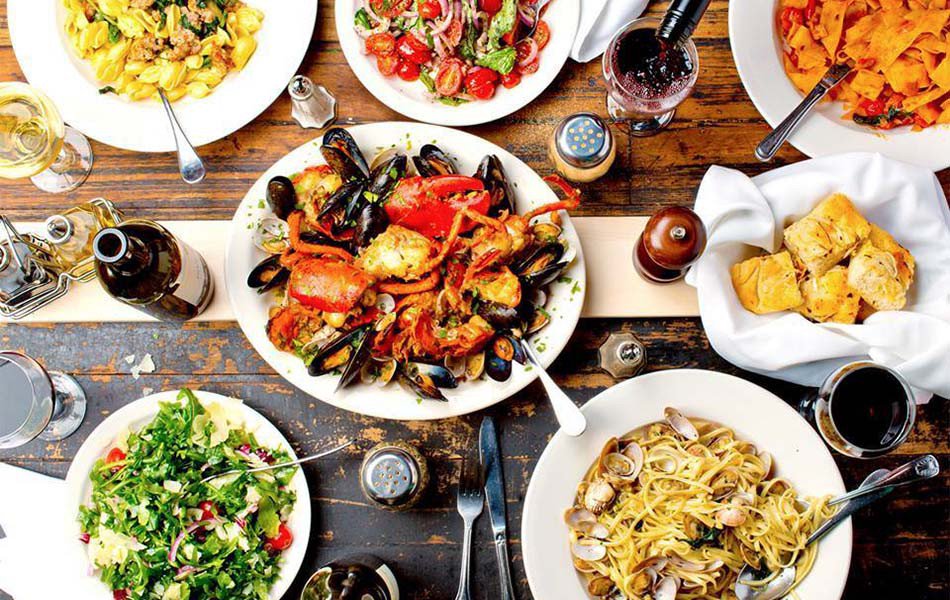 From pizza to tacos to sushi, Columbia's best restaurants offer it all. Today I am here to answer everyone's question: Where should I eat right now? Whether it's a date with some friends, dinner with the family, or a late-night-bite, use my list of Columbia's top eats to start your food journey around Columbia!
Located on 9th and Elm Street, Downtown, Ingredient cooks up some amazing, healthy food at affordable prices! The diverse menu includes sandwiches, salads, burgers, and more! Sometimes fast food is the only option for us busy college students, but with places like Ingredient, we can still feel good about what we are putting into our bodies. The restaurant's friendly atmosphere provides a great place to catch up with some friends over great food, or to get some school work done. The food is very fresh and delicious!
The hype for Shakespeare's pizza is all too real! Every Mizzou-student must try Shakespeare's pizza during their four years, as it is one of Columbia's classic restaurants. The restaurant is fun with good service, great food, and always packed with students and locals. Shakespeare's make for a great meal with friends, or a tasty late-night-bite on those late nights!
Room 38 is one of Columbia's premier restaurants, with a great selection of food and drinks. This makes for a great and classy dinner for when your family comes to visit! I love the lounge seating, dim lighting, and the décor; I feel as if I am dining in NYC! The restaurant has a great Sunday brunch, and awesome small-plates if you want to go the sharing route. The atmosphere is very trendy and modern with classy drinks, and a unique twist that feels unique to Columbia! What I recommend trying: the pear and prosciutto flatbread!!
This awesome fast food joint serves Mexican with a Korean twist. I was very entertained by the cool art and decorations that filled the walls. The food itself was awesome; Great tacos and awesome goji-bowls. There was some type of sweet and spicy sauce that accompanied my goji-bowl, and it was to die for!! Great place for a quick bite or meal!
Coming from someone who loves Mexican cuisine, TRY 44 CANTEEN!! (Woah, I didn't even intend on rhyming there.) What's cooked up is 'authentic, upscale-Mexican.' I have eaten here numerous times, and each time I go I am impressed. The atmosphere is fun, service great, and the drinks and food are fantastic. This is a great place for a date-night, or to bring your family when they come in to visit you! The only thing I ask of you is that you order the homemade guacamole as an appetizer- you won't regret it!
Midici, a Neapolitan pizza company, is a new restaurant here in Columbia located on Broadway. The ambiance and atmosphere makes me feel as if I am in NYC or some big, glamorous city. The pizza is savory, and the service is great as well. The pizza dough is light, fluffy, yet crisp. Midici turns eating pizza into a classy affair.
Nourish is a personal favorite because of how delicious and guilt-free the food is! You'll walk into the little café and immediately feel happy, thanks to the large windows that illuminate the whole room, and the white décor. The menu is large, diverse, and good for the soul. The service is great, and all the employees are very friendly. I recommend ordering one of their amazing smoothies to accompany your food.
The reason this place doesn't take reservations and why it is always packed is because it is one of Columbia's best breakfast joints! Café Berlin offers a large variety of typical American breakfast eats, offering everything from sweet to salty to spicy. The pancakes are super delicious, and very large too! Truly a must-try-place here in COMO!
Being a sushi fanatic, I was determined to find great sushi in Columbia. I discovered Kampai with a friend earlier this year hidden in Alley A, downtown. I was so surprised and pleased with everything we ate! The sushi is great and fresh. The plates and appetizers are also fantastic, and very 'dressed-up.' This is a great place to dress up and go with some friends or family!
Booches is special and authentic to Columbia. Beloved by Mizzou alum and Columbia residents, Booches has been considered the best burger place on the planet. Both my parents went to Mizzou, and Booches was well known and loved by them and all other students. The burgers are simple, made right in front of you, with nothing artificial or fake. The burgers are so good, so savory, and yet so cheap. Billiard tables fill the back of the restaurant, which is always packed with locals and a good vibe. A Columbia classic that must be tried!
Foodie or not, Columbia offers a huge variety of amazing eats that must be tried!! Eating out is a great way to get to know the town, and to be social. When friends and family come to visit you, don't be the one saying you don't know where to eat because you haven't tried anything but fast-food. Get to know your town, Columbia, and show visitors everything is has to offer! Don't constrict yourself to the campus dining halls or to the fast-food joints. Use my list of Columbia's top eats to start your food journey around Columbia!
---
---
Related Articles