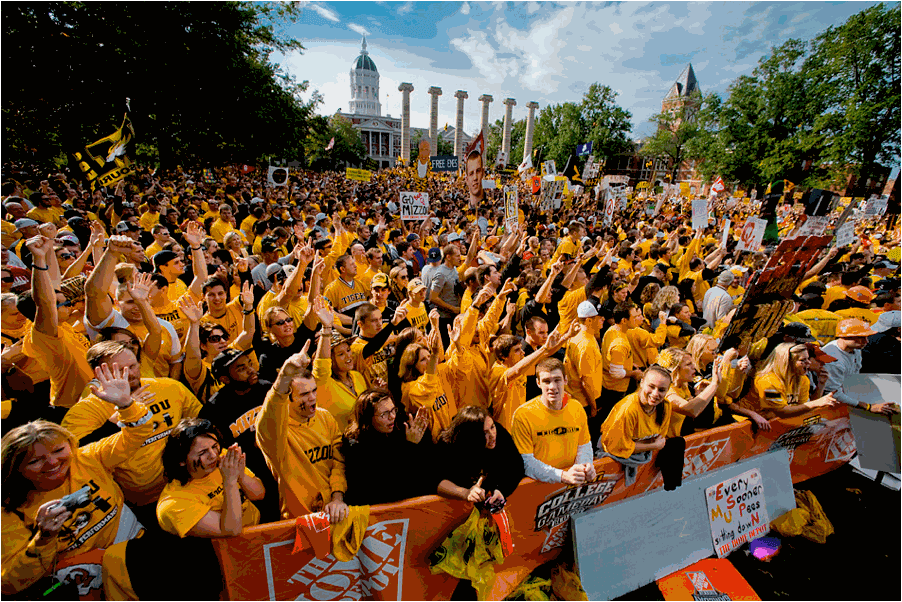 1. Student Charge is a Savior
College students don't have much money to spend, so us Mizzou students are grateful to for our student charge. Yes, it does eventually come back to us in the end, but in the moment, it doesn't feel as so.
2. Macdaddy Rocks
Let's all give a shout out to Macdaddy, the awesome golf carts that pick us up and take us to the bars.
3. The Cardinals vs. Cubs Rivalry
With so many students from Chicago, and too many from St. Louis, the Cubs vs. Birds rivalry is a strong and serious one.
4. Boo KU
Mizzou is better than KU. Period.
5. Our Tailgates Are the Best
Our football team may have not had the best record this year, but that doesn't stop us from having fun here at Mizzou! On game-days, the streets and parking lots of campus are filled with the tents of different tailgates. Our tailgates start early and end late, and the energy never dies down. Mizzou flags are hung, as fans dressed in gold and black set up their tailgates on a beautiful and sunny day here in Columbia, MO.
6. El Rancho
The best way to end a Saturday night is with some good, cheap Mexican food. Located on Broadway, right in the middle of all the action, El Rancho awaits the crowds of people leaving the closing-bars, and overflowing into the streets. Even the slow pokes can still make it to El Rancho at the end of the night since it is open till 3am!
7. Finding A Booth at the Student Center is Rare
Even just finding an open table to sit at in the student center seems impossible at times, and finding an open booth is a gift from the heavens. When you spot an open booth, you better be running to get it.
8. Our Rec Tops All
We take pride in our student rec center. Our recently built rec has basketball courts, an Olympic pool, lazy river, hot tub, outdoor pool, steam room, sauna, spa, rock climbing wall, cardio room, weight room, and beach volleyball courts. We have the best rec center, hands down.
9. Dirty Dobbs
Oh, Dobbs. All of us Mizzou-students know, and most likely have eaten, at Dobbs Pavillion dining hall. The food is not the best to say the least, hence its nickname "dirty dobbs." However, I must say that their pancakes to satisfy you the Sunday morning after a night out. But don't be fooled people, Dobbs is not a place of fine dining.
10. The Zou is Home
No matter where you're from, whether it be from Missouri or across the country, Mizzou will always be your favorite, and your home. Mizzou is where we left our families and friends for, to live on our own, and to make a new life for ourselves. The Zou has seen us at our happiest, and at our saddest times. No matter what, she will always be here for us, and forever hold a place in our hearts.
P.S.: Mizzou is the best!
---
---
Related Articles