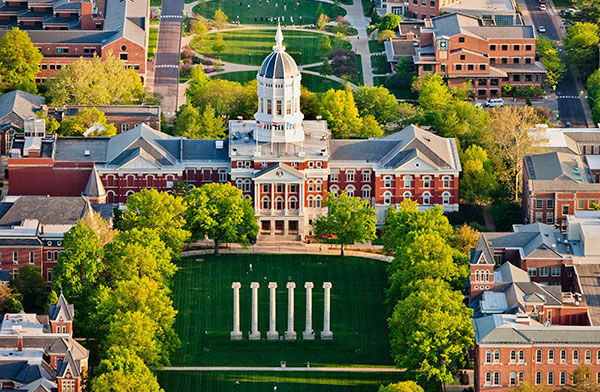 While not all professors give life changing lectures, there's always a few who do.  It is these few that make the grandest difference! Check out the top rated professors including students testimonials at the University of Missouri – Columbia!
1. James Spain
Rating: 100%
Department: Agriculture
Courses Taught:
Student Reviews:
"Hes the real MVP. He really makes an effort to get to know his students."
"Dr. Spain is phenomenal, I looked forward to his class everyday. He really wants you to both learn the material AND get a good grade. I only wish he could teach all of my classes!"
"Everything you could ever ask for in a professor. Helpful, encouraging, and genuinely cares about his students. Wish I could take every single class with him."
2. 

Andrew

 

Morris

Rating: 100%
Department: Mathematics
Courses Taught:
Student Reviews:
"Best Math Teacher I have ever had. He comes in and teaches the material without any extra distraction just like a teacher should."
"Absolutely fantastic. By far my favorite professor at Mizzou. It's a shame he is leaving. Everything was clear and the tests were fair and doable. He tests fundamental knowledge and doesn't try to trick you. Good Luck Dr. Morris!!"
"overall a great teacher and I couldn't ask for clearer examples. his tests are challenging but very fair. I've learned a lot in his class, and I'm very glad I ended up in his Calc II section"
3. 

Matthew

 

Bernards
Rating: 100%
Department: Engineering
Courses Taught:
Student Reviews:
"An excellent professor who really wants to make sure students learn. His classes are very difficult, but he has a "tough love" approach that guides students through detailed projects while allowing them to think for themselves. Learned more from his classes than any others in this department."
"There are professors who do great research, but suck at teaching. There are professors who are great teachers, but do no research. There are professors who suck at both. Then there are professors who do great research and are good at teaching. Dr. Bernards is one of these."
"Dr. Bernards is very interested in student learning and is always available for questioning. His expectations are clear and reasonable. He is also a great mentor. He is available anytime for career advice. I consider Dr. Bernards the best professor in the department. His departure would significantly decrease the quality."
4. 

Chip

 

Gubera
Rating: 100%
Department: Information Technology
Courses Taught:
Student Reviews:
" Chip is such an awesome professor and person in general. I've taken all of his courses and as long as you are taking the time and effort to do the projects and follow the rubric, there's no way you should get nothing less than an A in his courses. Help is always there. TA's were so helpful. Overall great classes."
"Easy class. You'll learn a lot. You'll learn a lot more if you participate and ask questions. He posts boatloads of tutorials online. Usually happy to bump back deadlines by a few hours if you need extra time. Added bonus: he's really funny and enjoys joking with students. Thanks for a great semester, Chip!"
"Chip's a fantastic guy! He's always going above and beyond to make sure students understand material."
5. Barbara 

Molnar
Rating: 100%
Department: Germanic & Russian Studies
Courses Taught:
Student Reviews:
"Best professor I've had in college. Actually cared about me and my success. Very thankful that she made learning German possible."
"She was honestly the best professor that I had while I was at Mizzou. I was lucky to have had her. I have had several years of both French and Spanish. Barbara made German the first foreign language that I actually took an interest in! (:"
"I feel extremely lucky to have had Barbara as my teacher for 2 semesters of German. She is seriously the greatest person; beautiful inside and out, she's kind, funny, and will meet one-on-one if you would like extra help. She is Hungarian, but is very well-versed in both English and German! She makes learning German fun and gave great study guides!"
6. 

Sandy

 

Rikoon
Rating: 100%
Department: Sociology
Courses Taught:
Student Reviews:
"This class was one of the best classes that I have taken at Mizzou, the way that Rikoon teaches just seals the deal and he cares more about how much effort you put in than the actual grade itself. This course changed how I live, literally!! Great guy and always knows how to keep your attention, love the friday stories hahaha"
"One of the best professor's I've ever had. Very invested in his students, very approachable. Always gave thoughtful feedback on assmts. Class stayed interesting bc had a lot of variety-lect, small disc. groups, debate, etc. Assignmts were not too strenuous and usually interesting. Tests were fair. Must attend class and participate in discussions."
"Great professor, relatively easy class with easy exams."
7. 

Denis

 

McCarthy
Rating: 100%
Department: Psychology
Courses Taught:
Student Reviews:
"Denis is arguably the best professor I've ever had at Mizzou. The information in this class is interesting on its own but his stories and explanations make class even better. Participation is not mandatory but you will get a lot more out of the class if you go. I didn't use the textbook that much and got a high A. Take this class!!"
"Awesome class. Has a story for literally everything he teaches. Has a vast amount of knowledge and experience in the fields of psychology and law and how they interact. One of the best classes I have taken. Attendance isn't necessarily required but you'll want to go just to hear his stories."
"Excellent teacher. makes the class material relevant through his crazy stories. he is also very invested in students professionally. the tests are easy if you go to class. also, don't miss the debates, not only do they count for a lot of points but they are interesting and sometimes pretty funny."
8.

Holly 

Higginbotham
Rating: 100%
Department: Journalism
Courses Taught:
Student Reviews:
" Great lecturer and professor, and she made the topics seem interesting. Lots of guest lecturers and surprise group projects. I got by without reading the book, but you definitely have to go to every class. Exams were very easy and straightforward. She was very friendly and willing to meet outside class."
"Holly is the best professor I have had at Mizzou. She is so knowledgeable about the subject and it is very evident that she genuinely cares about her student's learning. Her tests aren't super easy but if you show up to class and study a moderate amount you'll be fine."
"Holly is a good lecturer. Group work days are at random so be prepared to go to every class. Although I never used my class notes, I absolutely read the book. Lecture notes were just a repeat of the book material. Holly is a well-spoken, caring professor."
9. 

Caroline

 

Sanner
Rating: 100%
Department: Human Development
Courses Taught:
Student Reviews:
"She makes lectures super interesting and she genuinely cares about her students! The class is super easy if you go to class, plus she uses clickers for attendance which is worth 25% of your grade."
"She is an amazing teacher. The class is so interesting and she teaches it so well. I recommend this class and this teacher! You can always go to her and talk to her and she will always help. If you go to class and take notes the tests are not difficult at all. The final is optional if you like your other test grades."
"Professor Sanner has such great lectures. She has lots of interactive lectures which makes it more interesting to go to class. You hear and learn some really fascinating and funny things about relationships in that class. She is such a good speaker and is very understanding and kind. She explains things very well, pay attention and you'll pass."
10. 

Devoney

 

Looser
Rating: 100%
Department: English
Courses Taught:
Student Reviews:
"The best professor I've ever had, and a fabulous mentor. Don't miss her."
"A wonderful teacher who has the same high expectations for every student. One of the few college professors who assigned creative projects and didn't simply drone on. Her knowledge of Jane Austen is unparalleled."
"Literally couldn't get any better. Insanely smart, helpful, enthusiastic, and cool. Challenging, but fair, and she is incredibly helpful outside of class. Highly recommend!"
Notable Research Projects per Faculty at Mizzou!
1. Carol Ward
Faculty: Pathology and Anatomical Sciences
Dr. Carol Ward has a grand fascination with the evolution of mankind. Her studies are centered on analyzing the  fossils from regions of  East and South Africa to compare the bones of humans to that of apes/monkeys. More specifically, most of her work takes place in Kenya. Furthermore, her research traces the evolutionary patterns of apes from 18 million years ago and she is creating models of parts of their structures.
2. Jaume Padilla
Faculty: Nutrition & Exercise Physiology
Dr.Jaume Padilla's  area of interest lies in how lack of exercise is linked to a number of diseases.  His leading  area of focus is in the analysis of how a specific type of muscle blood flow is marred by conditions such as obesity. Dr. Padilla's more in-depth studies involving cell models has been funded by the National Institute of Health.
3. Susan C Nagel
Faculty: Obstetrics Gynecology and Women's Health
Susan C Nagel's research focuses on gynecology. Her recent studies pertain  to how chemicals from the  oil and gas extraction impair normal endocrine signals. She further uncovers all the different health conditions that are a result of chemical exposure.
4. Bandhana Katoch
Faculty: Marketing and Business Development
Bandhana Katoch interests are in economic development through technological and industrial advancements. Apart from her research work, Bandhana  works as a Marketing and Business Development Analyst at the University of Missouri.  Bandhana is also contributes much to society as the co-founder of Samya Trust, which is a non-profit that fully assists people with special needs.
5. Judd Slivka
Faculty:  Journalism
Judd Slivka has built a large network in the field of  journalism for his work has been selected by famous news outlets like ESPN: The Magazine and the Los Angeles Times. Slivka is an expert in his field for he has been the lead legal investigator in cases concerning police brutality. At the university, he has directed many departments including the Missouri Department of Natural Resources.
---
---
Related Articles