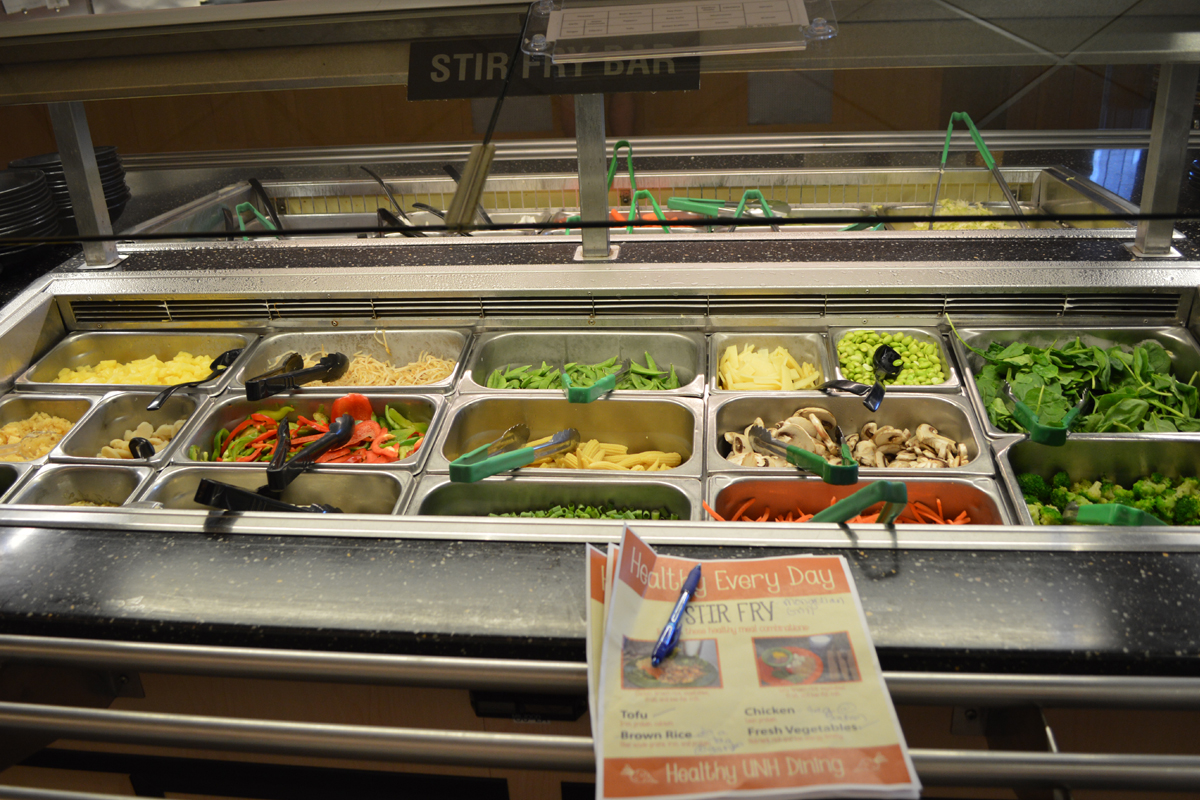 In my college search, one of the main factors for me was the vegan options at each school. I've been vegan for a year and a half, and vegetarian for 8 years before that, so this lifestyle is very important to me. After researching the vegan options at many schools, I narrowed down my list, which included UNH. And now UNH is my home! Although I am still getting to know my way around, here is what I've found so far for vegan options.
My dorm is near Philbrook, so I eat here very often. It's basically a 3 minute walk, so I can stop by and eat breakfast before a class or just walk over with some friends to eat dinner.
Breakfast
Philbrook has all day breakfast, so there's always access to the bagels and cereal. I'll usually have a toasted bagel with peanut butter, but if you're more of a cereal person, Philbrook has several types of plant based milks (soy, almond, rice, etc). But, if you get there before lunch time, the main room has oatmeal, which I top with cinnamon and fruit from the yogurt bar. There's also potato "home fries" which I love with some ketchup. Potatoes are good any time of day. There's always juice so you can have a cup of morning OJ, as well as tea and coffee to perk you up. I'm not sure which coffees are vegan, depending on the flavor additives, but you can be the judge. Of course they have the breakfast classics like eggs and waffles, but they have plenty of options for vegans as well.
Lunch and Dinner
First off, I always start at "Seasons," the allergen-free section (because you need to bring a clean plate there so you don't contaminate the food). It's usually a hit or miss; some days it's a weird salad that consists of just lettuce and dressing, other times there's really good rice or sautéed veggies. There's always some veggie chili and soup here too, if that's your thing.
Then I check around the rest of the main room. Everything is labelled so it's easy to find things you can eat. The front wall "Creations" usually has good vegan options like veggies or pasta. Some of the most interesting vegan foods they've had were vegan chicken nuggets, curried cauliflower, pad Thai, veggie burritos, and vegan grilled cheese (which was actually kind of dry but I appreciate the thought). The left side "Aromas" is the pizza and pasta section, and although I don't think they've ever had vegan pizza, the pasta with tomato sauce on top is pretty good if you love pasta like me. Sprinkle on some oregano and garlic powder for some more flavor. The right side of the main room "Embers" is burgers and grilled food. They have veggie burgers (which are actually really good, just very thick) and French fries, because potatoes are amazing.
If you walk around the loop there are walls of drinks, most of which are vegan, so whether you're looking for soda, water, juice, coffee, or plant based milk, they got you covered. I haven't explored the stir fry grill, the sandwich station, or any of the ordering stations (mostly because I'm too scared to talk to the workers), but I'm sure there's something at each of them that can be made vegan.
Of course, there's the salad bar, and despite popular belief, that's not all that vegans eat! However, if you'd like a fresh healthy addition to your meal, you can grab a salad with lots of refreshing toppings like tomatoes, cucumbers, olives, and some chickpeas, lentils, or quinoa for some protein. I'm not too sure which salad dressings are vegan, though. Many of the creamy ones could have milk, so use your discretion when choosing a dressing. A safe bet is olive oil and red wine, which is at the little island where the ketchup and other condiments are.
Dessert
In the past month that I've been here, they've had vegan cookies only a few times, which is upsetting because vegan people can have a sweet tooth too. However, the times I have had them, they're really good. You usually have to ask the worker behind the dessert bar if they have any, which is also nerve wracking because I am usually rejected. They do sometimes have little bowls of rice pudding or oats with fruit as their "vegan" labelled dessert, but it's not the same as the variety of normal cookies and cakes they have. Holloway Commons usually has good vegan cookies though, so maybe I'll write an article about "HoCo" once I'm more acquainted with its options.
Despite the lack of vegan cookies, there's always baskets of fruit like apples, peaches, and bananas. If you're desperate for something sweet, you could shamelessly get a glass of chocolate almond/soy milk (not that I've done that…)
Summary
Philbrook has a wide variety of foods for whatever mood you're in, and although the vegan options are only a fraction of what they have, they are still substantial, and I haven't gotten bored…yet.
Thank you so much for reading! I may continue writing about veganism as I continue this lifestyle throughout college.
---
---
Related Articles