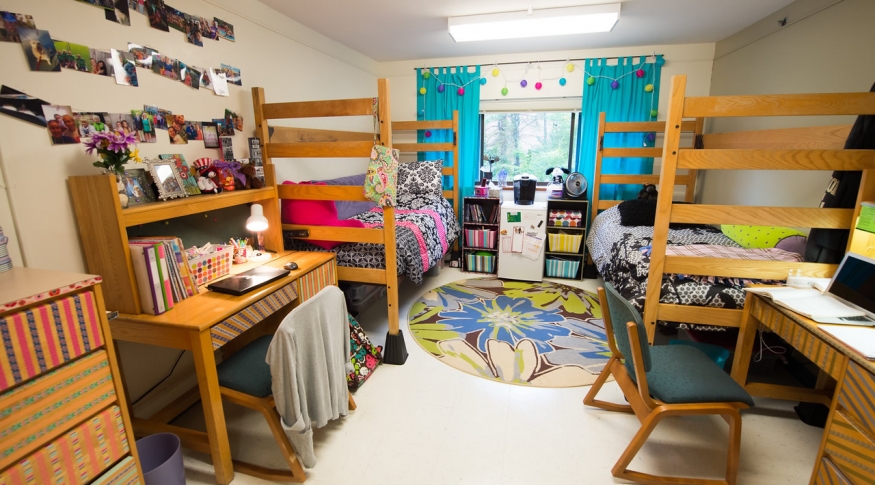 Moving into college for the first time can be incredibly nerve wracking. Throughout the application and commitment process, all first year students are required to find a roommate and choose the residence hall they would like to live in for the year. As an incoming first year, this can be challenging. Not knowing the campus and the buildings can cause students to feel blind in going into choosing a residence hall. Keep reading for tips on how to choose the right residence hall for you at UNH.
Really consider the size of your hall. 
This is a big part of enjoying where you live at UNH during your first year of college. Make sure you are completely okay with living in a large dorm, or a small dorm. Consider that having a lot of people in your hall may make it louder, and harder to concentrate. Also remember that small dorms have less people, therefore may make it harder to meet more people throughout the first few weeks of school. Think about what would work best for you as an individual. If you're a quiet person, and like to be surrounded by a more close-knit community, a smaller dorm may be the better option. If you like the constant activity and do not mind loud environments, a bigger dorm may be the option for you.
Location on campus. 
Before choosing your dorm building, locate it on a campus map. You may think you won't mind walking, but when winter hits, you will wish that you chose a building closer to the main parts of campus. UNH is a large school with a spread out campus. Therefore, no building you choose will be convenient to all spots on campus. Look around at what you think will be most important, and go from there when choosing your building!
Consider themed residence halls. 
Here at UNH, some of the residence halls are themed. For example, a drug and alcohol free dorm is available to students. Consider whether or not a themed dorm would be something you're interested in. This could make it easier to make friends with similar interests, but can also be restricting in regards to meeting other people. Consider what would work best for you as a student and as an individual.
Come to an agreement with your roommate.
Because college and dorm rooms are all about compromise, the roommate that you choose also has to agree on which hall you both will live in. Be understanding of your roommates requests, but also consider yourself. Remember that this is where you will be living for the year. Make sure that the hall you pick will give you the level of comfort and privacy that you need. Having to live with others can be a challenging transition. Make sure that you are in a place that you enjoy.
Choosing your residence hall wisely is (believe it or not) a crucial part of your first year experience at UNH. Make sure you are looking into all aspects of the halls before you submit a final decision! After you find your hall, make your room feel like home and enjoy your time as a wildcat here in Durham!
---
---