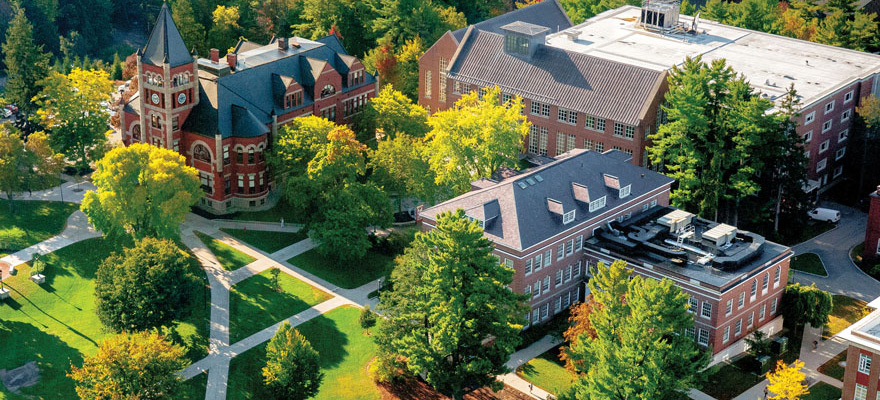 At many colleges, classes are taught in the form of a lecture in a large classroom with hundreds of students at a time. This could be okay for some students, and other students may struggle with being in such a large classroom with so many other students. At the University of New Hampshire, there are pros and cons to the lecture type courses.
1. Pro: You are able to learn independently. 
Although you are with 100+ other students in your lectures, most professors will just provide the information and let you learn and digest it yourselves. Group projects are kept to a minimum if there are any at all, and you are able to be independent and complete your assignments at your own pace (while abiding by the due date, of course). 
2. Con: Less student-professor time.
If you are the type of student that enjoys and relies on one-on-one time with your professors, lectures may be hard for you. Every professor at UNH is required to have office hours for students to come to for extra help, but in class there is not much interaction between the professor and the students individually. If you like having a professor that is familiar with you and your work, you may not adjust well to large lectures.
3. Pro: The work-load is manageable. 
Most professors that lecture are not looking to grade 100+ assignments constantly. Therefore, your work load will most likely be lighter than some of the smaller courses you may be enrolled in. This makes for an easier semester, with a course in your schedule that does not require too much dedication outside of the classroom. 
4. Con: It is a lot easier to get distracted.
With no professor constantly over your shoulder, and being in a room set up like an auditorium, it is much easier to get distracted when you're in class. Whether it be texting, online shopping or getting other classwork done, many students use lecture halls to complete work that they could not finish at any other time. Although this is easy to do, it could hurt your grade in the lecture and potentially hurt your GPA. If you are the type of person to get distracted easily, think twice about signing up for a lecture. 
5. These classes are not for everyone. 
If you have read through this list and feel like a lecture isn't for you, no need to worry. UNH offers many courses with a much smaller amount of students, so that the learners that prefer smaller work environments can have that, despite how large UNH is. Do not be discouraged if you do not learn well in a lecture, as it is not for everyone and there are many other alternatives.
Overall, choosing to take a lecture based class depends on the type of student you are. Think about this before you sign up for a lecture for the semester!
---
---
Related Articles