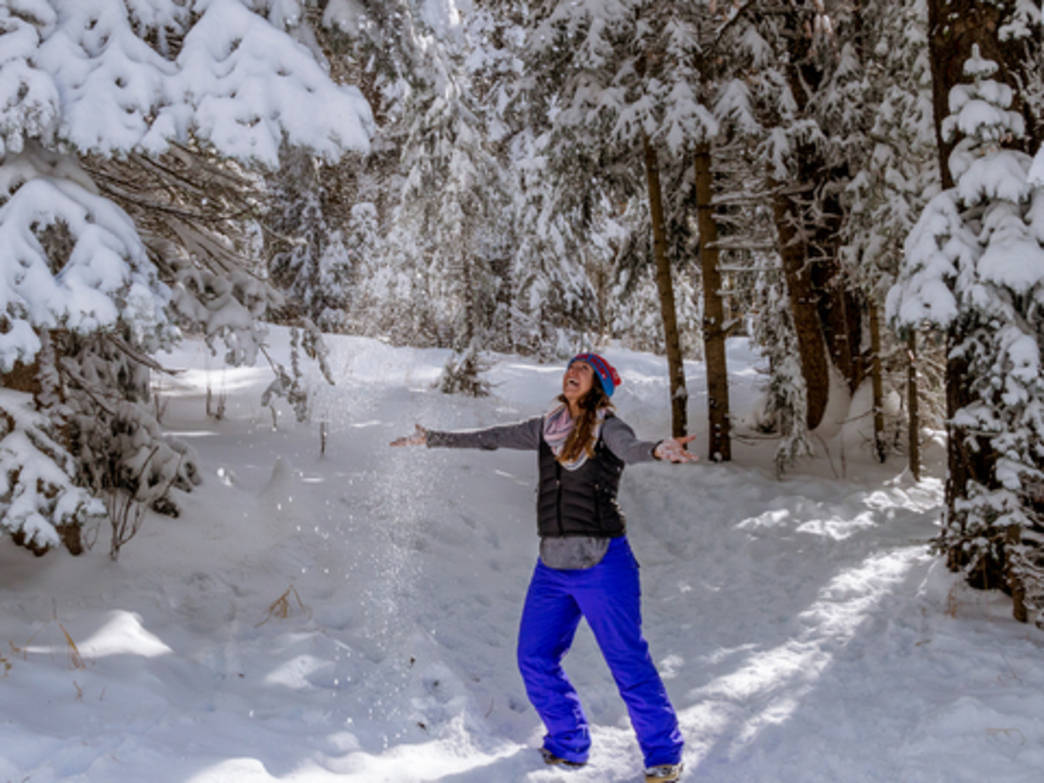 There are so many fun things to do on a snow day at UNH. Put a white crayon on your windowsill, listen to Christmas music, eat snow cones, or put a spoon under your pillow. These are all purported ways to get a snow day. Sometimes you get so caught up in hoping and wishing for a snow day that when it finally shows up, you haven't planned anything to do! So next time you find yourself lacking a snow day activity, try one of these.
 Sledding at Wagon Hill
This family-friendly sledding venue is perfect for a fun snow-day outing with friends. Take the bus, probably the one to Portsmouth since that is the one that uses Route 4 and request the stop – the hill is right on Route 4 – but don't forget your sleds! This hill has two sides for sledding, so if one side is getting crowded, just climb back up and go in the other direction. Tons of fun for everyone! Plus a great place for photos beside the hill's namesake wagon.
MUB Movies
They aren't always playing on a snow day, but when they are, they're worth it. Usually, the movies are either recent releases or cult classics. This way, you can enjoy the movie theater experience without taking the bus all the way to Newington and back. The experience includes the movie snacks, which you do have to pay for, even if the movie itself is free. Still, worthwhile on a snowy day!
Netflix and Chill (aka Snuggle)
Rather than going out to see a new movie, there's always the option of cuddling on the couch with your S.O. and a Netflix (or Hulu or Starz, etc) film or TV show and a bowl of hot instant popcorn. It doesn't have to include what has now become the significance behind "chill", it can just be friends hanging out in a dorm room to kill some time while keeping warm on a white day. Staying in your dorm room is always a viable option. Kind of like the human version of hibernation.
 Snowball Fights
You may not be a little kid anymore, but they're still fun! In fact, it's a great way to get out your aggression and it's very cathartic overall. Besides, starting a snow war is a great way to make new friends or catch up with old ones. It doesn't have to end, either, because it can spread over campus on a snow day, rather than staying in one area.
Snow Sculptures/Forts
Even though we call them sculptures because now that we're older, it doesn't have to be limited to snowmen. Don't get me wrong, snow people are still fun to build on a snowy day, and snow angels are still fun to make. Just don't be limited by tradition – this is a great opportunity to use your imagination. Snow forts are always a hit – and a community event. Maybe make a contest of it with your friends!
Hide With Hot Cocoa or Coffee and A Book at Dimond Library
Since Dimond Library is pretty much the center of campus, it's a perfect location to take your hot drink and hideaway for the day. For the first part, the library is usually open even on snow days. It's also heated all winter long, so you'll be cozy as long as you're not seated right in front of the front doors. Plus, it's a library – so even if you don't have your own book to curl up with, there are plenty available for everyone. This includes a wide range of classic and contemporary literature – not just textbooks, I promise.
Catch Up On Homework
Be honest, unless it's the first week back from Winter break, there's always homework to catch up on. It's not the most fun snow day activity, but it might save you some headache in the future. Even if you don't have anything to catch up on and use it to get ahead in your homework, it's a great use of free time, because it leads to you having more free time for fun stuff in the future! Don't completely rule it out when you're planning your day.
Open Skate at the Whittemore Center Arena
Not just for snow days, but for any days available, really. This is one of my favorite campus activities, whether or not it's crowded. Skating is a great way of getting in your exercise without needing to do the traditional walking in place for hours. It's also cold, so if you sweat it won't feel nearly as gross as when you're in the hot gym. Plus, they usually blast a variety of music. This place is a majorly fun experience. Check it out!
Climb Trees
Okay, this one sounds weird. It's definitely cold out on a snow day, and who wants to sit in the snow? But there was a guy at UNH who loved to go out on a cold day, find a tree on campus, and climb it. Then he would just sit on a branch and listen to music and people watch. Pretty cool, right? Give it a shot!
Workout at Hamel Recreational Center
Finally, if none of these options seem appealing to you, maybe you could sweat off some stress at Hamel Rec Center? This brand new facility is beautiful and is a great place to pretend it's still nice outside. It's never too cold for a bikini body!
So, there you have it! Don't fret the next time you see 8-10 inches of snow predicted in the weather's forecast at UNH. Instead, try one (or more) of these convenient, fun activities and you won't take New England weather for granted ever again!
---
---
Related Articles