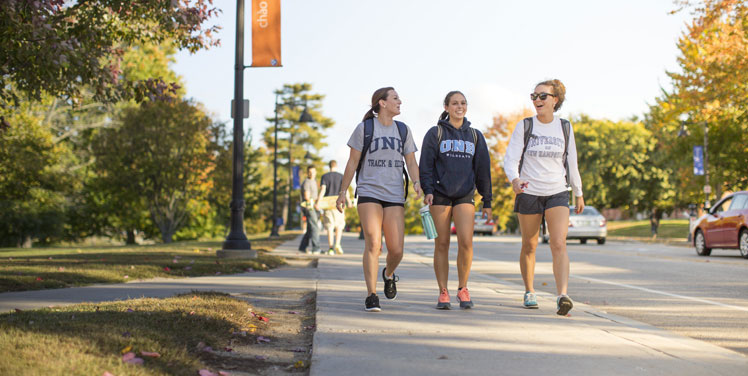 We are told college will be the best four years of your life and everyone wishes they could go back. Plus, who wants to live with regrets? Why not try doing crazy and fun things to make your college experience at UNH perfect, without having any regrets when your time comes to leave this beautiful campus. If you follow these simple tips, you will have an amazing time at UNH. Here are 10 things you'll regret not doing at UNH!
1. Experience U-Day (getting involved)
If you like free stuff and free food, U-Day is for you! It's a great way for freshmen to get involved and see all of the clubs and organizations offered on campus. Since there are hundreds of students orgs on campus, it's impossible to see them all except for U-Day. U-Day makes it so you can get involved with many things in one day, and also get some free food and entertainment while you're there!
2. Tailgate!
When football season comes around, grab some friends and pile in a car and get to Boulder Field. It's the perfect to place to hang out with some friends, have your own mini dance party while jamming to some good music. Be young wild and free.
3. D Hop
Durham House of Pizza is the BEST. At only 99 cents per slice, how could you refuse? They also have late hours for those midnight cravings, or when you need entertainment for the group study session. The employees are super chill and nice and sometimes give out free pizzas if you go at the right hour. Check it out for sure!
4. Show spirit at the hockey games.
UNH is ranked D1 and has the best student section, why wouldn't you wanna go? Even if you're not super competitive, it's so much fun to get rowdy for Wildcat Pride! Definitely one of the many things you would regret not doing here at UNH!
5. Eat at Wild Kitty!
The best place on planet earth and UNH campus! The waffle fries, mozzarella sticks, milkshakes… the list goes on. After a little late night out with your friends, this is definitely the place to be and one of the places you will regret not going to during your time at UNH.
6. Dimond Library
Finding your go-to study place is hard, but try and find a place that's perfect for you. Check out every floor of the Dimond Library, go into secret hallways and find a spot that overlooks campus, a place you can call home for studying.
7.  Living in freshman dorms.
Even though you may think they get a bad reputation because who would want to live with all the freshmen? It's one of the best ways to meet new students who are in the same year as you. You can also get involved more, often since your RAs will know you are all freshmen and need the extra push for events!
8. Amtrak
The station is right on campus and can take you anywhere for less than $20. It's crazy. Want a day trip to NYC to see the Rockefeller Christmas tree during the holiday season? Easy, walk fifteen minutes to the train station and hop right on.
9. Intramurals
This is a great way to meet new people, win a free t-shirt, and play the sports you loved from high school. So many kids have so much fun playing intramurals and say they would regret not playing them and missing out on the chance to make the friends they now have.
1o. Whittemore Center for Concerts
SCOPE, the organization here at UNH puts on wild concerts for students and non-students here at the Whittemore Center right on campus. There are two concerts a year in the  Fall and Spring semesters. If you don't go to at least one, guess what? You'll regret it.
And there you have it! 10 things you will regret not doing at UNH if you don't… so make sure you do! These four years are truly special and the more opportunities you seize the better. Plus, a lot of these involve food so… that's kind of a huge plus, right?
---
---
Related Articles