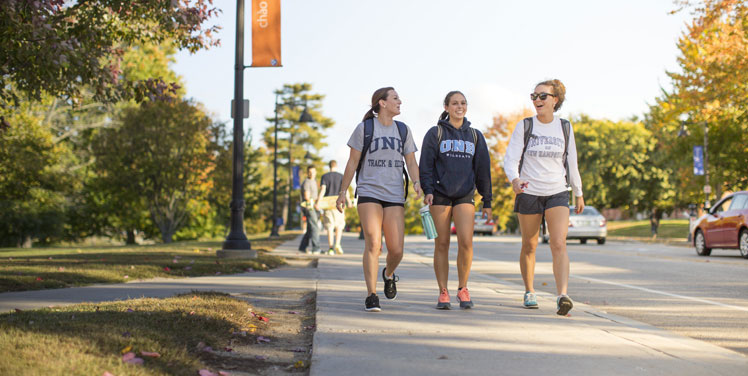 The University of New Hampshire tries its best to make sure the incoming freshmen adjust well to college. With that, many freshmen events are held during the beginning of the semester to help students feel more comfortable at the University. Through these events, students fall in love with UNH and will soon call it their home. Here are 4 freshmen events that will make you love UNH:
1. The pep rally.
Every year, a pep rally is held for freshmen. During this, cheerleaders and dancers perform, the new students learn catpack chants, and the freshmen class gets pumped to be Wildcats. During this event, you will be able to meet new people, and rub the wildcat's nose!  This event excites everyone and is sure to make you more excited about your next four years at UNH.
2. The first football game.
Although this is not a freshmen event, it is an exciting one for freshmen to attend. Here, you will get a taste of that UNH sporting events are like, and you will see just how proud our student body is to be Wildcats. Sit in the student section for the first time and join in on catpack chants, and you will soon grow to be addicted to sporting events and cheering on your school!
3. The welcome play.
Every year, the drama department puts on a play for incoming freshmen about what they may experience during their time in college. This play is hilarious and tends to calm the nerves of anxious freshmen in the audience. Walk over to the Performing Arts Center with your RA and fellow residents, attend this play, laugh with your peers and make lots of new friends!
4. The first week of dorm life.
The first week in a freshmen dorm is packed with socials and other events to get you out of your room. You will meet so many new people on your floor and in your hall, you will get to know your RA, and overall just become more comfortable within dorm life. Be sure to participate in these activities instead of staying in your room. It will make your transition to college much smoother!
The first week at UNH for freshmen is packed with fun events to break the ice and make everyone more comfortable. Relax and enjoy meeting new people and getting to know your campus during your first few weeks at the University of New Hampshire!
---
---
Related Articles