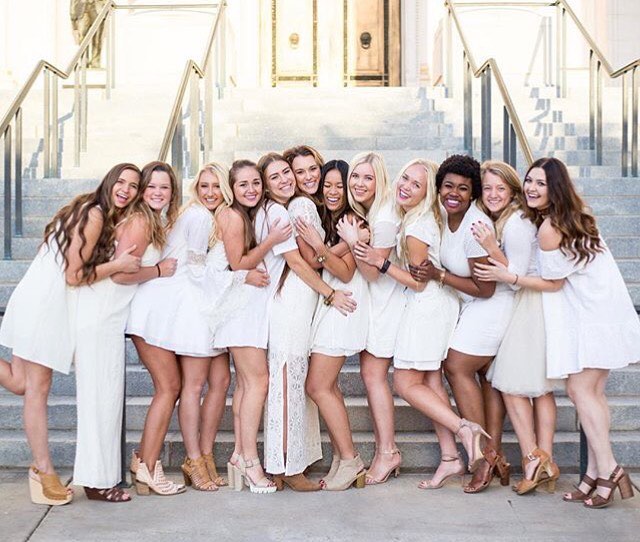 Joining a sorority at UNH, or any school for that matter, is quite the exciting experience. However, many girls wonder if it's something really worth pursuing. Like anything in life, there are many pros and cons of becoming a part of Greek life, and it's up to you to decide which ones outweigh the others and whether it is the best choice for you. Keep reading to weigh out the pros and cons of joining a sorority at UNH to help decide the best option for you!
Pro #1: You will meet SO many people.
When you join any club or organization at school inevitably you meet tons of people you probably never even crossed paths with before. Now it's pretty safe to assume that if you're joining a sorority at UNH you like being surrounded by friends and socializing, so having the opportunity to expand your friendship circle ten-fold is quite the positive attribute. Everywhere you go you see someone you know whether it's at the gym, the dining hall, class, or just walking around campus. The best part about it is that these people aren't just random faces you somehow recognize from a night out with your friends, they're girls you genuinely know, like, and hang out with.
Pro #2: You will have a Big.
Speaking of people you meet, one of the most exciting is your big. You search and search, or you get lucky and immediately just know, for the perfect big who's going to be your mom, best friend, and sister in one. Now as if having a big wasn't exciting enough, along with her comes a plethora of other girls to call "family". This can mean a grand big, aunt, and to be honest too many cousins to count. Knowing that you have someone, or many people, who no matter what will always have your back is the greatest feeling in the world.
Pro #3: You will NEVER be bored.
Luckily with this prioritizing of plans, you find yourself in the midst of a plethora of options coming directly from your sisters. There's always someone to hang out with or something to do whether it's waking up at 4:15 in the morning to watch the sunrise at the beach, going to another sorority or fraternity's philanthropy event, or just sitting in the house eating and watching "How to Make a Murderer" on a rainy day. It could even be something as exciting and random as one of your friends getting sick and asking you to go with her date to another fraternity's formal at 11:30PM the night before. Plans are always coming up out of nowhere, and if you're like me and enjoy being surrounded by friends then this is your idea of paradise.
Pro #4: You will never NOT have anything to wear!
With all of these events comes the need for cute outfits, themed apparel, and formal dresses. However, we are in college here and are definitely on a budget. Luckily, your 160 sisters are always willing to let you borrow something of theirs. Even when you need a dress for a formal that you've been invited to less than 24 hours in advance, you know it's as easy as posting on your Facebook page or texting a friend. Then, within an hour you have a perfectly fitting new outfit all the way down to your shoes.
Pro #5: You will always have a safe haven, a second home away from home.
Last but not least, having a place to truly call home at school if you join a sorority at UNH. This is especially true if you hate your dorm. Knowing that there's a house down the road with a beautiful wrap around porch and four floors of girls hanging out, laughing, and always willing to welcome your company is truly amazing.
Con #1: There is a slight divide between Greek life and non-Greek life.
Now obviously making all these new friends, and feeling like you've found your people, bridesmaids, and long-lost sisters are incredible. You don't want your non-sorority friends to feel like you're leaving them behind and forgetting about them, but you do want to utilize any and every opportunity to become closer with your new sisters. It becomes a juggling act that can be hard to manage especially if you're a very active member of your sorority. At times you feel like an outsider in your friend group, not knowing the inside jokes and awkwardly trying to laugh along and make up for missed time. There's really no easy way to deal with this, and it'll always be a component of your life when one group of your friends is in a sorority and the other group isn't.
Con #2: You will have to learn how to prioritize your plans and obligations.
Along the same lines is the difficulty of prioritizing events. Of course, there's going to be a lot going on in your life and in your friends', after all this is college. So it becomes quite difficult to decide when to hang out with your friends who aren't in a sorority at UNH, and when to be absolutely sure you won't be missing a "risky business" themed social. In a perfect world, everyone's schedules would be compatible making this decision nonexistent. While you wait for that to happen, you'll have to continue managing your time efficiently, and maybe missing out on a sister bonding experience to the trampoline park just, to spend some much needed and missed quality time with your roommate.
Con #3: Sometimes, you will have to do some things you don't necessarily want to do.
However, although you may find yourself always having someplace to go and something to do, it's not always something you necessarily want to do. Maybe you have a huge exam and paper due on Tuesday that you're totally stressed about, but unfortunately for you, there's the weekly chapter meeting Monday night that no matter how badly you want to skip you can't. Or maybe you're required to walk around a track until 12AM on one of the last Saturdays of the semester. Regardless of whether it's an event you signed up for and aren't feeling up for it at the last minute or a mandatory event for all the sisters that's at a conflicting time for you; not all of the plans that arise are going to be ones you are particularly excited for or too keen on attending.
If you're thinking about rushing this semester or next, think about these things before doing so! There are a few drawbacks to being in a sorority, but also a bunch of pros too. It's up to you what kind of college life you want!
---
---
Related Articles