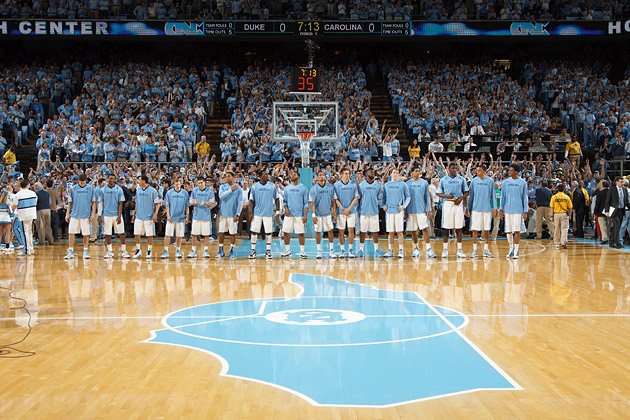 Students, Alumni and fans have high expectations for the UNC Tar Heels going into the 2015-2016 basketball season. Claims from multiple insiders indicate that UNC is preseason's No. 1 Team and is in the running for a 2016 NCAA national title. If the Tar Heels were to win, this would be beloved coach Roy Williams's 3rd NCAA title during his career at UNC.
The ACC has proven to be one of the hardest conferences in collegiate basketball. So, unfortunately, we cannot expect an undefeated season for North Carolina. They will be facing longtime rivals, the Duke Blue Devils, as well as the Notre Dame Fighting Irish and Virginia Cavaliers. The team will have to work hard and take any losses as motivation to improve. Their focus will remain on the NCAA title.
Though the Tar Heels have lost one of their top scorers, J.P. Tokoto, four out of five top scorers still remain. Justin Jackson, Kennedy Meeks, Brice Johnson and Marcus Paige are dynamic players, all capable of leading the team to victory. Other notable players include Nate Britt, Joel Berry II, Joel James and Isaiah Hicks. In addition to their remarkable skills, these four are some of the most experienced players among their opponents.
The annual "Late Night With Roy", held this past Friday the 23rd of October, gave fans a peek into the upcoming season. Freshmen Luke Maye, a power forward, and shooting guard Kenny Williams, were both introduced to a crowd of students, alumni and community members. Theo Pinson, Kanler Coker, Stilman White, Justin Coleman, Toby Egbuna and Spenser Dalton complete the Tar Heel's 2015-2016 roster. The immense support for the team is undeniable. It's obvious that the fans are ready for a great season!
---
---
Related Articles