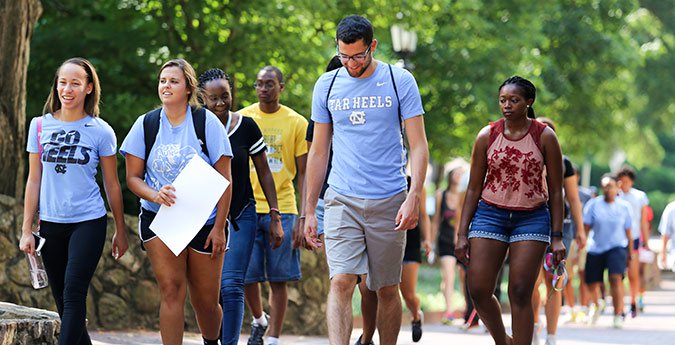 1) Dey hall is pronounced Die Hall.
If you want to avoid giving off first year vibes, this is critical. Otherwise you are a dead giveaway.
2) You always say first year, not "freshman."
At UNC it is common practice to use the term first year instead of the other option. It helps to contribute to gender equality.
3) Late Night = Ram's Head/Chase.
Late night only exists in the Ram's Head dining hall. It also only occurs on nights with class the next day (includes Sunday, not Friday).
4) You can drop classes worry-free for two weeks.
If you want to drop/pick up a class, you can do it with no concerns about penalties or consequences for the first two weeks.
5) Free help at the Writing and Learning Centers.
There are so many resources at UNC, there is no excuse to suffer through classes in silence. Head over to the Writing or Learning Centers for free, one-on-one or group help at any point in the year
6) The U is your friend.
If you want to try out buses with NO chance of getting lost in another city, the U will take you around campus without leaving it. There is no way to get lost, so give it a try!
7) The P2P is also your friend.
The P2P is a bit like the U—just the nighttime version. It is a way to get across campus/Franklin Street safely at night. If you need to track it, it stops at any P2P labeled stop every 15 minutes, and you can use the "Rider" app to find it (it is not on NextBus).
8) Acronyms are everywhere.
GDTBATH= Great Day To Be A Tar Heel
P2P= Point to Point (Or Party to Party if you are about that life)
GTHD= Go To Hell Duke
FDOC= First Day of Class
LDOC= Last Day of Class
UNC= University of National Champions
9) Free cupcakes in the Union!
On Treat Yo Self Thursday, once a month, the Union gives away hundreds of free cupcakes. Look online to find out when those are this semester!
10) Go to class or you are in trouble.
Although it is tempting, avoid skipping class. You can keep yourself from a lot of issues, so just go. That's why you're here, right?
---
---
Related Articles