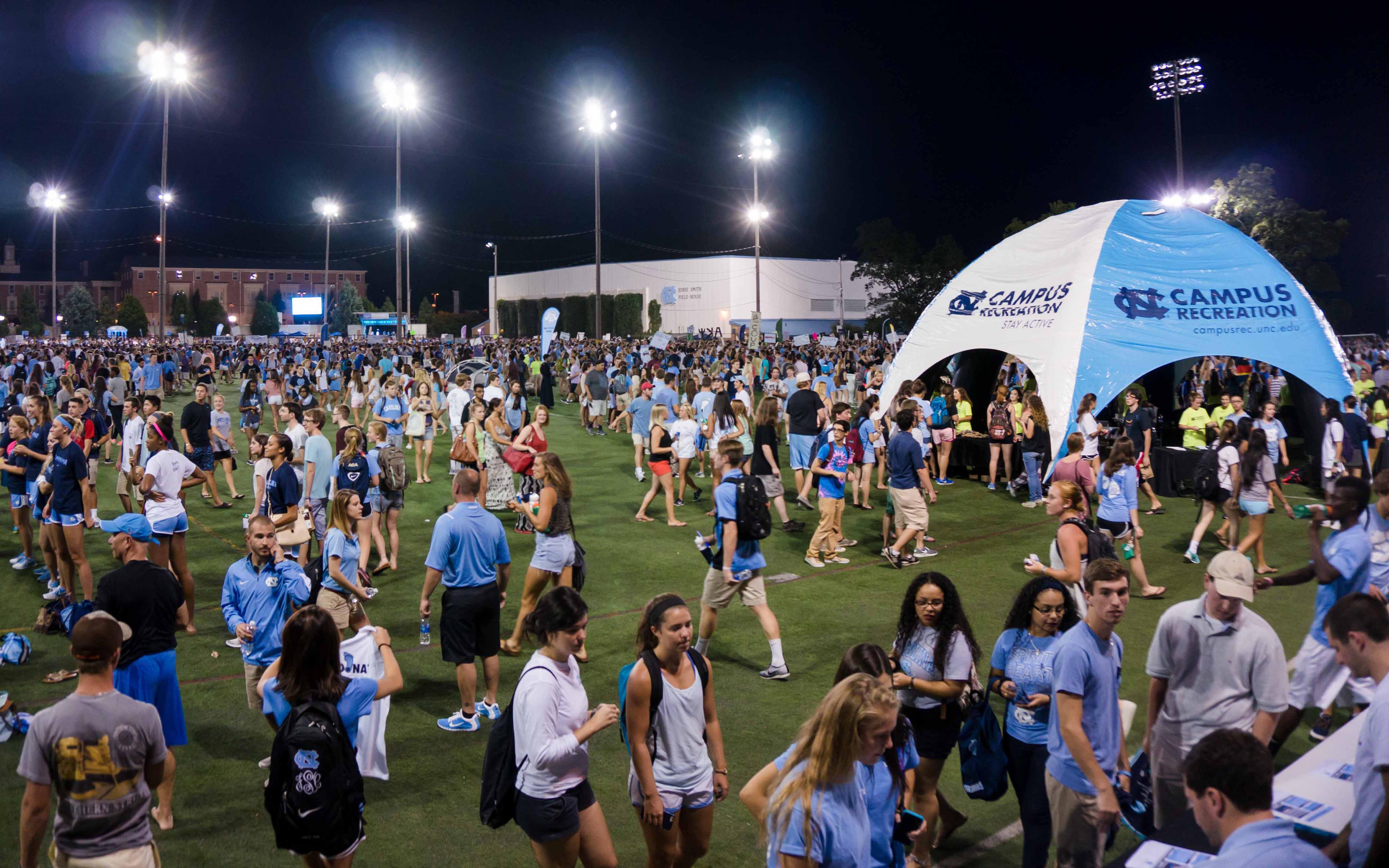 Being a first-year at UNC is overwhelming and intimidating and downright exhausting sometimes. But you know what makes it all worth it (apart from the fact that it's frickin' UNC)? Well, it's the fact that UNC is such a HUGE university and it has clubs/organizations/meeting groups/interest groups about literally anything you may be interested in. From volunteering to fun to career-related interests, there is definitely something that you will find for yourself at Chapel Hill. So make sure you get involved with organizations on campus because they form such an integral part of one's college experience.
1. FALL FESTTT!!!!
Hours could be spent talking about this particular event in the beginning of the year, but in the spirit of brevity, this is the biggest annual gathering where every club and organization comes out to pitch itself to incoming first years and you have a plethora to options to choose how you want to get involved. Pro tip: Sign up for list-serves ASAP so you get all the info you need to take off and get involved.
2. The Union Cubes
Can we all take a moment and appreciate the fact that the Union Cubes, UNC's prime advertising real estate, cost only $20? Hallelujah. Anyways, the cubes is where most clubs go to advertise their events, causes and basically just their presence. It is a great way to find out what is going on around campus and then contact the organization to ask if you can get opportunities to get involved with them.
3. Pay Attention to the Pit
So okay, Gary the Pit Preacher can get really annoying but the Pit is super useful because tons of organizations choose to advertise there. There are stalls that sell tickets or goodies, or a Capella groups that sing or dance groups that turn the Pit into a dance battle. And most importantly, all of that helps you find out what is going on in and around campus and allows you to experience what you may become a part of. This is a great way to go talk to members of the club and figure out ways to contribute and become a part of it.
4. Facebook Groups
Believe it or not, being on Facebook groups of your class year is definitely the best way to stay informed. Yes there may be tons of people who post on it about their ~useless~ class surveys, but 9/10 times there are really useful organization advertisements or event descriptions that could lead you to a club that becomes your family or to a cause that you are beyond passionate about. Pro Tip: Just scroll through the group once in the beginning of the week to see what all may be happening and use Facebook to very easily contact organizations and find out ways to be involved.
5. Word of Mouth!!
Almost every student at UNC is incredibly passionate about certain things and due to the sheer size of this school, you are bound to run into people who will talk to you about stuff they are involved with that you may have in common. That is a great way to ask them about their experience and get involved with the club through someone they know.
Basically, if you want to get involved with clubs and organizations on campus —and you should because it helps you make friends and stay productive—  there's tons of ways like the few mentioned above. Because at UNC, it's impossible not to find your
---
---
Related Articles