Back to University of Northern British Columbia Blogs
Top 10 Residences at the University of Northern British Columbia
Whether you wish to live on campus and have all the campus facilities just a short walk away, or with friends in a private apartment or house- there are a number of great options for you to choose from at and around the
University of Northern British Columbia
.
1. Neyoh and Keyoh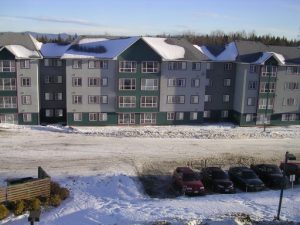 Residence Address: 3333 University Way, Prince George, BC V2N 4Z9, Canada Located within a minute walk from the main campus, UNBC's two residence buildings are home to 522 students in 129 four-bedroom suites and 3 two-bedroom suites. Each student has his/her own private, fully furnished bedroom in an apartment-style unit, sharing a kitchen, living room, and bathroom with three roommates. Suites include wired and wireless internet, cable and phone capabilities, and utilities. Each floor has a full laundry service and each building boasts a large common lounge with a big screen TV, leather couches, and a pool table or foosball table.
2. Hartley Manor Apartments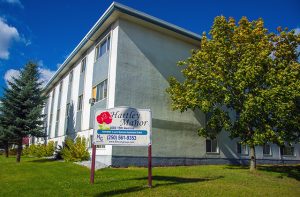 Residence Address: 3000 15th Avenue, Prince George British Columbia, Canada V2M 1T4 Hartley Manor is centrally located in the Central Fort George neighborhood of Prince George and it features spacious apartments for rent within a newly renovated building. Two and three bedroom suites have been recently updated with newer carpets and appliances, including some suites with dishwashers. All suites come standard with window coverings, ensuite bathrooms, laundry facilities and are Internet and cable ready.
3. Hammond Tower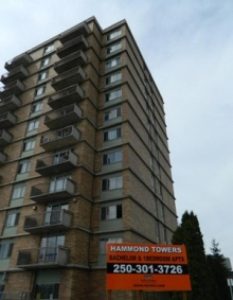 Residence Address: 1855 3rd Avenue, Prince George British Columbia, Canada V2M 5K4 The Hammond Tower has bachelor's and 1 bedroom suites that are perfect for students or those starting out. Some of the notable features include city views, secured underground parking, and on-site management. It is located minutes away to UNBC's main campus. Transportation into the city and to nearby places is easy.
4. St. Laurent Manor Apartments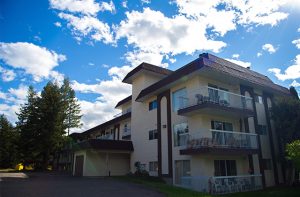 Residence Address: 2692 Upland Street, Prince George British  Columbia, Canada V2L 2W3 St. Laurent Manor Apartments provides a convenient apartment living in this updated, clean and secure rental apartment building. It offers one and two bedroom apartments that feature updated flooring and paint, with bright spacious living spaces and kitchens including stove, fridge and some with dishwashers. There is also in-suite storage, window coverings and even fireplaces in some end units. Residents enjoy covered parking, a secure entrance, and clean spacious laundry facilities.
5. Pine Glen Apartments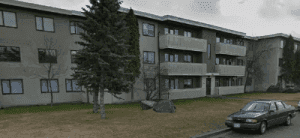 Residence Address: 255 Ospika Blvd N
, Prince George
, V2M 3N9 These suites have been freshly painted and updated with new wood floors. Rent includes parking, heat, and water. The apartments are close to public transit and have a playground for the kids. The units feature 2 bedrooms with 1 bathroom, a balcony, community room,  on-site staff, water, heat, coin-operated laundry, internet, and ample parking.
6. Ashbury Court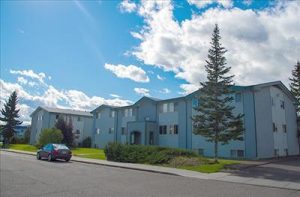 Residence Address: 3710 15th Avenue
, Prince George
, V2M 1V3 Ashbury Court is a three-building rental apartment complex in a safe accessible neighborhood of Prince George that has been extensively renovated and refurbished with newer windows, bathrooms, fixtures, appliances, flooring, cabinets and more in every suite. It has one and three bedroom apartments feature kitchens with three appliances, along with bright, spacious living and dining areas. Each suite comes standard with window coverings, laminate floors, and in-suite storage space. Residents also enjoy the interior courtyard, complete with a gazebo and patio with picnic area, a community gas BBQ and a playground. On-site laundry facilities, paring with plug-ins and a bicycle storage shed area also part of Ashbury Court.
7. Paradise Park Apartments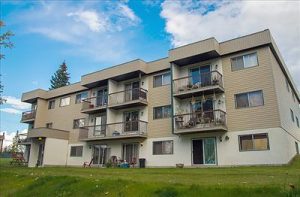 Residence Address: 4133 and 4155 1st Avenue
, Prince George
, V2M 1C4 Paradise Park Apartments for rent in Prince George provides comfortable apartment living in spacious suites, many with balconies, located in a quiet residential area off of Ospika Drive in the Ospika neighborhood of Prince George. The one and two bedroom suites at Paradise Park have newer carpets, paint, and appliances. All suites include window coverings, fridge, and stove. The building also features updated flooring and lighting in the common areas, secure entry, laundry facilities and ample parking for all residents.
8. Pinegrove Manor Apartments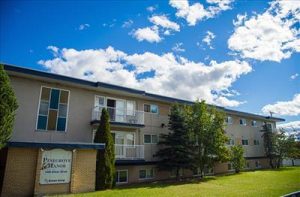 Residence Address: 1496 Ahbau Street
, Prince George
, V2M 3Y1 Pinegrove Manor Apartments provides a pleasant apartment living in one and two bedroom rental suites with many amenities and close to shopping, restaurants, and recreation. Each apartment is bright and updated with newer appliances, paint, carpeting, and includes a fridge, stove, ceiling fan, and window coverings. Residents also have their own storage locker and may access the smart card laundry facilities at any time of the day.
9. Carriage House Apartments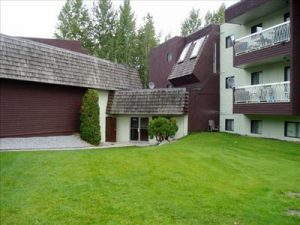 Residence Address: 4414 / 4444 Glen Shee Road
, Prince George
, V2N 4E1 Carriage House Apartments at has everything residents need for comfortable living. This rental building complex includes one, two and three bedroom apartments within two, three-story buildings, which are separated by a fitness center featuring a racquetball court for residents to use and enjoy. Carriage House Apartments features updated apartments with balconies that are bright and clean. Suites come with two appliances and some with dishwashers, in-suite storage, and window coverings. There is the added safety of a secure entrance with intercom, along with outdoor and visitor parking. As an added luxury, there are laundry facilities on every floor of Carriage House so residents do not have to pack their laundry to different areas of the building.
10. Kelson Court Apartments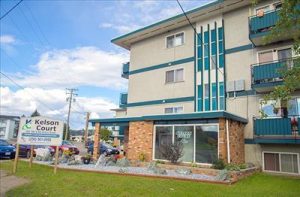 Residence Address: 920 - 980 Ahbau Street
, Prince George
, V2M 3R9 Kelson Court Apartments is a good quality three-building apartment complex in a central, accessible location of the city. Each building is four stories and has an elevator, a secure entrance and is wheelchair accessible. The one, two and three-bedroom apartments feature kitchens with updated fridges, stoves and some with dishwashers, while all suites have complimentary window coverings and come Internet and cable ready. Apartments on the second, third and fourth floors also have balconies. There are updated carpets, new paint, double sinks, and ceiling fans in all suites throughout the buildings, too. The complex features laundry facilities with Smart Card technology, additional storage lockers, energized parking stalls and well-kept, landscaped grounds.
Here is your Move-In Day Packing List at UNBC
1. Room Basics
Towel
Wastebasket
Closet organizer
Shoe Rack
Desk lamp
Sheets, blankets, comforter and mattress pad
Full-length mirror
Posters
Toiletries
Hangers
Plants
2. Food and Snacks
Beverages (coffee, tea, Chocolate)
Juice
Biscuits
East-to-cook food (pasta, spaghetti etc.)
Fruits
3. Tech and Entertainment
 Bluetooth speakers
Laptop
Game console
Music player
TV
Headphones
Radio
4. School Supplies
Notebooks
Exercise books
Pens and Pencils
Sticker notes
Marker pens
Paper clips
5. Cleaning Up and Organizing
Mop/Broom
Hangers
Storage containers
Bucket
Dustbin
6. Campus Gears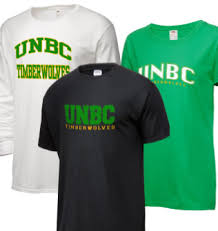 Campus branded clothes (T-shirts, shirts, hoodies, and jackets)
Bag pack
Umbrella
Walking shoes
Sunscreen
7. Items You Should Ask First Before Bringing
Pets
Furniture
Refrigerators
Halogen lamps
Hoverboard
---