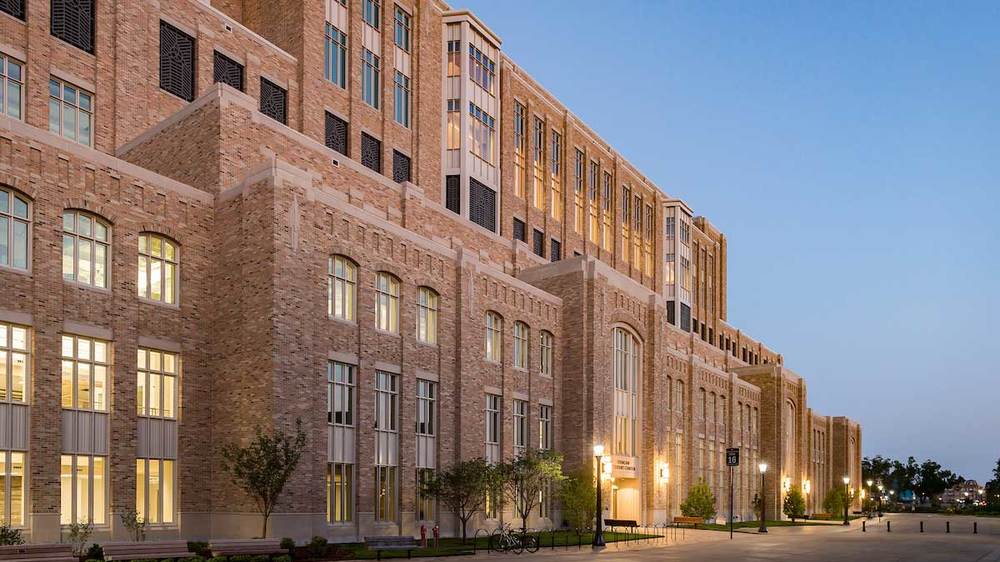 Campus Crossroads, we all know what that means. Between the memes and jibes about Jenkins and what Notre Dame is really doing with our endowment, you can't stop and admire at the newly finished Duncan Student Center with 8 floors open for students to improve campus life. With so many floors to visit and study spaces to try out, here's a quick guide to the top 5 locations you should hit up first.
1) Food
Between the three restaurants: Star Ginger, Hagerty Family Café, and Modern Market, you can try favorites such as gelato, pho, thai iced tea, crepes, sandwiches, and much more – but with a healthy twist and many vegan options at Modern Market as well. Try to avoid the lunch rush, though, because students, townies, and faculty are not over the novelty of the options quiet yet. Also, the prices are fair, but with 500 flex points, you have about a month until they run out, so enjoy!

2) Working Out
It's beautiful. The DSC has two floors where the gym equipment and track reside. On the third floor, you'll find a plethora of equipment from your standard treadmills, ellipticals, and bench presses to more targeted options such as maxi climbers, hack squat machines, and 360 degree workout stations that allow users to customize the weights and angles of their workouts. On the fourth floor, there are personal training rooms and a large track. But, get this, the track is only a sixth of a mile. A sixth. No one understands why it wasn't a fourth or a fifth, but I guess a sixth will do too.

3) Studying Spaces
The DSC does not have computer clusters, but it is full of outlets galore, so you can pop a squat almost anywhere and be fine with poweringr your laptop throughout the day. The first floor has various sections of study spaces with different designs and vibes. Try out the mid-field to get a homey feel and work beside the fireplace or try the south end for collaborative spaces with round tables to study with friends.

4) Innovation Lounge
This is probably the most up and coming space in the DSC. While the space is finished, the purpose behind it is not completely done yet since the DSC will be taking requests from students soon about the type of equipment that they would like to see in the Innovation Lounge. The DSC plans to order from students requests so that the student body will have a designated place on campus to fix their bikes, create new inventions, etc., for the inquisitive mind to get hands-on experience that is self-started.

5) Acoustic Café
Acoustic Café will be moved from LaFun to Hagerty Family Café. The southern end of the first floor is now furnished with a new sound system and lights to host performances while you enjoy a cup of coffee or a slice of strawberry cheese cake. So, if you're a regular for Acoustic Café, expect an improved experience and if you've never been, well, now's the perfect time to start.

There are plenty of special finds at the Duncan Student Center. Go on ahead and take an hour to roam the length of the building and try some food. It's the perfect place to take a break, do homework, hang out with your buddies, or just to people watch!
---
---
Related Articles