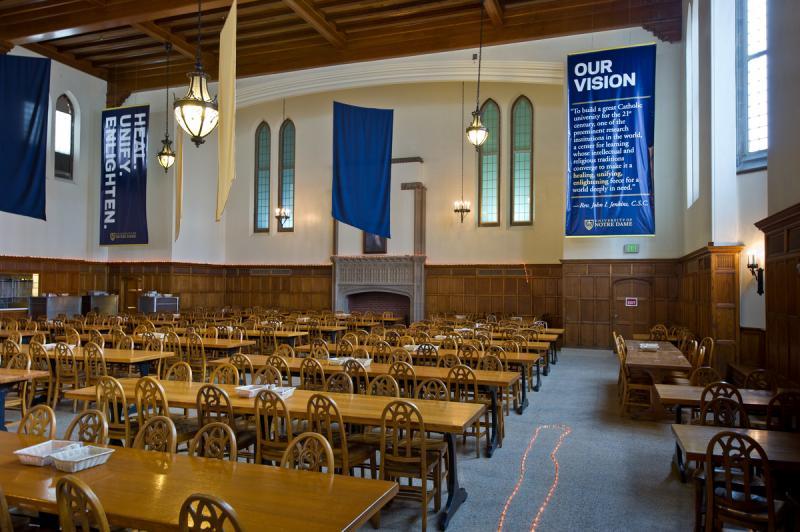 Are you tired of always grabbing the same thing for breakfast, lunch, and dinner? Actually, maybe you're so tired of what's offered at the dining halls that you even stopped going. Yeah, bet you feel your flex points draining away – that is, if you have any left at this point. To help you out, here are 5 food items that are delicious and easy to make at North or South Dining Halls.
1) Paninis
If you walk around the sides of the dining halls, you'll find that we have panini presses fired up and ready to go. Cold cut meats, cheeses, and other ingredients to fill your panini are readily there also. So, grab your choice of bread from the bread boxes in the back, some pesto, maybe put on some turkey and pepperjack cheese, and get on it! This is also a great option to slim down and eat healthy.

2) Waffles
Right next to those panini presses, you'll find our waffle makers with the batter next to them. You can create both a sweet and savory waffle depending on what you're feeling. Grab some strawberries, peaches, or apples from the fruit section and some whip cream or chocolate drizzle from the condiments area and you'll have a tasty treat! Or, try something new and put on some grilled chicken, bacon, and ranch on top of a more filling option. Most importantly, remember to use the waffle maker with the ND or leprechaun logo on it!

3) Root Beer Floats
Not many people think of making this tasty treat, but during the summers and on those sweet tooth days, you'll find that there is nothing else that could satisfy your sugar pangs other than scooping three scoops of ice cream into a cup and pouring some root beer over. Also try an orange Fanta float with vanilla ice cream, you won't regret it.

4) Tacos
Maybe it's Taco Tuesday but you're too swamped with work to go out with your friends. Not to worry, the dining halls have all the ingredients for you to make every Tuesday a true celebration. Whether you want a vegetarian or meat taco, it's all there. You can grab a flour tortilla wrap near the bread area and start building. Try adding some malibu or roast beef, corn, guac, and some salsa or try it sans meat and add beans, rice, and cheese.

5) Quesadillas
Maybe you're a TBell kind of guy/gal and you've been spending your points away on cheesy quesadillas there. But students don't realize how easy it is to make quesadillas with what's offered already at the dining halls. Simply take a tortilla wrap, add your meats and cheeses, and some spicy sauce of course, and throw it until the sandwich press for a minute or two. This is a simple way to add some flavor and variety to the dining hall menu.

It's easy to fall into routine – even with our food and the meals that we make. But, taking what's offered at North and South Dining Halls piecemeal will allow you to customize and make new dishes for yourself. Not only that, it'll allow you to save more of your flex points for other necessities and snacks at the Huddle or Market.
---
---
Related Articles